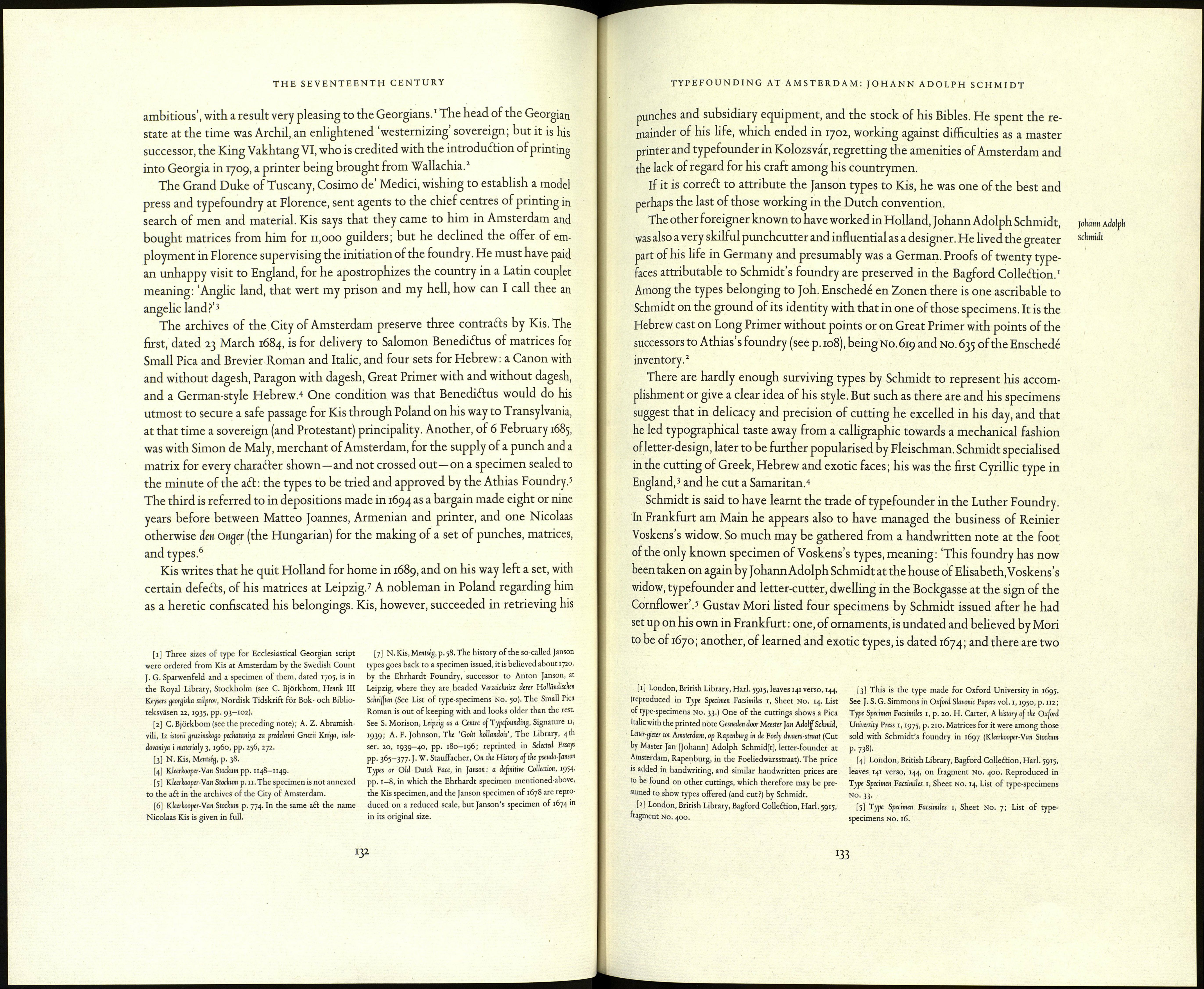 THE SEVENTEENTH CENTURY
been long in the service of Voskens: in 1676 he set up as master typefounder,
having bought a business from the widow of Cornelis Glauwe.1 So much appears
from an advertisement in the Extraordinaire Haerlemse Donderdaeflhse Courant of 27 Febru¬
ary 1676 to the following effecl:.
All booksellers and printers are hereby informed that the produce of the letter-foundry
of the late lamented Cornelis Glauwe may be had at his widow's house until May, and there¬
after from Jan Barentsz, letter-founder, in Amsterdam in the Tuinstraat,...
Cornelis Glauwe had not long been a [master] typefounder. It was on 15 June 1663
that he bought the business of Gerrit Willemsz. van Kempen for 2,500 guilders.2
His must have been a well-equipped and well-manned foundry, for on 7 May 1668
it undertook an order from Joseph Athias for 4,000 lb. of Pearl type.
Jan Barentsz very likely stocked his foundry largely with his own letters, for his
trade was punchcutting.3 Having added that he was born in 1645,1 have recorded
all that I know about this man.
All I know about Hendrik Claesz is that he was born in 1628 [in Amsterdam,
where he married at the age of twenty-three].4
So that, apart from the Voskens family, we know little more than the names of
the typefounders of Amsterdam in the later years of the seventeenth century.5
Nicholas Kis (J¿ Two foreigners working in Amsterdam during the last twenty years of the
century deserve record here : Nicholas Kis and Johann Adolph Schmidt.
The Hungarian, Nicholas Kis, worked as punchcutter and matrix-maker in
Amsterdam from 1683 until 1689.6 None of his types can be said with certainty to
survive in the Enschedé collection; but it is likely that some were among those
destroyed in 1808,7 for Abraham Ente at one time owned a number of them jointly
with the widow of Johannes Adamsz.8 Ente's foundry passed to Izaak van der Putte,
and his to Ploos van Amstel, whose stock was bought by Enschedé in 1799. Kis
wrote that he came to Amsterdam in 1680 and was apprenticed in the printing
[1] On 8 April 1655 Cornelis Glauwe, born at Amsterdam, in Kleerboper-Von Stockant and specimens in the British Library
aged 25, typefounder, living on the Fluwelen Burgwal, ac- seem to disprove all three hypotheses (H.C).
companied by his master, Jacques Vallet, gave notice of his [6] See for Kis: H. Carter and G. Buday, Nicholas Kis and
intended marriage (AGA, No. 682, p. 267). He was buried on the Janson types, Gutenberg-Jahrbuch 1956, pp. 207-212; G.
10 May 1673, and his widow, Geertruid, née De Wilde, on Haiman, Tótfalusi Kis Millos, 1972; and G. Buday, Some more
7 November 1686 (AGA, No. 1047, pp. 207, 339). notes on Nicholas Kis of the ']anson' types, The Library, 5th ser. 29,
[2] Kleerboper-Van Stocbm p. 1209. 1974, pp. 21-35; H- Carter and G. Buday, Stereotyping, by Joseph
[3] On 9 February 1674 Jan Hessingh (cf. p. 82), born at Athias. The evidence of Nicholas Kis, Quaerendo, 1975, pp. 312-
Amsterdam, typefounder by trade, aged 29 years, and living 320, where Kis' propositions to print the Bible in Hungarian
in the Tuinstraat applied for the publication of the banns by the method of the most successful Bible-printer Joseph
of his marriage (Kleerboper-Van Stocbm p. 257). Athias, are discussed in particular.
[4] Kleerboper-Van Stocbm p. 126. [7] Gedenbchrift p. 78.
[5] I have omitted from the text some passages in which [8] They are in specimens by these partners in the Bagford
Charles Enschedé, as he said, tentatively, suggested derivations Collection (London, British Library, Harl. 5930, Nos. 529,530;
of the foundries of Van der Putte, Alberts & Uytwerf, and reproduced in Type Specimens Facsimiles 1, Sheets No. 10 and No.
Bruyn from those of Jan Barentsz, Hendrik Claesz, and 11). List of type-specimens nos. 36, 37).
Leendert de Jonge respectively. Documents since published
І3О
TYPEFOUNDING AT AMSTERDAM: NICHOLAS KIS
office of Mr. Blaeu.1 Making up his mind soon afterwards to concentrate on type-
founding, he learned for three years under a master, who seems most likely to have
been Dirk Voskens. 'My master's father', Kis says, 'cut beautiful German types,
but not Latin. My master could cut Roman and Rotunda [Gothic] fairly well, but
not Italic. He made me do all of these, even if it were to supply defects in his
matrices.' The management of Blaeu's typefoundry had been taken over in 1677 by
Voskens (see p. 115), and it is said that Bartholomeus, the father of Dirk Voskens, with
the guidance of Philipp von Zesen, cut Fraktur types that were highly esteemed
(see p. 109, note 2). Kis wrote furthermore : 'My master told me when we made our
bargain that he would not teach one of his own community for a hundred thousand
guilders ; for to do so might cost him his livelihood and his reputation. He was the
only one [sc. punchcutter] there.' Kis finished his apprenticeship in 1683. Besides
cutting type, he printed the Bible in Hungarian in Amsterdam with his own types
in 1684—85 and a psalter in the year after. He was acquainted with Professors Leusden
and De Vries, both of Utrecht;2 and he records that a Dutch Professor wrote to
him in later years : 'They used to say that you excelled all the Dutch in the art of
cutting letters. Your master complained that printers who wanted to have types
cut avoided his house and went to you.'
A specimen in the National Archives at Budapest3 has at the foot this legend
(in Dutch) : 'If any man desire to have strikes or matrices for these types, now newly
cut by Nikolaas Kis, let him address the aforenamed master dwelling in Amsterdam
on the Achterburgwal... ' The types shown are Roman and Italic in fourteen sizes
from French Canon to Pearl, one Greek, three sizes of Hebrew and a set of small
psalm-notes. The Romans and Italics seem to be identifiable, with some exceptions,
with the series of Janson types now owned by the Schriftgiesserei D. Stempel, of
Frankfurt am Main ;4 and most of the Janson Italics and some of the Romans are
to be found in the books printed by Kis at Kolozsvár between 1690 and 1702.
Kis says that in his day Amsterdam was the world-centre of typography, as in¬
deed it was, France being excepted. Of his work done in Holland he wrote: 'Not
only did I serve neighbouring lands, Poland, Sweden, England, Germany, and Italy.
How far from Amsterdam is Armenia? Yet I served it plentifully. And Georgia, at
the roots of the Caucasus ?' He goes on to say that the King of Georgia wrote down
the alphabet and some lines in his language and sent them to Kis as a pattern; he,
however, was not content with the characters and 'attempted something more
и
N. Kis, Mentség (Apology for his life and person), written For other reproduftions see G. Buday, Some more notes on Nicholas
and printed by Kis at Kolozsvár in 1698, pp. 45,47, 55,59, and Kis of the 'Janson' types, The Library 5th ser. 29,1974, p. 32. List
67-69. Mr. George Buday, R.E., has translated the passages of type-specimens no. 27.
relating to typefounding. [4] The Chairman of the directors of the foundry was good
[2] Johannes Leusden (1624-1699) and Gerardus de Vries enough to produce eight matrices for the Clein Canon Italic
(1648-1708) were both Professor of Theology at the University of Kis. More have since been found. It is evident that re-
of Utrecht. cuttings of the 'Janson' face to suit Didot bodies began not
[3] Reproduced by G. Haiman (see note 6 on p. 130), Plate 1. long after its acquisition by Stempel.
!?