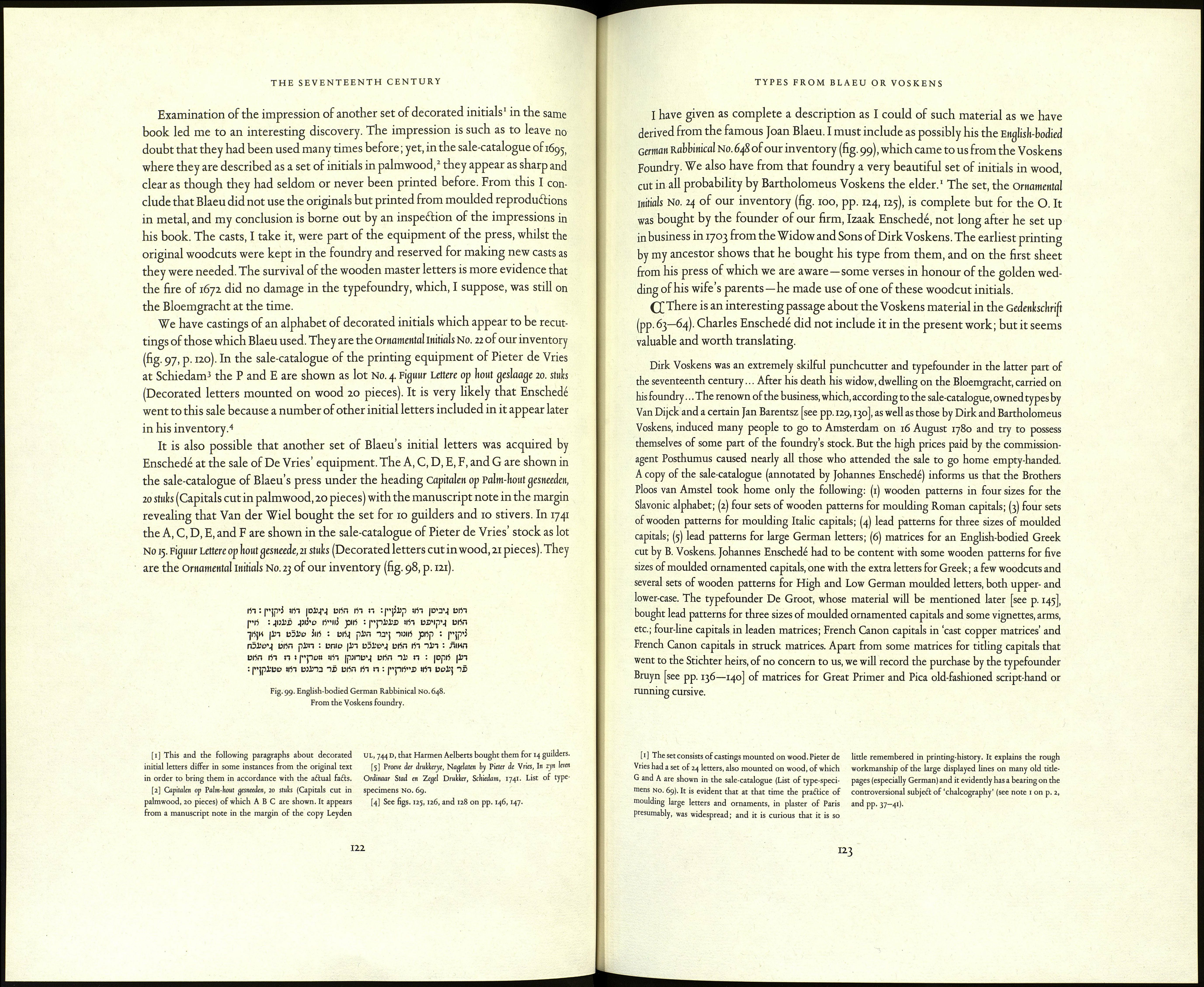 iMggg СЭДл£ДОМ£!аЦЯІ
Fig. 97. Ornamental Initials no. 22.
From the Blaeu foundry.
I20
INITIALS FROM BLAEU
Fig. 96. Woodcut Initials no. 21. From the Blaeu foundry.
Besides the matrices we have [two] sets of wooden initial letters that once
belonged to Blaeu (figs. 96 and 98). I have given impressions from them here
because of their historical associations, though the blocks have suffered greatly
during their passage through many hands. None the less, the excellence of the
design is still apparent and the talent of the man who cut them still compels
admiration.
... Blaeu used a set of woodcut initial letters most of which we still have. They are
the Ornamental initials No. 21 of our inventory (fig. 96).1 It is likely that these letters, very
much worn, were bought in 1695 by [Dirk] Boeteman, of Amsterdam. In any case,
when the printing equipment of Pieter Boeteman, [his son], was sold on 28 August
1713 these initials, decorated woodcut letters, were bought by Izaak Enschedé for
2guilders and 10 stivers.2
Fig. 98. Woodcut Initials no. 23. From the Blaeu foundry.
[1] It is doubtful whether Blaeu used these initials, because
they are not in the Rosarium politicum (see p. 119) as Charles
Enschedé wrote. They are not shown in the sale-catalogue of
1695 (see List of type-specimens No. 29).
[2] Dirk Boeteman was buried on 23 June 1700 ; his widow,
Sara, née Verrijken, continued his business until her son,
Pieter, could take it over, probably in 1709 when he became
a member of the guild (Van Eeghen 3, pp. 28—30). The
library of Leyden University has the only known copy of the
sale-catalogue (shelf-mark 744 D), Proeve der drufclcerye van Vieler
Boeteman, Amsterdam 1713. List of type-specimens No. 47. This
copy has manuscript notes about the purchasers and the
prices. Against lot no. 15, Houte jiguur lettere«, 30 stub (Decorated
woodcut letters, 30 pieces), is written '2—10-0 Enschedé.'
121