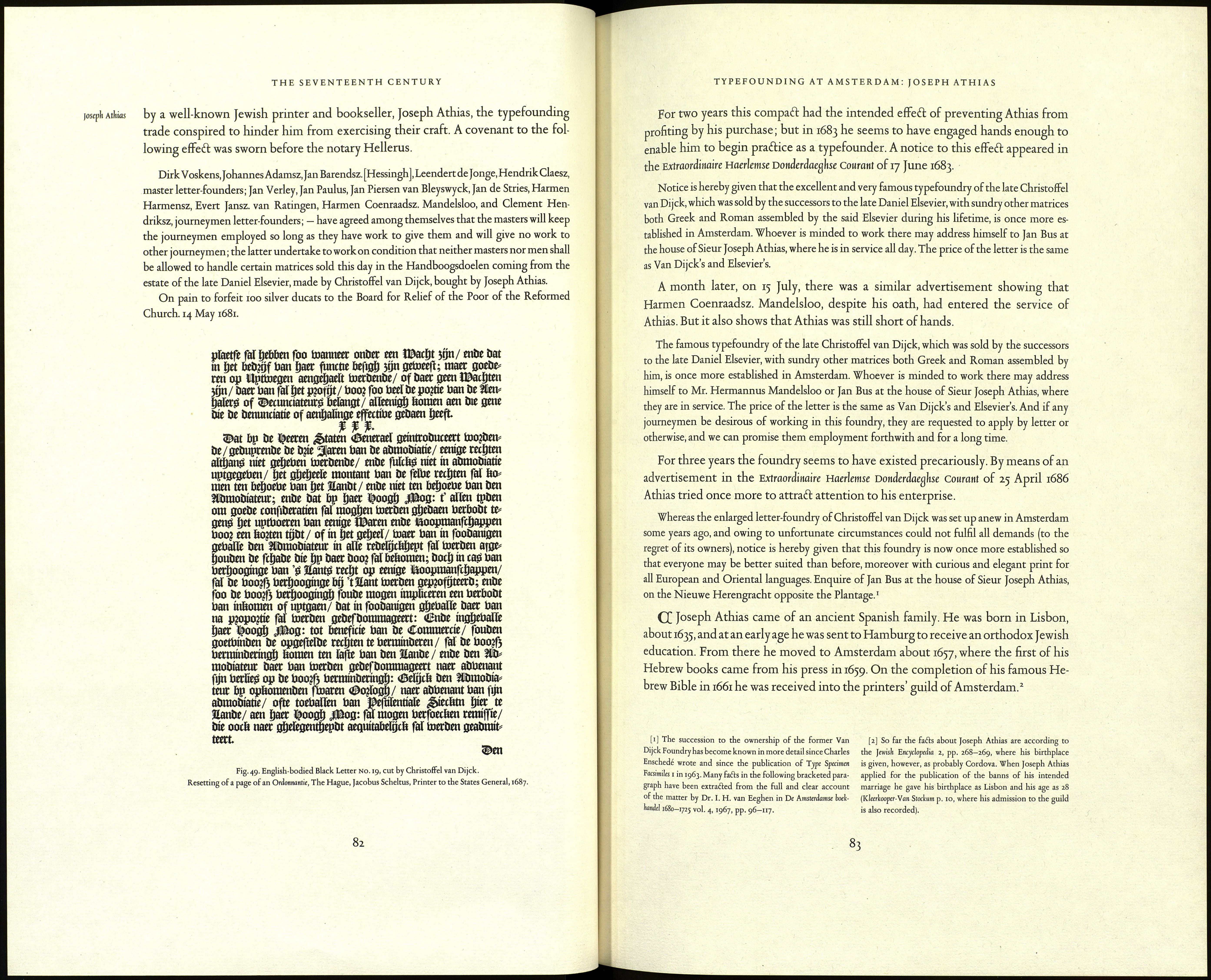 THE SEVENTEENTH CENTURY
successors to Von
Dycîc 's foundry;
Daniel Elsevier
widow Elsevier
Armenian made for Avac, he seems to have cut a Bourgeois for the same language
commissioned by the Armenian merchant, Gio de Leone, in 1667.1
I do not know when Van Dijck died.2 On 7 April 1672 an inventory was made
of the testamentary succession of his only son and heir, Abraham. He in turn must
have died soon afterwards.*
The Oprecltte Haerlemse Courant of 4 and 6 April 1673 printed an advertisement to
this effect-
On Monday 10 April 1673 at two o'clock in the afternoon will be offered for sale at Amster¬
dam, in the Elandstraat, at the sign of the Salamander, various assortments of punches and
matrices, all very curious, and all the apparatus of a typefoundry. The catalogue and specimens
are to be had at the foregoing address or from Adriaan van Coppenol, broker, dwelling in the
Warmoesstraat, or at other addresses as above.
There can be no doubt that the typefoundry was the one formerly conducted
by Christoffel van Dijck.3
Documents to be described later will show that the material, or most of it, was
bought by Daniel Elsevier, who added the matrices to others already in his pos¬
session, coming, as I think, partly from the stock of Hillebrand van Wouw, sold at
The Hague on 16 March 1670.4
Daniel Elsevier died on 13 October 1680, leaving his affairs in a state far from
prosperous. Nevertheless, his widow, Anna, nee Beerninck, carried on the business,5
but found the management of the press and foundry too much for her. She had to
decide to dispose of the foundry, and thought of the successors to Christopher
Plantin as likely purchasers. She wrote, accordingly, to the widow of Balthasar
Moretus on 3 January 1681 a letter ofthe following import.
Madam: Having made up my mind to sell my letter-foundry, as I find myself unequal to
controlling everything. [It] consists of 27 kinds of punches and near 50 kinds of matrices and
as they were made by Christoffel van Dijck, the best master of his time and ours, and as it is
consequently the most famous foundry that ever was, therefore I wished to acquaint you of
this and send specimens and catalogue of it, so that you, if you are interested, may take the
opportunity and profit thereby. I remain, Madam, Your obedient Servant ( )
for the Widow of Dan. Elsevier6
[*] According to the letter from Marshall to Fell dated
February Щ, 167Í (Hart p. 171), Abraham van Dijck died in
the third week of February 1672. [He was buried 26 February
1672 (AGA No. 1102, p. 1 ; A. A. M. Stols, Breberenns van (den) Dijck,
p. 411). The inventory must have been of Abraham's and not
of Christoffel's estate. Unfortunately this important docu¬
ment cannot be traced at the present time in the Amsterdam
City Archives].
[1] Armenian types are dealt with again on pp. 234-236.
[2] Christoffel van Dijck was buried 23 November 1669
(AGA, No. noi, p. 97).
[3] Fragments of a type-specimen extant in a scrapbook in
Cambridge ul, SSS.3.14, have recently been brought to light
by Mr. D. J. McKitterick. They consist of fourteen types,
thirteen of which are attributed to Van Dijck and all of which
were shown in the type-specimen of the Widow Elzevier, 1681
(nos. 5, 6, 19, 25, 27, 32, 34, 36—39 in the Table on p. 92).
After identification Mr. McKitterick has plausibly shown
that the fragments belong to a specimen earlier than 1681
and possibly to the one referred to in the advertisement in
the Haerlemse Courant. See D. J. McKitterick, A type-specimen
of Christo|el van Dijch ?, Quaerendo 7,1977, pp. 55—66 ; List of
type-specimens no. 19.
[4] See p. 24. This seems to be a conjeñure.
[5] Willems pp. ccxlii-ccxliii.
[6] Willems p. lxxxi.
80
TYPEFOUNDING AT AMSTERDAM: CHRISTOFFEL VAN DIJCK
The letter was accompanied by a specimen1 showing 38 founts of type with two
sizes of psalm-notes and 12 ornaments. The heading reads Proeven van letter en, diegesneden
zun door wylen clmstojjêl van Dijck, soo als de selve verkoft sullen werden ten huyse van de Weduwe
mien Daniel Elsevier, op't Water, by de Papenbrucjlt, in den olmboom, op Woensdagli, den 5 Martii, 1681.
(Specimens of types which were cut by the late Christoffel van Dijck, as they will
be sold at the house of the widow of the late Daniel Elsevier, on 't Water, near the
Papen-bridge, at the sign ofthe Elm Tree, on Wednesday, 5 March 1681).
The offer to the Widow Moretus was not accepted, nor did the sale announced
for 5 March take place. Whether there was no purchaser, whether for another reason
the sale had to be postponed—there is no telling:2 one thing is certain, the type¬
founders of Amsterdam were watching developments with jealous eyes. So much
so that when, on 14 May 1681, the material was offered a second time and bought
$ffllm Cm.
«En in uto Mentì uto btil-tooo?b mag beleben:
©erllcbt зрп oog/ bat nog i¡e¡ fcbtnier-blínb/
TOIlt beni btftf ber tott-gtbtitiitn geben/
ПѲааг boo? elfi ten nioet opgttogen fïaan/
Ön febutoen 't rot/ bat u burft totbtrfrceben.
io» 9|ft tnott 0111 't tooo?b in baltfngfcbappen gaan/
©trbttg tnu niet toat gn оп# bebt gehoben.
ЛЙрп jitl bnytoaftt/ en 3tgt/ met b?uft btlatn:
©en bnanb зіеп boib?iftig tooen / en bobeni
1 u Olfetoaantoij#tmnfcb/bíetoaatbeíb¡S-lfer6effrijb/
On blotft betbitnt/ lïtlt go ben blotft boo? oogen:
30'afbailige/ bie Dnji uto liebt benijb/
■JBtlîraft go feberp: bat ife niet toerb betoogtn/
ЗЭ00? ftnaab of febanb/ toant ife beb 't be« gefielt/
©p utoe leer tn totbtloofb btunogtn.
12. -éeboon menig ©o?fï ttn dcbttt-bonnijS belt/
Фпі inn boo? angftuto bonb-toet tt botnto?afttn/
$ifllm Cet*,
©at ife gttrouto 3a! bolgen 't beil-berlcbt
9ft beb gtfmeefet oui utoe Hjttntl-gaabtn/
îtn totbtrtifeb op 't b?ee-berb?ag gebaan/
Xaat uto gtnae inijn зіеі met b?tugben laben.
30. 3|ft 3a! inijn boen boo?3lcbtlg gäbe flaan/
gttuiging-tooo?b toont inn bet pab ten leben:
Шааг. op ift ga/ en boop ftttbg boo?t te gaan/
Ön fpoeien ¡all 0111 naat bet tlnb te ftrtbtn:
ЧЙ btb noit bemaagt/ nocb uitfirel-tijb gt3ocbt/
Ф111 tot uto toet nip nmliig te begeben.
ji.ïftt gobioojï tot/ boo? bloeftgtfpan btrfenocbt/
ïÇcefl mg ontrooflt al toat ift beb 6e3tttn/
bat inijn bal bier boo? toietb uitgeto?ocbt/
ЛІШааг ift beb noit bet ttcbt geloof betgettn:
Эіп ftaptng ttjb toaaft ift ben gantfeben nacbt/
Ф111 uto geriebt tn gotbbtib af tt nieten.
5 2. 'ft btC3tl btn getn/ bit utot ton bttracbt/
©an toat geftacbt tn bolft bp ooft mag \11t3tn/
DBant bit gtloof tn toaarbeibnittbtracbt/
Fig. 48. Small Pica Psalm-Notes, cut by Christoffel van Dijck. Resetting of a page of
De CL. Psalmen... overaeset door Petrum Dathennm, Vlissingen, Samuel Willegaards, 1711.
[1] Arch. Plant. 81, fol. 795 (letter), and Museum Plantin- [2] The Widow Elsevier died two months after writing the
Moretus, Folio varia 9, fol. in (specimen). Type Specimen Fac- letter, in the first half of March 1681, (Willems p. ccxliii), and
similes 1, Sheet 12. See List of type-specimens No. 25. therefore near the date for which the sale was announced.
8l