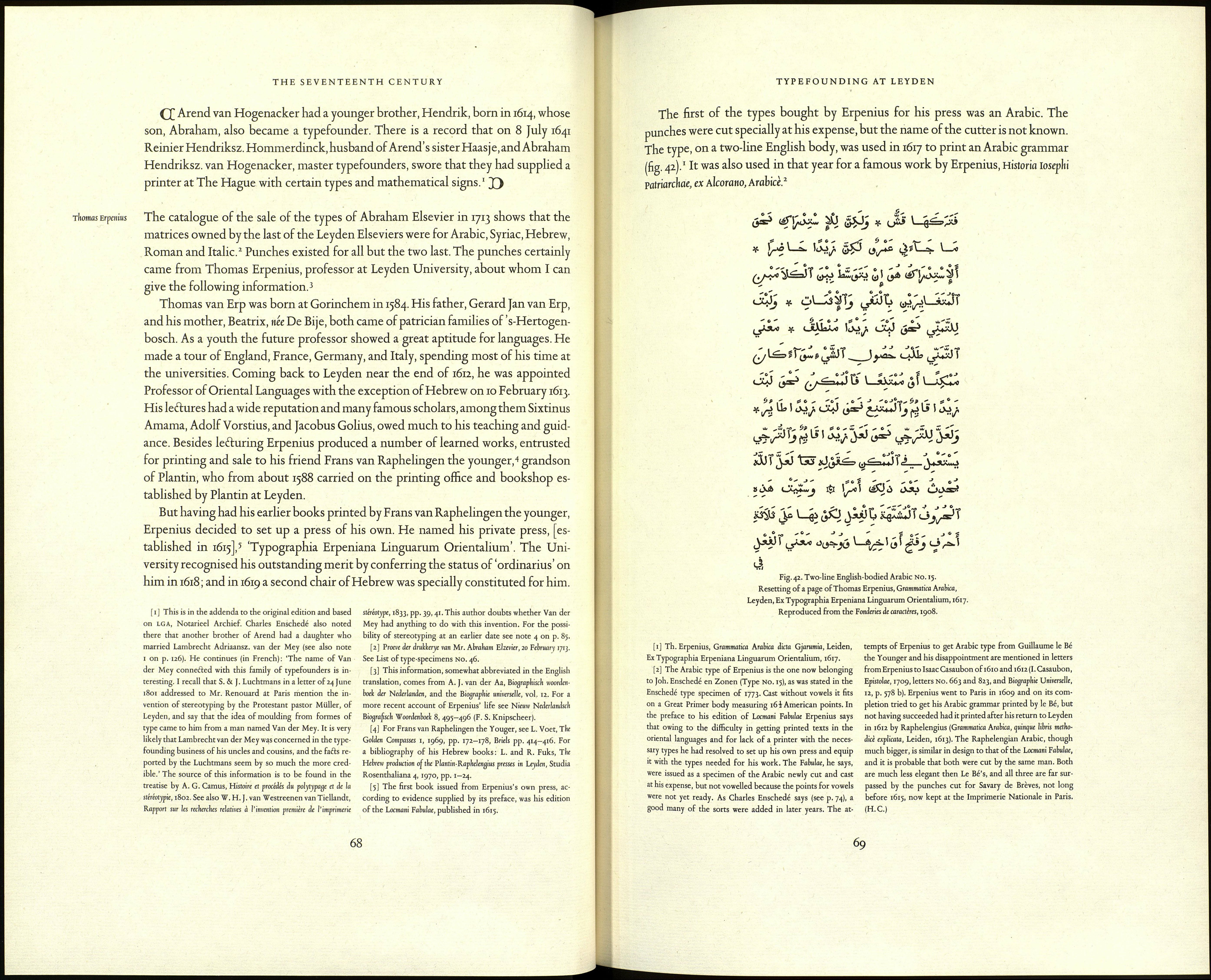 vati
THE SEVENTEENTH CENTURY
sixteenth century there is no certain information. It is said that Jodocus Hondius,
the copper-engraver and geographer, practised extensively at this art about the
turn of the century;1 but there is only one face, a curious Italic, which can be as¬
signed to him with any plausibility.2 Evidently, however, he would undertake to
strike matrices, a task then generally regarded as within the province of the punch-
cutter. In 1601 Jan Moretus asked the younger Frans van Raphelingen to have a
strike made with the punches, then at Leyden, for a Pica Black Letter, and his cousin
promised to do so as soon as Hondius could find time to come to Leyden.3
The Plantinian printing office at Leyden was closed in 1619. The punches and ma¬
trices sent there after Plantin's death went back to the parent house in Antwerp —
most of them in 1612, the remainder by the end of 1619 —, and the founts of type
were either bought by Moretus or sold locally.4
Arendcornelisz. A few years later we find a new typefounder at work in the town.5 In 1624 Arend
нодеішскг Cor[neli] sz. van Hogenacker, typefounder of Leyden, joined in a partnership with
a printer, Pieter Müller.6 His house still stands in the Haarlemmerstraat and has on
its gable-end the memorial tablet which he put there in honour of Laurens Coster.
In 1632 a contrae!: was made by which Arend Corsz. van Hogenacker was to let
2,000 lb of type for an annual rent of 80 guilders over a period of ten years to
Willem Christiaensz.7
Unlike De Vechter, Van Hogenacker was a punchcutter. Not only was he so
described in the contrail of 1632 and in the advertisement of the sale of his succes¬
sor's stock in 1672,8 but punches attributable to him have survived. In January 1637
Van Hogenacker's executor, Reinier Hendriksz. Humberdinck, sold part of the
stock of the foundry to the University of Oxford.9 Included in the sale were ma¬
trices for an Arabic and five sizes of Hebrew with the punches for them. The Arabic
and three sizes of the Hebrew were used by the Leyden printers Jan Maire and
Willem Christiaensz not long before and after the sale. The Arabic is not easy to
distinguish from that of Thomas Erpenius, which the Elseviers bought in 1625, and
[1] H.F. Wijnman, Jodocus Hondius,(see previous note); about earliest date for a document in which Van Hogenacker is
Hondius as typecutter especially pp. 13-17. Briels pp.322—325. named as a typefounder. The date 1662 for his death is er-
[2] H. F. Wijnman, Jodocus Hondius, (see previous notes), pp. roneous.
43-46, reproduced on p. 45. Cf. A. F. Johnson, Type designs, [7] lga, Notariële Archieven vol. 366, Aci 62; vol. 265, Adì
1934, p. 145. See also H. F. Wijnman, De Studie van het Ethiopisch, 69. See also J. G. van Dillen, Bronnen tot de geschiedenis van het be-
Het Boek 32,1955—57, PP- 240-241. Cf. note 2 on p. 65 for the drijjsleven en het gildewezen in Amsterdam 2, 1933, p. 824, where а
ascription of Raphelengius' Two-line Great Primer Arabic to similar contrail is related between Arent Corsz. Hogenacker
Hondius. and Floris Willemsz. Clinckhamer (1400 lbs of type for an
[3] Arch. Plant, no. 92, fol. 113,119. annual rent of 100 guilders in the years 1632-38).
[4] Letter from Frans van Raphelingen the Younger, 21 Sept. [8] See p. 67.
1619, quoted on p. 70. Moretus inventory of 1612-19, Early In- [9] A copy of the contradi: is in the University Archives,
ventories pp. 101—110. L.Voet, The Golden Compasses 2,1972, p. 108. sep P 17 b (3), N0.3. See Reed p. 133. The types and the doc-
[5] In the original Fonderies (1908) the Van Hogenacker family ument are fully discussed in S. Morison, John Fell, the University
was discussed on pp. 124—126. Press and the 'Fell' types, 1967, pp. 233—243, with reproductions.
[6] lga, Notariële Archieven vol. 104, An. 109. See for Van Also in : H. Carter, A history of the Oxford University Press, 1,1975,
Hogenacker also Briels pp. 320—321, who gives 1623 as the pp. 33—34.
66
TYPEFOUNDING AT LEYDEN
the Hebrews and a Syriac are much like those in Plantin's collection, used by his
successors at Leyden after his day. Judged by these, Van Hogenacker was an imitator
of typefaces familiar to him. X)
Arend Corsz. van Hogenacker was mentioned by Johannes Enschedé in the
preface to his specimen-book of 1768 as having probably cut the punches for the
famous Elseviers, of Leyden.1 We can tell now that this was not so;2 but it is none
the less most likely that the famous Leyden printers had dealings with this type-
foundry. Moreover, it may well be that Erpenius made use of the skill of Arend van
Hogenacker, who was at work in Leyden before 1619.
As far as I can deduce from my notes, the family to which this punchcutter be¬
longed is first recorded on 11 December 1613. On that day Cornelis Bartholomeusz.
van Meppel signed an agreement with a joiner, Adriaan Eugen. By 1619 Cornelis
was dead; for on 23 December his daughters, Haasje and Marietje, together with
the tutors of the minor sons, Jan and Hendrik, conveyed their late father's house
to their brother, Arend Cornelisz, letter-founder, on condition that he would pay
the charges on their deceased father's estate.
[Arend Cornelisz was buried on 6 August 1636 in the Pieterskerk at Leyden].3
He seems to have left no children; for by a deed dated 18 May 1662 it appears that
he had left his fortune to his sister, but that his foundry, to which a printing office
had been added, had passed to a nephew, Bartholomeus. Bartholomeus died in 1672,
and his widow put his business up to auction. I can give little information about
the concern. There is a small book of verses in the City Library at Haarlem cele¬
brating a wedding at The Hague in 1666 which has the imprint of Bartholomeus
van Hoogen-Acker.4 The types used in it are not very good; yet, to judge by an
advertisement in the Oprechte Haerlemse Saterdaegse Courant of 19 March 1672 of the
forthcoming sale, the foundry must have been well stocked with type of many
kinds. It was to this effect..
In the city of Leyden, on 14 April 1672, will be sold in the house of the widow of Bartholomeus
van Hogenacker, in the Haarlemmerstraat, at the sign of the Inventor of Printing, the letter-
foundry of the late Arend Cornelisz. van Hogenacker, skilful punchcutter and letter-founder,
consisting of many and various sets of matrices for Hebrew, Rabbinical, Roman, Italic, Script,
German and Black Letter, all manner of flowers, signs, and music-notes, with many and various
punches and all the moulds and other accessories belonging to the foundry, last used by the
aforesaid Bartholomeus van Hogenacker, together with his printing equipment, consisting of
various founts of type and a fine printing press.
I have not been able to find out the purchaser; and I cannot even hazard a guess
as to the posterity of this Leyden establishment.5
[1] Leaf D 2 Refto.It was abbreviated by A. J. Enschedé in [4] Ter bruyloft van Lambcrtus Bidloo, en Maria vander Lis, ghchouden
his preface to the Enschedé type specimen of 1867, and this in's Graveuhaghe, op den 16 Mey 1666, Leiden, Barth, van Hoogen-
passage was translated by Hart, p. xii. Acker, 1666, in - 8° obi. Haarlem, City Library, 53 G 182.
[2] See p. 64. [5] This passage occurs in the original French version on
[3] lga, Begraafboek. pp. 124-126. No sources are given.
67