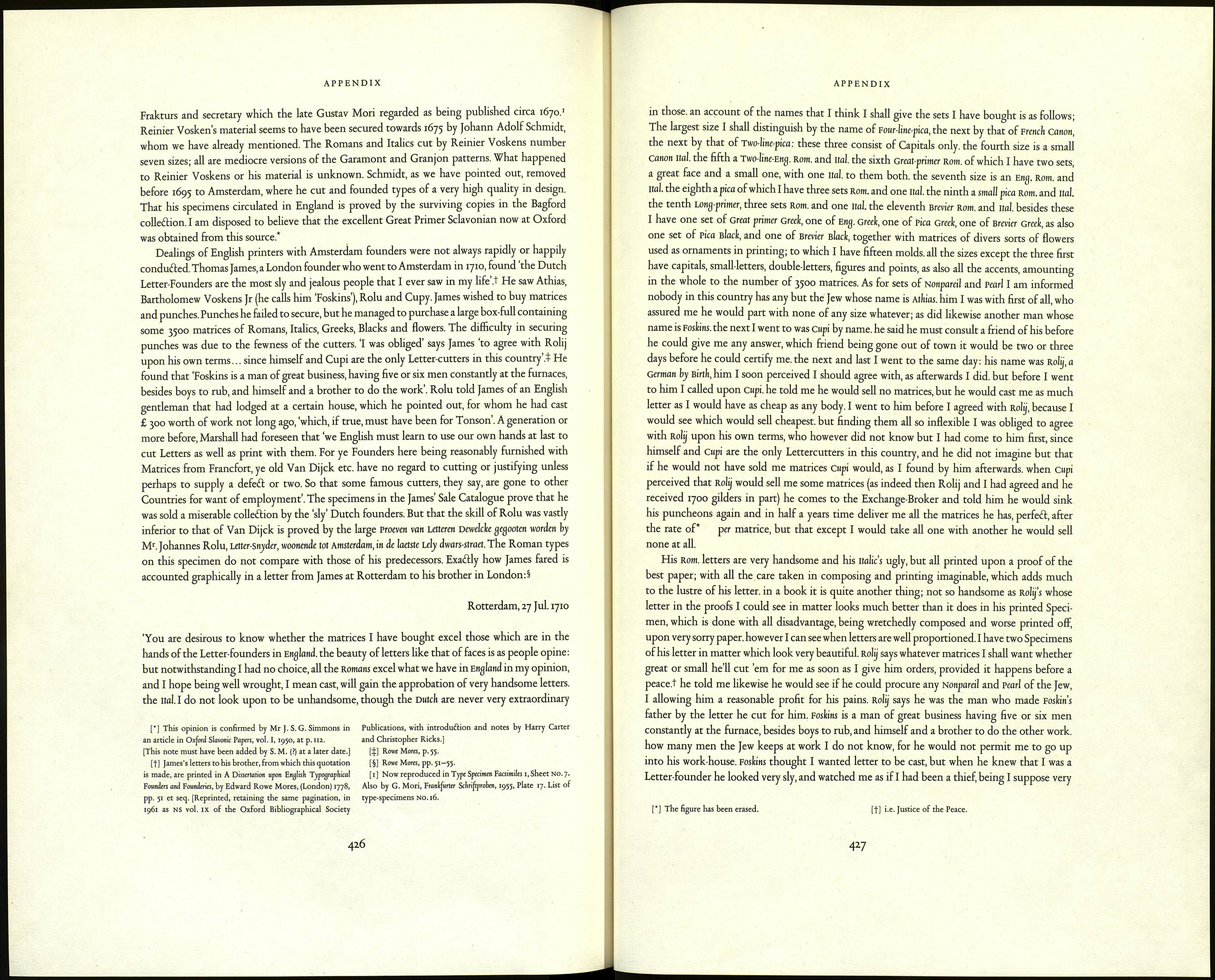 APPENDIX
[December] of that year. Unfortunately there is no information as to his activities in England.
Marshall was treating with him in 1671 and 1672 — while he was still in Amsterdam — and, on
Fell's instructions was 'importunate with him for his ultimate resolution to seat himself in
Oxford' and 'undertake ye Government of a Founder's workhouse.' Whether he actually ever
arrived in Fell's service cannot be certain — though Enschedé takes it for granted. One of Fell's
letters to Marshall gives his judgment that 'Valerie's letters are plainly inferior to Van Dijck's.'
Unhappily the 'large collection of Proofes from Jacques Vallet, which shew ye various Sorts of
justifyed Matrices he is willing to sell' sent by Marshall to Fell in February 1672 cannot now be
found. They seem (from a subsequent letter of Marshall's) to have been lost in transmission.
The separation of the Fell types into their groups corresponding with the several punchcutters,
or at least the foundries, from whom they originated, is rendered most difficult by the disap¬
pearance of the specimens of 'Van Dijck', 'Vorskyns', 'Katzenberger, the High-Dutcher' and
Valette, which Fell had through Marshall. But we know definitely that Oxford secured through
Marshall a number of matrices originating with Van Dijck. It seems worth while to quote the
letter* which announced the acquisition to Dr Fell.
(Address:) To the Reverend, & his worthily honoured friend,
Doctor Fell, Dean of Christs in Oxford, [...]
Dordrecht. Octob. 28. st. vet. 1 [67] o.
Revd Sr;
I have sent the 4. sorts of Latin Matrices to Mr Rob. Scott, at the Prince's Arms in little
Britain; whom I have by two letters desired to convey them to your self, with all care & speed:
& hope they will be in his hands, before this comes to yours. I have also let him know where
one Mr Will. Butler, a Merchant in London, may be found, [by] whom I desire my disbursments
may be repaid, according to yor for[mer] intimation. The number of Matrices I finde exactly
agrees [with] Van Dyke's last promise; vizr
Brevier Roman
152 peices, at
210 [guilders]
Brevier Curçijf, or Italick
130
150
Descendían Roman
!52
210
Descendian Curçijf, or Italick
128
150
Suma 562 Suma 720 [guilders]
The now specifyed 720 guilders I have returned to Amsterdam, [by the] help of a merchant,
whom I have also requested to turn the said D[utch mo]ny, together with the charges, into
sterling, according to bare [?] cour[se of] change: wch produceth 66І: 10s: 8d: as his own Note,
here in[closed] sheweth. I have likewise inclosed a Note, which I required [Van] Dyke to signe:
wherin, beside ye acknowledgement of 720. guilders re[ceived,] may be observed a necessity of
making speedy tryall of ye Matrices] so, upon seasonable advertisment, he may repair whatso¬
ever s[orts are] found justly defective & blameable. I dayly expect notification of] weight of
Greek Types: & am much airraid, that my long [silence] upon that account, will disappoint &
offend Mr Dean of [Chichester]. His letter written to me, by your procurement, gave leave of
[absence until] after the beginning of Michaelmas Term, but expressed an ex[peftati]on of my
[*] Printed in Hart, A century of Typography, p. 163 [and quoted from this edition].
424
APPENDIX
presence in the College on Nov. 6. being our Chapter [day]. I now plainly se an impossibility
of answering that expectation, & [have] indeavoured to signify so much to ye Revd. Dean, by
Letter: but, in refgard that] letters to uncertain lodgins at white Hall are not so punctually de¬
livered] I must trust to ye continuance of your favourable intercession, so lo[ng] as I remain
obliged to continue here upon this service. I am wplling?] to hope that Van Dyke will not give
me the trouble of another journy to Amsterdam, this ill weather: however, Sr, be assured, that
I shall dispatch the Types from him, & to you, as soon as I can; & my self & books after them.
In my next I hope to say something more of ye Greek Matrices, but for ye present rest
Worthy Sr
Yours to honour & serve you,
Tho. Marshall
Although Fell agreed to establish Valette as a typefounder in Oxford, it would not appear that
the scheme materialised. It was known that Valette's foundry remained in Amsterdam and was
sold after his death, or, at least, came into the possession of Dirk Voskens and one Johannes
Adamszoon. Dirk also acquired a rich collection of punches and matrices from the Blaeu sale
in 1677. The widow Adamszoon published a very fine specimen sheet of Proeven van Letteren etc.
— unfortunately without indication of date — which displays a well graduated series in sixteen
sizes of roman and italics from Robijn to Groóte Paragon. This document seems worth reproduction
on account of its excellent condition and its rarity. I recognise more than one fount now
represented at Oxford. A second sheet known to me is headed Letteren en віоетеп and shews the
larger sizes from Aszendonica (sic) to vette Canon, and ten sizes of titling capitals. In addition, the
sheet displays a rich collection of flowers and flowered initials. Some of the flowers originated
from Frankfurt — I recognise eight varieties in present use at Oxford — and others derived,
perhaps, from Antwerp.1 The notable series almost certainly by Robert Granjon are also repre¬
sented. The sheet concludes with a complete set of initials. At the head of the sheet are two
excellent flowered letters one and a half inches deep, which were in use by loan Blaeu in 1651
or before. A complete set of these and the smaller series are shewn under the title ВІоотіпд-Letters
in the specimen of James Watson, Edinburgh, 1713. Of this magnificent collection, Dr Enschedé
possesses the larger set. There are no particulars of Abraham Ente, with whom the widow
Adamszoon was in partnership. Hence, these specimens cannot be dated, but it seems that
Dirk Voskens died [in 1691]. It is probable that Ente succeeded to his interest; if this were so,
the two sheets may have been issued in connection with the changes in proprietorship. The
widow Adamszoon's specimen gives prints of the founts of Valette and of Blaeu, besides others
— probably Dirk Voskens. But Dirk, as we have already mentioned, had a widow and a son,
Bartholomew, who was in business as a founder in the first quarter of the eighteenth century.
[Dirk's widow issued specimens of Roman and Italic and of] Black-letter, Hebrew, Greek, secre¬
tary, flowers etc. Further investigation into the founts of the several members of the Voskens
family would materially assist in the identification of and ascription to the respective houses
of origin. There are few particulars available of Reinier Voskens. He was, as has been pointed
out, in partnership with his brother, Bartholomew, at Rotterdam in 1641. He was established
in Frankfurt in 1665. It was complained against him by Johann Erasmus Luther and Phillip
Fievet that he had brought Dutch workmen into the city. He issued from an address in the
Tauten gasse. In der Korn-Blum, zu Franckfurt am Main' a specimen of Romans, Italics,
[1] Now reproduced in Type Specimen Facsimiles i, Sheets nos. io and ii. List of type-specimens Nos. 36, 37.
425