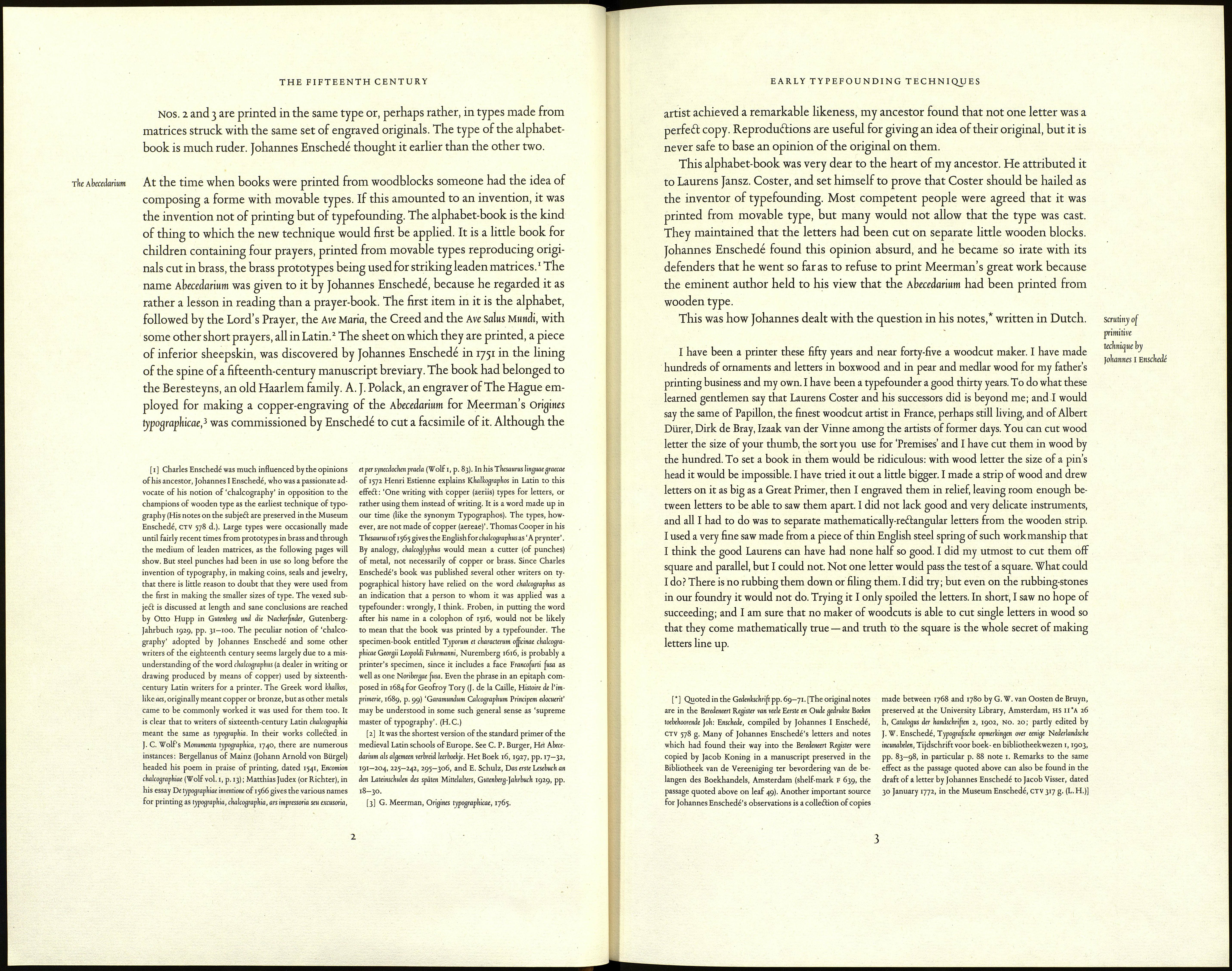 Kossmann E. F. Kossmann, De boekhande! te 's-Gravenhage tot het eind van de i8de eeuw. Biographisch woordenboek van
boekverkoopers, uitgevers, boekdrukkers, boekbinders enz. Met vertnelding van htm uitgaven en de veilingen door hen
gehoiiden. The Hague 1937. Bijdragen tot de geschiedenis van den Nederlandschen boekhandel
uitgegeven door de Vereeniging ter bevordering van de belangen des Boekhandels 13.
Kronenberg, Contributions M. E. Kronenberg, Campbell's Annales de la typographie néerlandaise au xve siècle. Contributions to a new
edition. The Hague 1956.
Ledeboer
LGA
Moes-Burger
Morison, Le Bé
Moxon
MPM
N к/Nij hoff-Kronenberg
Reed
Rowe Mores
THGA
Type Specimen Facsimiles
UL
ULC
Updike
Van Eeghen
Vervliet
Von Wurzbach
Voulliéme Köln
Vries, De, Lijst
Waller
Willems
Wurzbach, von
A. M. Ledeboer, Alfabetische lijst der boekdrukkers, boekverkoopers en uitgevers in Noord-Nederland, sedert de
uitvinding der boekdrukkunst tot den aanvang der 19e eeuw. Utrecht 1876. Chronologisch register behoorende bij de
Alphabetische lijst, etc. Utrecht 1877.
Leyden, City Archives (Gemeentelijke Archiefdienst).
E. W. Moes and C. P. Burger Jr., De Amsterdamsche boekdrukkers en uitgevers in de zestiende eeuw. 4 vols.
Amsterdam, The Hague 1907—15.
S. Morison, L'inventaire de la Fonderie Le Bé selon la transcription de Jean Pierre Fotirnier. Paris 1957.
Documents typographiques français I.
J. Moxon, Mechanick exercises on the whole art of printing (1683—84). H.Davis and H.Carter Eds. London
1958 (revised edition 1962).
Museum Plantin-Moretus, Antwerp.
W. Nijhoff and M. E. Kronenberg, Nederlandsche bibliographie van 1500—1540. 3 vols. 1923—71.
T. B. Reed, A history of the old English letter foundries, ed. by A. F. Johnson. London 1952.
E. Rowe Mores, A dissertation upon English typographical founders and foiuideries, eds. H. Carter and
Chr. Ricks. Oxford 1961. Oxford Bibliographical Society Publications. New Series 9.
The Hague, Municipal Archives (Gemeentelijke Archiefdienst).
Type Specimen Facsimiles, General editor J. Dreyfus, with an introductory essay by S. Morison.
London 1963—. Vol. I (1963): Reproductions of fifteen type specimen sheets issued between
the sixteenth and eighteenth centuries, with notes mainly derived from the researches of
A. F. Johnson, H. Carter, M. Carter, N. Hoeflake, M. Parker. Vol. II (1972): Reproductions
of Christopher Plantin's Index sive specimen charadterum 1567 & Folio specimen of с 1585,
together with the Le Bé-Moretus specimen с. 1599, with annotations by H. D. L. Vervliet and
H. Carter.
University Library
J. С. T. Oates, A catalogue of the ffteenth-century printed books in the University Library Cambridge. Cam¬
bridge 1954.
D. B. Updike, Printing types. Their history, forms and use. Astudy in survivals. 2 vols. Cambridge (Mass.) 1922.
I. H. van Eeghen, De Amsterdamse boekhande! 1680-1725. Amsterdam i960-.
H. D. L. Vervliet, Sixteenth-century printing types of the Low Countries. With a foreword by Harry Carter.
Amsterdam [1968].
A. von Wurzbach, Niederländisches Künstler-Lexikon. 3 vols. Vienna 1906-и.
E. Voulliéme, Der buchdruà Kölns bis zum Ende des fünfzehnten Jahrhunderts. Ein Beitrag zur Inkunabel-
bibliographie. Bonn 1903. Publikationen der Gesellschaft für Rheinische Geschichtkunde 24.
See De Vries.
F. G. Waller, Biographisch woordenboek van Noord Nederlandsche araveurs. Bewerkt door W. R. Juynboll.
The Hague 1938.
A. Willems, Les Elzevier. Histoire et Annales typographiques. Brussels 1880.
See Von Wurzbach.
XXVIII
THE FIFTEENTH CENTURY
Fifteenth-century printing is of three kinds : first, impressions from woodblocks ;
second, impressions from type cast in leaden matrices; and third, impressions
from type cast in copper matrices.1
Many specimens of the first kind of printing have survived; and there are ex¬
amples in the City Library at Haarlem. I do not propose to deal with woodblock
books. We have none of importance in the Enschedé collection.
With the second class, printing with type cast in leaden matrices, I shall deal
briefly. Although we own none ourselves that are as old as the fifteenth century,
the specimens in the City Library at Haarlem have associations with our firm that
bring them within the scope of this history .2 These specimens are : i. An khecedarium,
or alphabet-book ;3 2. Fragments of a Donatus ;4 3. An edition of the Speculum humanae
salvationis5 and one of the Spie¿jhel onser hehoudenisse (Mirror of our Salvation),6 both
printed in Holland.
[1] Charles Enschedé adopts a classification already made
in the eighteenth century in notes on the early history of
printing by his ancestor, Johannes Enschedé: EersteBeginselender
Boek-drukkonst in het begin der vijftiende eeuw door Laurens Jansz. Coster
ontvouwt en aangetoont uyt de stukken zelve in de stad Haarlem gedrukt en
de verdere voortgang der konst mede uyt de gedrukte Boeken Lettergietkundig
opgemaakt. MS, in 40,6 leaves, autograph of Johannes I Enschedé.
Haarlem, Museum Enschedé, among the papers catalogued as
CTV 578, where no separate entry is made of this manuscript.
[2] That the type was cast in leaden matrices was Johannes
Enschedé's opinion. It is not generally held. The copies of
'Costeriana' of the City of Haarlem are now on deposit in
the Frans Hals Museum. Some of the 'Costeriana' from the
Enschedé-colleétion were acquired by the City of Haarlem
when the collection was auctioned in 1867. They are listed
in notes 3 and 4. The collection of the City as it was before
these acquisitions had been catalogued twice by A. de Vries,
Librarian of the City Library, first in the Catalogus Bibliothecae
Publicae Harlemensis, 1848, pp. 68-112; later separately and more
extensively in Lijst der stukken betrekkelijk de geschiedenis van de uit¬
vinding der boekdrukkunst berustende op het Raadhuis te Haarlem, 1862.
The earliest acquisition of'Costeriana' by the City of Haarlem
was made in 1654, when for 300 guilders a chest was bought
containing three blockbooks and two copies of the Speculum,
one of the Dutch edition CA 1572 (De Vries, Lijst no. 7) and
one of the Latin edition CA 1570 (De Vries, Lijst no. 8). An¬
other copy of the same edition in Dutch, CA 1572, had been in
possession of Nicolaes Janszoon Verwer (De Vries, Lijst no. 6) ;
De Vries supposed that it had been left by him to the City
Library, some time in the seventeenth century (see De Vries,
Catalogus 1848, pp. 94, 97—98). It certainly was in possession of
the library by 1703. More additions followed in the course
of the eighteenth and nineteenth century. Apparently Charles
Enschedé confused some of the items in the earlier collection
with additions made in 1867. The Museum Enschedé itself
possesses since 1914 a fragment of one of the editions in Latin
of the Speculum, CA 1569, from the collection of George Dunn
(auction Sotheby, 2nd portion, 2 February 1914 and following
days, lot 1610 ; F. Jenkinson, A list of the incunabula collected by
George Dunn, 1923, No. 1255. The fragment is there wrongly
identified as belonging to the edition CA 1570. (L.H.)
[3] CA 1. Catalogue auction Enschedé 1867, lot 1. Bought by the
Trustees of Teyler's Genootschap and donated by them to the
City of Haarlem.
[4] CA 616, GW 8802. Catalogue auction Enschedé 1867, lot 2. Do¬
nated by the Enschedé family to the City of Haarlem. Charles
Enschedé omitted to mention the copy of Aesopus, CA 30, gw
315, from the Enschedé collection (Catalogue auction Enschedé 1867,
lot 5) now in the Haarlem City Library (deposit Frans Hals
Museum), a copy not recorded in GW. It contains a long note
by Johannes I Enschedé, dated 10 June 1774.
[5] CA 1569. The copy of the Latin edition of the Speculum
in possession of the Haarlem City Library (deposit Frans Hals
Museum, De Vries, Lijst No. 8) was bought by the City of
Haarlem in 1654 (see note 1). There has not been a copy
of the Speculum in Latin in the Enschedé collection before
1914.
[6] Johannes I Enschedé's own copy of the Dutch Spieghc!
onser behoudenisse (CA 1571, Catalogue auction Enschedé 1867, lot 3) is
now in the collection of the Earl of Crawford. Two copies of
the Spieghe!, CA 1572, are on deposit in the Frans Hals Museum
(De Vries, Lijst nos. 6 and 7). For their provenance see note 1.
The copy bought in 1654 has four leaves belonging to the
second Dutch edition, CA 1571. Johannes I Enschedé made
a careful comparison of these two copies, see note 1 on p. 5.
(L.H.)
Type cost tit
leaden matrices
I