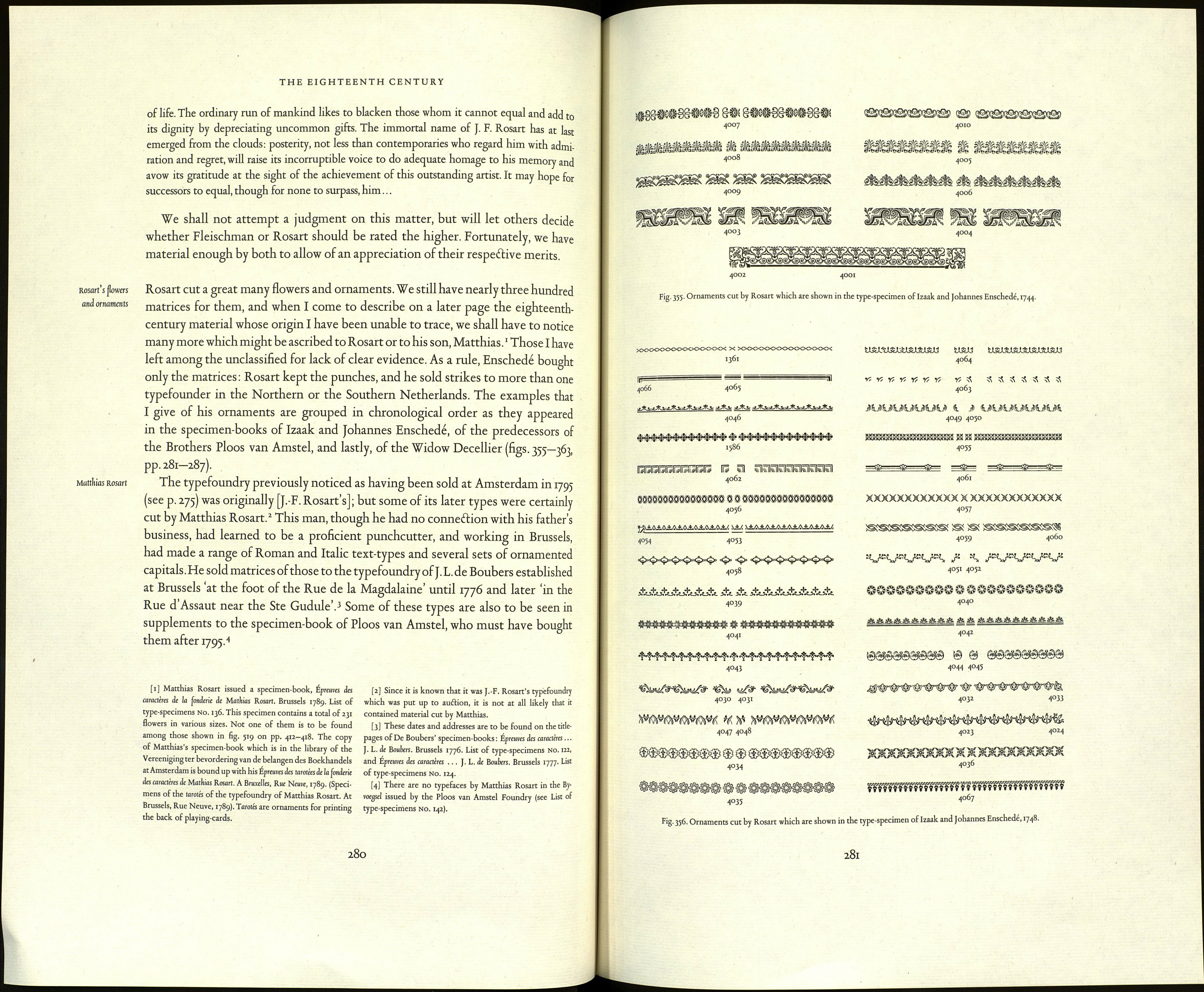 THE EIGHTEENTH CENTURY
ТІіе successors
to Rosart's
xypefoundry
(figs. 353 and 354), which we have reset as they were in the specimen-book of the
Widow Decellier.1 Some letters of the Paragon are not original.
Rosari died on 26 May 1777,2 aged 62. Although he left children, none of them
carried on the business. The typefoundry was sold by auction on 20 April 1779.
Notice of the sale was given in the Brussels newspapers and in the Oprechte Haarlemse
Courant of 11 January 1779.1 give a translation of the notice because it shows what
great claims were made, not unjustifiably, for the material.
JR. О Ж JO J G
ONDEIWY
I N H E Т
BEHANDELEN
DER
Л<§)
0WïTëW
DOOR
LEOPOLD MOZART,
Jboo

Met 4 Konß-Plaaten en een Tafel van de Kegelen
der Strykmanier enz. voorzien.

^RJ-HCATDt«? С URBjfSfe.

ì

TE H A E R L E M,
By JOANNES EN S С HEDE,

MDCCLXVI.

Fig-352- Titling Capitals cut by Rosart. Resetting of the title-page of L. Mozart,
Grondig omlerwijs in fiet behandelen der vioo!, Haarlem, Johannes Enschedé, 1776 (cf. figs. 253, 261).

[1] See List of type-specimens no. 126. etched by Cornelis van Noorde and inserted in his specimen-

[2] Johannes Enschedé wrote underneath Rosart's portrait book of 1761 (see List of type-specimens no. 105) ; J. F. Rosart

obiit Bruxell : 1777, 26 mayus.

278

JACQUES-FRANÇOIS ROSART

^toJWift u: ént o*bagtis/ bat m tot

ti et ban ben tojaìfte/ tue $obt mm in ïï J? imnthum.

tesen fietn pteßtie/ torto* Ш ™ аш п™г поошу^

SbenI bit fig besäen fiabben/ bißtbm/ m ЪщттгЦЪ

toaet* ban in 't ttoeebe ЪжЪ й\§Ыппто$ topfen ban

ber ftonmgen getneïb toorb/ Man^n mdttt bom m$

Qtdjpen met am fijne anbere ШЪ€^€$ЩШ%
mí^baeben baer toe. aocbefggi

Ышпо]р^2(с?Ш^С©€Фдаа

Fig- 353- Great Primer Black Letter no. 822. Resetting of

part of the type-specimen of the Widow Decellier, 1779. with some adjustments.

Fig. 354. Paragon Black Letter no. 900. Resetting of
pig. 353. Great Primer Black Letter No. 822. Resetting of part of the type-specimen of the Widow Decellier, 1779,

According to information published in the Supplement to the Neclerknàschc Courant of
17 December 1778, there will be sold by public auftion in the city of Brussels on 20 April 1779
the typefoundry of the late Mr. J.-F. Rosart, where will be found all that is least common and
most precious that the art of printing in various languages has produced, such as shaded and
ornamented letters, likewise everything needed for it, whether plain printing type or flowers
and ornaments, music-type, plainchant notes, backgrounds for playing-cards of all kinds, etc....
This great artist not only earned a high reputation by his work for the chief printing offices
of Europe, he also was a designer and cutter of many of the beautiful types and ornaments to
be found in other typefoundries of the Low Countries and elsewhere.

The buyer of this manufactory will have the advantage of finding not only the matrices
but the punches with which they were struck in an excellent state of preservation. It may be
added that the tools belonging to this manufactory are of the utmost perfection; as proof of
which it is only necessary to mention that the workmen, all trained by the famous Rosart,
have been fully able during the two years since his death to carry out all the work ordered
from them from day to day to the complete satisfaction of those who have given them their
custom. Anyone interested may see these men at work in the house lately occupied by the de-
funfl: on the Hooikade at Brussels, where six weeks before the aucion the material offered for
sale may be viewed. Specimens of the material and the conditions of sale are also to be had there.

I have not discovered who was the purchaser ; but not long after the sale Rosart's
types are to be found in the possession of the Widow Decellier at Brussels, who
likewise gave proof in the preface to her specimen-book printed in French of an
inability to forget that her predecessor in business deserved the credit for the
success of the typefoundry at Haarlem. I cannot refrain from quoting her.

Of the famous artists who have deserved well of typography the well-known J.-F. Rosart is
without doubt one who can claim a position of the highest eminence. Everyone is aware that
the fine foundry at Haarlem owes to him the beginning of its fame and most of its reputation.
The high tributes paid to him by discriminating critics have sufficiently atoned for the in¬
difference to his talents of those who ought to have acknowledged him as the chief author of
their success. But it is by no means the exception for the river to disown its source, and we
need hardly say that envy and ingratitude are the usual reward of superior talents in every walk

279