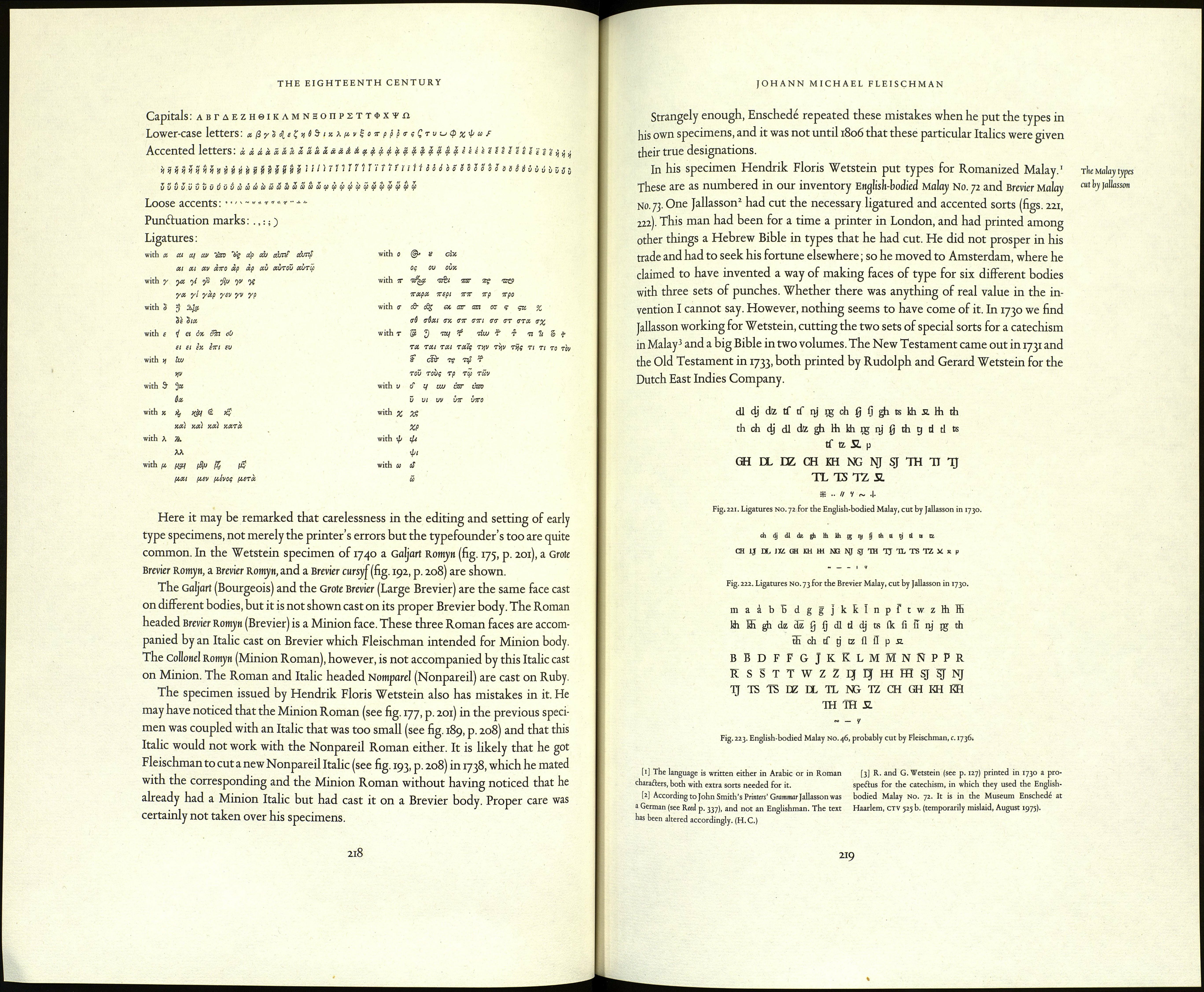 THE EIGHTEENTH CENTURY
Cut in 1741: Two-Ііие Small Pico Roman Titling Capitals No. jo (fig. 208, p. 212). Two-line
Brevier Roman Titling Capitols N0.71 (fig. 209, p. 212). Long Primer Block Letter N0.557 (fig. 210,
p. 214). It was used in the new edition ofthe New Testament in 1775 (fig. 211, p. 2ц\
Pica and Small Pica Psalm-notes (figs. 212, 213, p. 214). These two sets of notes were used
for the Psalm-book ofthe Dutch Reformed Church in 1774 (figs. 214—217, p. 215), «
and have been used for it ever since.
Cut in 1742: Great Primer Arabic No. 657 and [as adapted to] Great Primer Malay No. 652
/ S.J О J / / wOi-e О /Оно /wo ш /*—* J J / U / ui «о / /
(jjüüe^ *£ bej s^"$\ ft?^4? *"^ ^""°^ òy*f- O^ U*^-*^ <¿>*J v
/// ////// / /
/ J J О / / / C/J/-»oSui / J / О / / / J /*-> / ¡Asno/ /újrc / J /J
i^a^xÙxì ІѵО^ *JwäS^ ^ Oj^Cr^rl bej ^Л/°^ 0?>i>^ ^ lU^^^O л
£ / /
/ Ja> / J } / / О 2 Ö / / 0->// î> // Ли r« J J / // Ö / / о J_>
^¿£=0 ^i\s Lo ^лЗ^ і_И¿£ ^ Ló^o «IM ^¿íji Joyo ^>jX» (y q
/ / / // /
/ J O -> J ll / /ú> -»/ OSOr« .» O.» / bJ/ / / /
/ £ / / / / £
/ / -> l-' tV J/ / // fJJdt/U/f/J O JOSS J J íiJÜJ /S
U5"^o\ ,gJ ^лі' Ь^ IH (^^ЛІО ^ 0-% ^¿*»яЛ\ *s6 ^ ^ и
/ / £ / £
О // «-///¿uno JJ OXU /$ w//¿ Я / /W // J S .»S -J / J Ш r« / /,_/
O-^ ílgÁiu^ *A >gï^ ^\ s\.gÁuu5^ (¿уо^ L*í i^«jb\ \j!>Vi ,ju\JÒ\ <¿y*\
/ S '
// / и// / / 3¡ A* J / J h* / Si-' j/ // / j/ и / /
^ллЬЦуІ. ^jM ^а- U^ Luv)^ yU> у^ Oí¿^ 5^ U^ IP О^-Ц? ^
// / £ S / g
о J ш J / / с о / о / Ли S /.І и/1/ J J о / /S о J / / S J/
»¿¿¿¿J *(£ L^jXuO ôd3^ 14c (^^.JÄa^N) (3SÒ \_¿¿\ jCx*! U\ ^3U>
// / / g g
/ / /JOr« /// Cur« J / / Ore / turo /Csw/ ¿ /J/0/0 / о ->
Ui ci^b ¿ЗДл^М ^>rC¿H OíJ^ ^LíóS^ |° oj-fr^ л(рЦѵ& ей
/ / / / / /
:* / //O/O re ó*« // / íiJJ / / / /UJ J/ // ОЛ»/ / o / /
^\_І 1>і>;}А»лЛ L.Í'jO^ ,3^^ MS^k0 14 Ci>íi>^r?0 ]^^ Loj *¿¿;\¿SO (JCSO;
/ / / / /
/ j oj / ' jj oj//// o j jSire / / t j/íi / / » tw/S ш//
/ # / / / /
O /J J bj /S ro/ U.//OS /J o// OJ/ «5 OJ ÖOJ iSj
OUJis ¿SJJ sLm«J^ (¿yo {_rj^aS j] |A ^jxa.jj ^ ¿ci ^s. Sb >лаэ |V
// /#/ / ГГ
о /Or« /// /Cum/ о /»-^ oj/ /S / j/ о / О о / / öo/'
/ / / ///./■/
"J/ «^ /S /CÚJ OJ / / o£ J /

^gj sLa.H Ui> j^Lvai^ <_sitSO 1>¿)-¡J^ о>Ці И (JJ>ji\iJU lïAS\^0 aü3^

// / /

О / OS/ О О / / / // J5jr« а_* / О// J / О О// //OS / / О/

j^Uai^ jfj^íSAus c^iôjJ ¿ü5^ ìLàjij \jA3 pftds. JÌò\ )¿]j &л5 иго«*
/ / // / Г/" г g /*/

Sr« JJÚj/ J JOr« J Ш ГО /¡¿S /б / О/ Ш-> ///ШГ«С5

0"r>3\ ^ ^^ ^из^ UjH Ь ^j¿' «^уЛ у ^іс sii] ^)
t / / g

/ J S / O Júj/ / О J О / О / шг«/ О J / / /

Fig. 218. Great Primer Arabic no. 657, cut by Fleischman in 1742.

[1] See also p. 207.

216

JOHANN MICHAEL FLEISCHMAN

(figs. 218,219). Small Pica Greek No. 596 (fig. 220, p. 213), supplemented with ligatures in
1765. It is an admirable face, still usable at the present time.1 This is the complete
synopsis ofthe sorts. (See p. 218).

In the foreword to his specimen-book of 1768 Johannes Enschedé wrote that the
cutting of Fleischman's two Greeks was a marvel, that there were no others to be
compared with them, and that they were in use for the principal universities of
Europe.

ЦИ е>Ь W^ «l£%á ¡аЛ-уѵ е)Ь fXJ^j sÜeV^i" ^U-JU lLCo v
&\£b\fß bÂà>f£ ^Ь bÁcb^tó idüi^ 1_иЛ uüjOo л ф UH сильна"
ob j»Sjâ «däS^ Ь^_>£ tlC* I Ф b^jÄ гОлі^- p¿£ 0Ь p^i

P uLÍ^ í^^c^*" 3^*" ob ѴЛ^; eJU¿%>¿' ІхЛ^ uLsto 11 ¡$¡ Lu¿^>

ôlaMip с^о^ i^b ,^о^ eJLüb^' y¡\jsjj i±£* If" Ф ^b^j

lüU |o i$i ^^ sJJii^ е>ла.\ ^Ь .¿^ла.^ üJLäS^' ójc>s¿> ob
¿diii^' (¿ѵ^ О^ О^ гьйі^ ^>i>*J^ ob ^>1>*Í^ edÄSl^i' ^^
¿í *->й^ (*r?>^ o^-*-"0 ¿-S*^á ¿sJLfti^í^j (_^üíc> lLCo 14 ® t-jj-ft«
^ |v ® grv*»^3^ ои*«о ¿i ^лхдлг oülí>a3 sS¿ ^jJ ^и>
^^Ь tjül-сЛ s5jS\ ¿jA¿ ¿£S í_^Um> **¡b\>¿\ j¿ jó ijiß Ot^"
0xxb (jciLo^ y>bS ол^>іІ>і" j^S" ,_yUu. jjíb ^* ^^ ^b 3ß

^^0,3 UL^O iJUuji (JÄ^ ^¿UÏO ¿diÔjAM (JÇ>^ í_^>^ Oj-Ч) ^LC¿>

«5Ь^ ¿c>*" слй^ і^Лл^« t_¿*^-s i^Jjl И i$i (jw^^ £jj j$ jo
^ч^с^4^> ^* P cAf.^o (¿S^sSyi ß\-«> i¿\ si\o^ ob ¿(>\ä ^
(*ІЬ (J^;^ Ot^°t> >^ s/^ іЗ-л^ P* $ P »íi) l/l> 0%^-*^

c>dÁ¿\-gJ5 O5^^*"? Wj^> (J^-5^-*- OU*" 1_>*JA3¿iuau л(2І t^jvrO 1_>-ÇCA

&U£\_a. c>3^L> P uL>^ tjü^ iw¿*u^? j_yô çj^j^» оѵЛ4-'0 .Ob t-»^'
е_Л;5\ (^л-О^ oJ^A) жі ¿^>U 0^>^ *-^5^ tv^*-i>/<' r*^y° iJ^rO-V« CJjLS

^ 0"a>^^ £ßj ¿S J¿ 0>Ц-

Fig. 219. Great Primer Malay no. 652, adapted from the Arabic no. 657.

[1] Fleischman's Greeks are very like those attributable to Johann Adolph Schmidt (see p. 133). See also note 4 on p. 127.

217