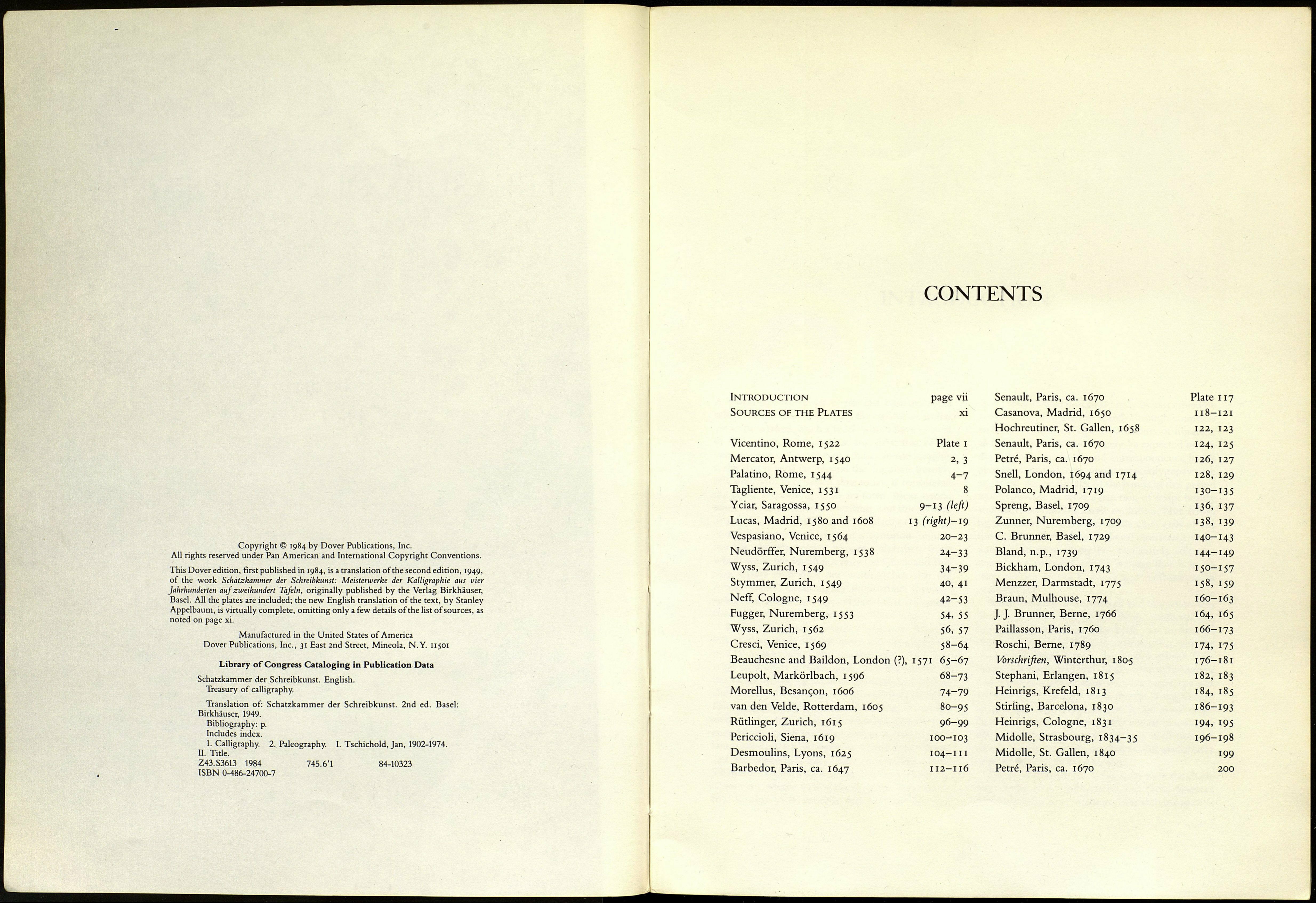 Copyright © 1984 by Dover Publications, Inc.
All rights reserved under Pan American and International Copyright Conventions.
This Dover edition, first published in 1984, is a translation of the second edition, 1949,
of the work Schatzkammer der Schreibkunst: Meisterwerke der Kalligraphie aus vier
Jahrhunderten auf zweihundert Tafeln, originally published by the Verlag Birkhäuser,
Basel. All the plates are included; the new English translation of the text, by Stanley
Appelbaum, is virtually complete, omitting only a few details of the list of sources, as
noted on page xi.
Manufactured in the United States of America
Dover Publications, Inc., 31 East 2nd Street, Mineóla, N.Y. 11501
Library of Congress Cataloging in Publication Data
Schatzkammer der Schreibkunst. English.
Treasury of calligraphy.
Translation of: Schatzkammer der Schreibkunst. 2nd ed. Basel:
Birkhäuser, 1949.
Bibliography: p.
Includes index.
1. Calligraphy. 2. Paleography. I. Tschichold, Jan, 1902-1974.
II. Title.
Z43.S3613 1984 745.64 84-10323
ISBN 0-486-24700-7
CONTENTS
Introduction
page vii
Senault, Paris, ca. 1670
Plate
117
Sources of the Plates
xi
Casanova, Madrid, 1650
118-
-121
Hochreutiner, St. Gallen, 1658
122,
123
Vicentino, Rome, 1522
Plate 1
Senault, Paris, ca. 1670
124,
125
Mercator, Antwerp, 1540
2, 3
Petré, Paris, ca. 1670
126,
127
Palatino, Rome, 1544
4-7
Snell, London, 1694 and 1714
128,
129
Tagliente, Venice, 1531
8
Polanco, Madrid, 1719
130-
-135
Yciar, Saragossa, 1550
9-13 (left)
Spreng, Basel, 1709
136,
137
Lucas, Madrid, 1580 and 1608
t3 (right)-i9
Zunner, Nuremberg, 1709
138,
139
Vespasiano, Venice, 1564
20-23
C. Brunner, Basel, 1729
140-
-14З
Neudörffer, Nuremberg, 1538
24-ЗЗ
Bland, n.p., 1739
144-
-149
Wyss, Zurich, 1549
34-39
Bickham, London, 1743
150-
■157
Stymmer, Zurich, 1549
40, 41
Menzzer, Darmstadt, 1775
158,
159
Neff, Cologne, 1549
42-53
Braun, Mulhouse, 1774
160-
-163
Fugger, Nuremberg, 1553
54. 55
J.J. Brunner, Berne, 1766
164,
165
Wyss, Zurich, 1562
56, 57
Paillasson, Paris, 1760
166-
-17З
Cresci, Venice, 1569
58-64
Roschi, Berne, 1789
174,
175
Beauchesne and Baildon, London (?),
1571 65-67
Vorschriften, Winterthur, 1805
176-
-181
Leupolt, Markörlbach, 1596
68-73
Stephani, Erlangen, 1815
182,
183
Morellus, Besançon, 1606
74-79
Heinrigs, Krefeld, 1813
184,
185
van den Velde, Rotterdam, 1605
80-95
Stirling, Barcelona, 1830
186-
193
Rütlinger, Zurich, 1615
96-99
Heinrigs, Cologne, 1831
194,
195
Periccioli, Siena, 1619
100-103
Midolle, Strasbourg, 1834-35
196-
-198
Desmoulins, Lyons, 1625
104-111
Midolle, St. Gallen, 1840
199
Barbedor, Paris, ca. 1647
IÏ2-II6
Petré, Paris, ca. 1670
200