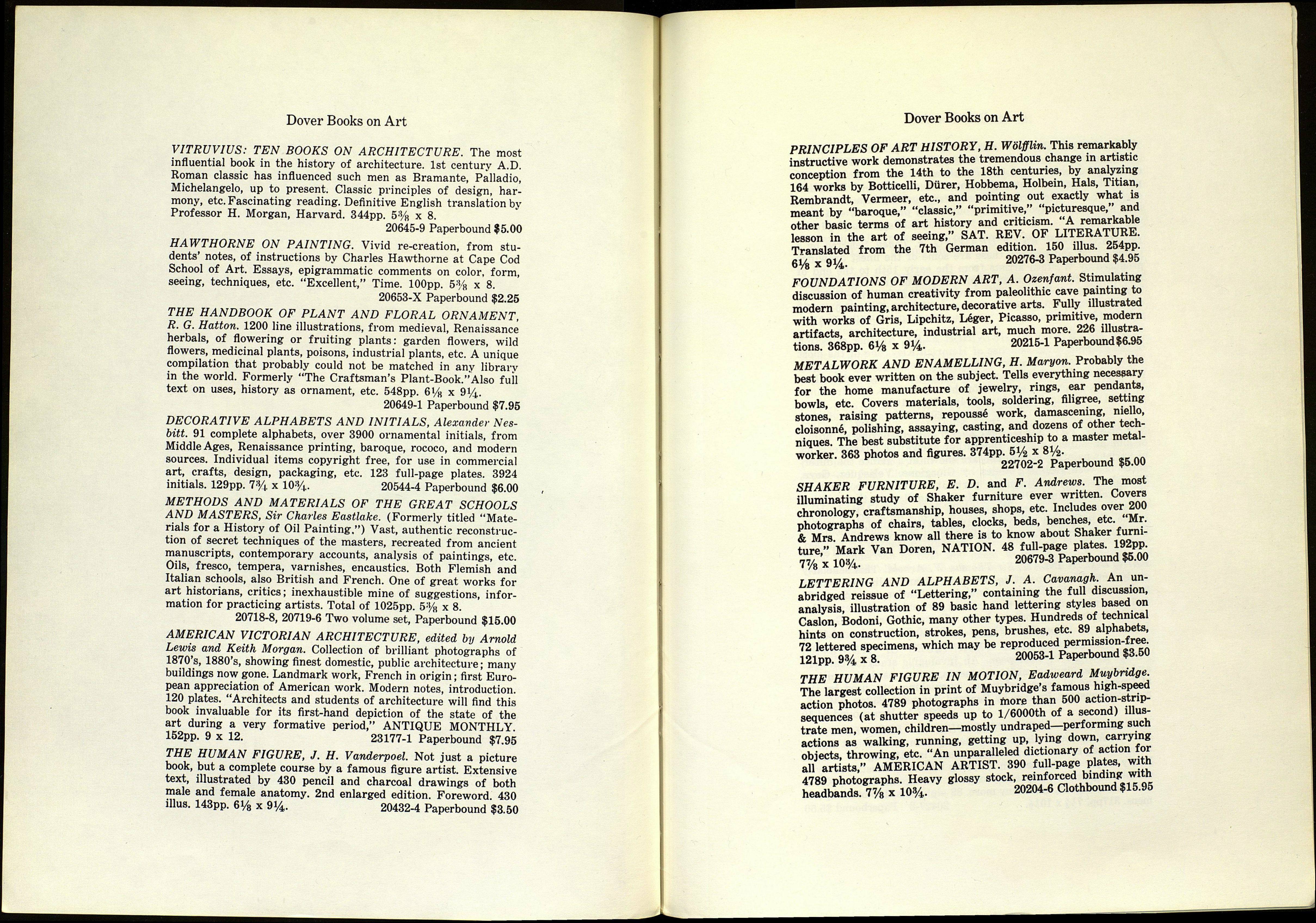 Dover Books on Art
VITRUVIUS: TEN BOOKS ON ARCHITECTURE. The most
influential book in the history of architecture. 1st century A.D.
Roman classic has influenced such men as Bramante, Palladio,
Michelangelo, up to present. Classic principles of design, har¬
mony, etc. Fascinating reading. Definitive English translation bv
Professor H. Morgan, Harvard. 344pp. 5% x 8.
20645-9 Paperbound $5.00
HAWTHORNE ON PAINTING. Vivid re-creation, from stu¬
dents' notes, of instructions by Charles Hawthorne at Cape Cod
School of Art. Essays, epigrammatic comments on color, form,
seeing, techniques, etc. "Excellent," Time. 100pp. 5% x 8.
20653-X Paperbound $2.25
THE HANDBOOK OF PLANT AND FLORAL ORNAMENT,
R. G. Hatton. 1200 line illustrations, from medieval, Renaissance
herbáis, of flowering or fruiting plants: garden flowers, wild
flowers, medicinal plants, poisons, industrial plants, etc. A unique
compilation that probably could not be matched in anv library
in the world. Formerly "The Craftsman's Plant-Book."Also full
text on uses, history as ornament, etc. 548pp. 6»/» x 914,.
20649-1 Paperbound $7.95
DECORATIVE ALPHABETS AND INITIALS, Alexander Nes-
bitt. 91 complete alphabets, over 3900 ornamental initials, from
Middle Ages, Renaissance printing, baroque, rococo, and modern
sources. Individual items copyright free, for use in commercial
art, crafts, design, packaging, etc. 123 full-page plates. 3924
initials. 129pp. 7% x 10%. 20544-4 Paperbound $6.00
METHODS AND MATERIALS OF THE GREAT SCHOOLS
AND MASTERS, Sir Charles Eastlake. (Formerly titled "Mate¬
rials for a History of Oil Painting.") Vast, authentic reconstruc¬
tion of secret techniques of the masters, recreated from ancient
manuscripts, contemporary accounts, analysis of paintings, etc.
Oils, fresco, tempera, varnishes, encaustics. Both Flemish and
Italian schools, also British and French. One of great works for
art historians, critics; inexhaustible mine of suggestions, infor¬
mation for practicing artists. Total of 1025pp. 5% x 8.
20718-8, 20719-6 Two volume set, Paperbound $15.00
AMERICAN VICTORIAN ARCHITECTURE, edited by Arnold
Lewis and Keith Morgan. Collection of brilliant photographs of
1870's, 1880's, showing finest domestic, public architecture ; many
buildings now gone. Landmark work, French in origin ; first Euro¬
pean appreciation of American work. Modern notes, introduction.
120 plates. "Architects and students of architecture will find this
book invaluable for its first-hand depiction of the state of the
art during a very formative period," ANTIQUE MONTHLY
152pp. 9 x 12. 23177-1 Paperbound $7.95
THE HUMAN FIGURE, J. H. Vanderpoel. Not just a picture
book, but a complete course by a famous figure artist. Extensive
text, illustrated by 430 pencil and charcoal drawings of both
male and female anatomy. 2nd enlarged edition. Foreword 430
lllus. 143pp. 6% x 91Л. 20432-4 Paperbound $3.50
Dover Books on Art
PRINCIPLES OF ART HISTORY, H. Wolfflin. This remarkably
instructive work demonstrates the tremendous change in artistic
conception from the 14th to the 18th centuries, by analyzing
164 works by Botticelli, Dürer, Hobbema, Holbein, Hals, Titian,
Rembrandt, Vermeer, etc., and pointing out exactly what is
meant by "baroque," "classic," "primitive," "picturesque," and
other basic terms of art history and criticism. "A remarkable
Lson in the art of seeing," SAT. REV. OF LITERATURE.
Translated from the 7th German edition. 150 lllus. 254pp.
6Vr x 914. 20276-3 Paperbound $4.95
FOUNDATIONS OF MODERN ART, A. Ozenfant. Stimulating
discussion of human creativity from paleolithic cave painting to
modern painting, architecture, decorative arts. Fully illustrated
with works of Gris, Lipchitz, Léger, Picasso, primitive, modern
artifacts, architecture, industrial art, much more. 226 illustra¬
tions. 368pp. 6Ys x 91/4. 20215-1 Paperbound$6.95
METALWORK AND ENAMELLING, H. Maryon. Probably the
best book ever written on the subject. Tells everything necessary
for the home manufacture of jewelry, rings, ear pendants,
bowls, etc. Covers materials, tools, soldering, filigree, setting
stones, raising patterns, repoussé work, damascening, niello,
cloisonné, polishing, assaying, casting, and dozens of other tech¬
niques. The best substitute for apprenticeship to a master metal¬
worker. 363 photos and figures. 374pp. 5l/2 x 8i/2-
22702-2 Paperbound $5.00
SHAKER FURNITURE, E. D. and F. Andrews. The most
illuminating study of Shaker furniture ever written. Covers
chronology, craftsmanship, houses, shops, etc. Includes over 200
photographs of chairs, tables, clocks, beds, benches, etc. Mr.
& Mrs. Andrews know all there is to know about Shaker furni¬
ture," Mark Van Doren, NATION. 48 full-page plates. 192pp
77/8 x 103Д. 20679-3 Paperbound $5.00
LETTERING AND ALPHABETS, J. A. Cavanagh. An un¬
abridged reissue of "Lettering," containing the full discussion,
analysis, illustration of 89 basic hand lettering styles based on
Caslon, Bodoni, Gothic, many other types. Hundreds of technical
hints on construction, strokes, pens, brushes, etc. 89 alphabets,
72 lettered specimens, which may be reproduced Pe™8810""^-
121pp. 93/4 x 8. 20053-1 Paperbound $3.50
THE HUMAN FIGURE IN MOTION, Eadweard Muybridge.
The largest collection in print of Muybridge's famous high-speed
action photos. 4789 photographs in more than 500 action-strip-
sequences (at shutter speeds up to l/6000th of a second) illus¬
trate men, women, children—mostly undraped-performing such
actions as walking, running, getting up, lying down, carrying
objects, throwing, etc. "An unparalleled dictionary of action for
all artists," AMERICAN ARTIST. 390 full-page plates, with
4789 photographs. Heavy glossy stock, 1reinfor£fd b^™7 ™™
headbands. V/s x 103/4. 20204-6 Clothbound $15.95