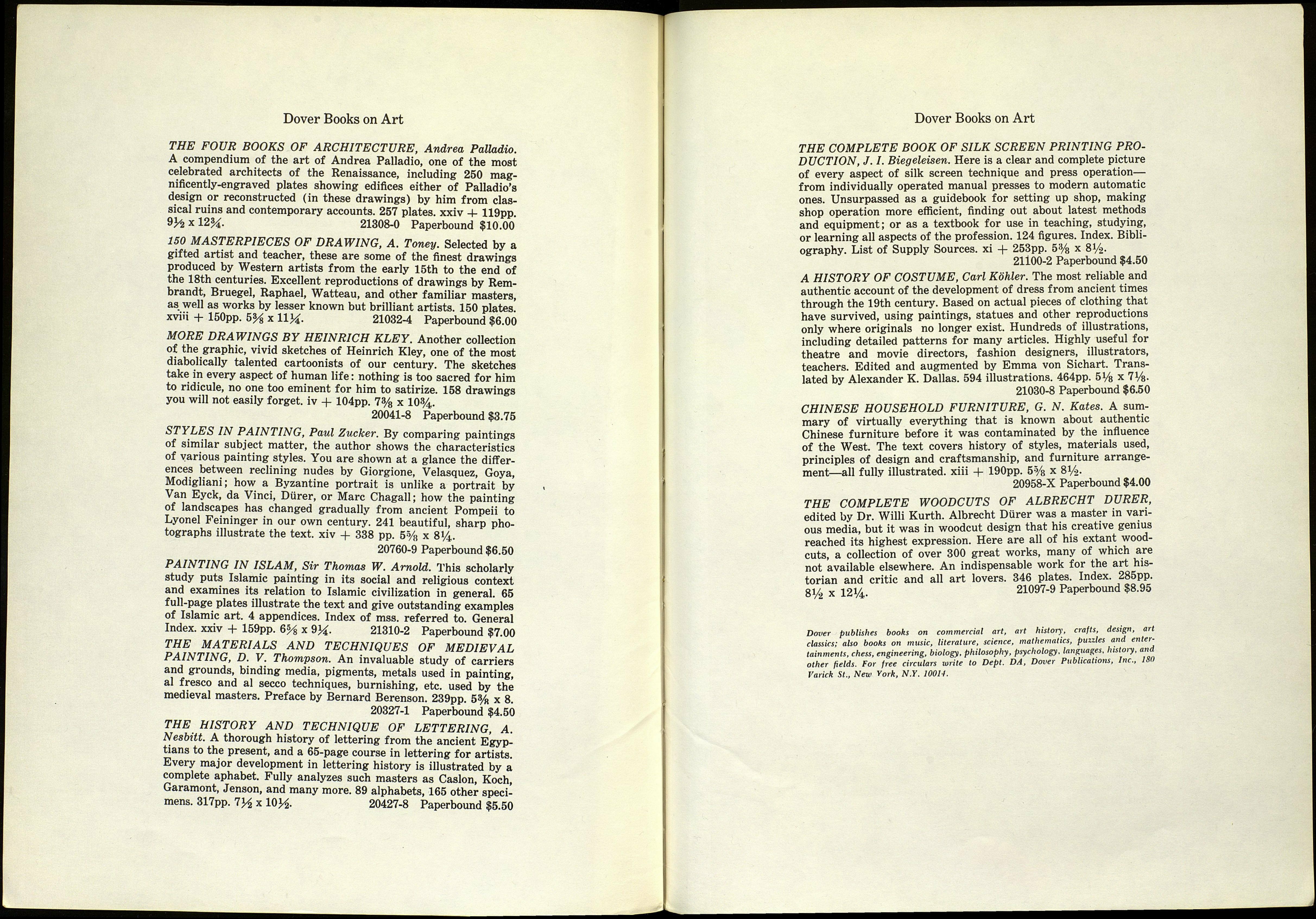 Dover Books on Art
THE FOUR BOOKS OF ARCHITECTURE, Andrea Palladio.
A compendium of the art of Andrea Palladio, one of the most
celebrated architects of the Renaissance, including 250 mag¬
nificently-engraved plates showing edifices either of Palladio's
design or reconstructed (in these drawings) by him from clas¬
sical ruins and contemporary accounts. 257 plates, xxiv -I- 119pp.
9y2 x 12%. 21308-0 Paperbound $10.00
150 MASTERPIECES OF DRAWING, A. Toney. Selected by a
gifted artist and teacher, these are some of the finest drawings
produced by Western artists from the early 15th to the end of
the 18th centuries. Excellent reproductions of drawings by Rem¬
brandt, Bruegel, Raphael, Watteau, and other familiar masters,
as well as works by lesser known but brilliant artists. 150 plates,
xviii + 150pp. b% x \\\i. 21032-4 Paperbound $6.00
MORE DRAWINGS BY HEINRICH KLEY. Another collection
of the graphic, vivid sketches of Heinrich Kley, one of the most
diabolically talented cartoonists of our century. The sketches
take in every aspect of human life : nothing is too sacred for him
to ridicule, no one too eminent for him to satirize. 158 drawings
you will not easily forget, iv + 104pp. 73/8 x ЮЗД.
20041-8 Paperbound $3.75
STYLES IN PAINTING, Paul Zucker. By comparing paintings
of similar subject matter, the author shows the characteristics
of various painting styles. You are shown at a glance the differ¬
ences between reclining nudes by Giorgione, Velasquez, Goya,
Modigliani; how a Byzantine portrait is unlike a portrait by
Van Eyck, da Vinci, Dürer, or Marc Chagall ; how the painting
of landscapes has changed gradually from ancient Pompeii to
Lyonel Feininger in our own century. 241 beautiful, sharp pho¬
tographs illustrate the text, xiv + 338 pp. 5% x 8I4.
20760-9 Paperbound $6.50
PAINTING IN ISLAM, Sir Thomas W. Arnold. This scholarly
study puts Islamic painting in its social and religious context
and examines its relation to Islamic civilization in general. 65
full-page plates illustrate the text and give outstanding examples
of Islamic art. 4 appendices. Index of mss. referred to. General
Index, xxiv + 159pp. &% x ЧЦ. 21310-2 Paperbound $7.00
THE MATERIALS AND TECHNIQUES OF MEDIEVAL
PAINTING, D. V. Thompson. An invaluable study of carriers
and grounds, binding media, pigments, metals used in painting,
al fresco and al secco techniques, burnishing, etc. used by the
medieval masters. Preface by Bernard Berenson. 239pp. 53/R x 8.
20327-1 Paperbound $4.50
THE HISTORY AND TECHNIQUE OF LETTERING, A.
Nesbitt. A thorough history of lettering from the ancient Egyp¬
tians to the present, and a 65-page course in lettering for artists.
Every major development in lettering history is illustrated by a
complete aphabet. Fully analyzes such masters as Caslon, Koch,
Garamont, Jenson, and many more. 89 alphabets, 165 other speci¬
mens. 317pp. 7Ц x 10У2. 20427-8 Paperbound $5.50
Dover Books on Art
THE COMPLETE BOOK OF SILK SCREEN PRINTING PRO¬
DUCTION, J. I. Biegeleisen. Here is a clear and complete picture
of every aspect of silk screen technique and press operation—
from individually operated manual presses to modern automatic
ones. Unsurpassed as a guidebook for setting up shop, making
shop operation more efficient, finding out about latest methods
and equipment; or as a textbook for use in teaching, studying,
or learning all aspects of the profession. 124 figures. Index. Bibli¬
ography. List of Supply Sources, xi + 253pp. 53/8 x 8Ѵг-
21І00-2 Paperbound $4.50
A HISTORY OF COSTUME, Carl Köhler. The most reliable and
authentic account of the development of dress from ancient times
through the 19th century. Based on actual pieces of clothing that
have survived, using paintings, statues and other reproductions
only where originals no longer exist. Hundreds of illustrations,
including detailed patterns for many articles. Highly useful for
theatre and movie directors, fashion designers, illustrators,
teachers. Edited and augmented by Emma von Sichart. Trans¬
lated by Alexander K. Dallas. 594 illustrations. 464pp. 5% x 7V8-
21030-8 Paperbound $6.50
CHINESE HOUSEHOLD FURNITURE, G. N. Kates. A sum¬
mary of virtually everything that is known about authentic
Chinese furniture before it was contaminated by the influence
of the West. The text covers history of styles, materials used,
principles of design and craftsmanship, and furniture arrange¬
ment—all fully illustrated, xiii + 190pp. 5% x 8Ц.
20958-X Paperbound $4.00
THE COMPLETE WOODCUTS OF ALBRECHT DURER,
edited by Dr. Willi Kurth. Albrecht Dürer was a master in vari¬
ous media, but it was in woodcut design that his creative genius
reached its highest expression. Here are all of his extant wood¬
cuts, a collection of over 300 great works, many of which are
not available elsewhere. An indispensable work for the art his¬
torian and critic and all art lovers. 346 plates. Index. 285pp.
81/2 x 121/4 21097-9 Paperbound $8.95
Dover publishes books on commercial art, art history, crafts, design, art
classics; also books on music, literature, science, mathematics, puzzles and enter¬
tainments, chess, engineering, biology, philosophy, psychology, languages, history, and
other fields. For free circulars write to Dept. DA, Dover Publications, Inc., 180
Varick St., New York, N.Y. 10014.