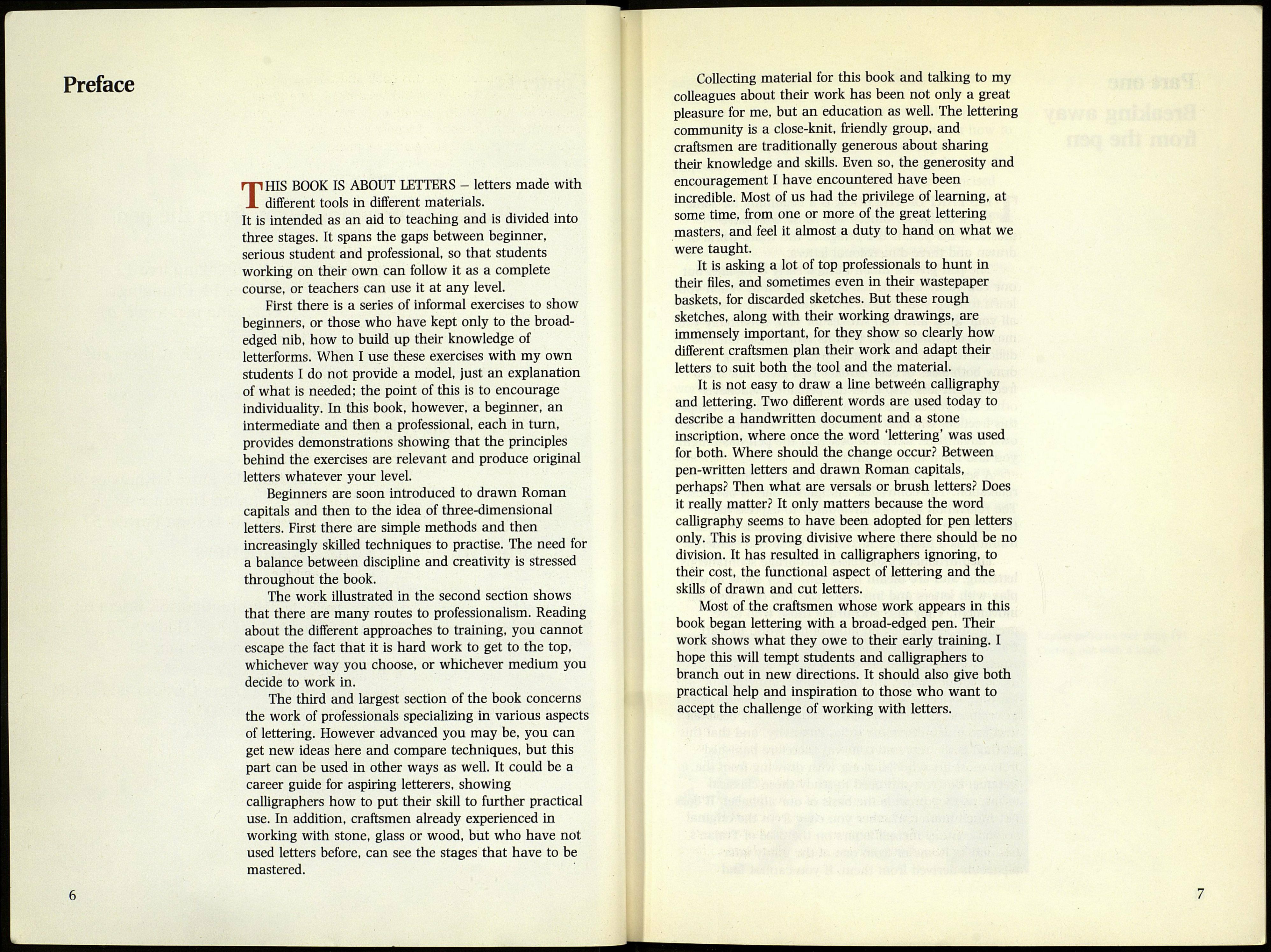 Preface
THIS BOOK IS ABOUT LETTERS - letters made with
different tools in different materials.
It is intended as an aid to teaching and is divided into
three stages. It spans the gaps between beginner,
serious student and professional, so that students
working on their own can follow it as a complete
course, or teachers can use it at any level.
First there is a series of informal exercises to show
beginners, or those who have kept only to the broad-
edged nib, how to build up their knowledge of
letterforms. When I use these exercises with my own
students I do not provide a model, just an explanation
of what is needed; the point of this is to encourage
individuality. In this book, however, a beginner, an
intermediate and then a professional, each in turn,
provides demonstrations showing that the principles
behind the exercises are relevant and produce original
letters whatever your level.
Beginners are soon introduced to drawn Roman
capitals and then to the idea of three-dimensional
letters. First there are simple methods and then
increasingly skilled techniques to practise. The need for
a balance between discipline and creativity is stressed
throughout the book.
The work illustrated in the second section shows
that there are many routes to professionalism. Reading
about the different approaches to training, you cannot
escape the fact that it is hard work to get to the top,
whichever way you choose, or whichever medium you
decide to work in.
The third and largest section of the book concerns
the work of professionals specializing in various aspects
of lettering. However advanced you may be, you can
get new ideas here and compare techniques, but this
part can be used in other ways as well. It could be a
career guide for aspiring letterers, showing
calligraphers how to put their skill to further practical
use. In addition, craftsmen already experienced in
working with stone, glass or wood, but who have not
used letters before, can see the stages that have to be
mastered.
Collecting material for this book and talking to my
colleagues about their work has been not only a great
pleasure for me, but an education as well. The lettering
community is a close-knit, friendly group, and
craftsmen are traditionally generous about sharing
their knowledge and skills. Even so, the generosity and
encouragement I have encountered have been
incredible. Most of us had the privilege of learning, at
some time, from one or more of the great lettering
masters, and feel it almost a duty to hand on what we
were taught.
It is asking a lot of top professionals to hunt in
their files, and sometimes even in their wastepaper
baskets, for discarded sketches. But these rough
sketches, along with their working drawings, are
immensely important, for they show so clearly how
different craftsmen plan their work and adapt their
letters to suit both the tool and the material.
It is not easy to draw a line between calligraphy
and lettering. Two different words are used today to
describe a handwritten document and a stone
inscription, where once the word 'lettering' was used
for both. Where should the change occur? Between
pen-written letters and drawn Roman capitals,
perhaps? Then what are versais or brush letters? Does
it really matter? It only matters because the word
calligraphy seems to have been adopted for pen letters
only. This is proving divisive where there should be no
division. It has resulted in calligraphers ignoring, to
their cost, the functional aspect of lettering and the
skills of drawn and cut letters.
Most of the craftsmen whose work appears in this
book began lettering with a broad-edged pen. Their
work shows what they owe to their early training. I
hope this will tempt students and calligraphers to
branch out in new directions. It should also give both
practical help and inspiration to those who want to
accept the challenge of working with letters.