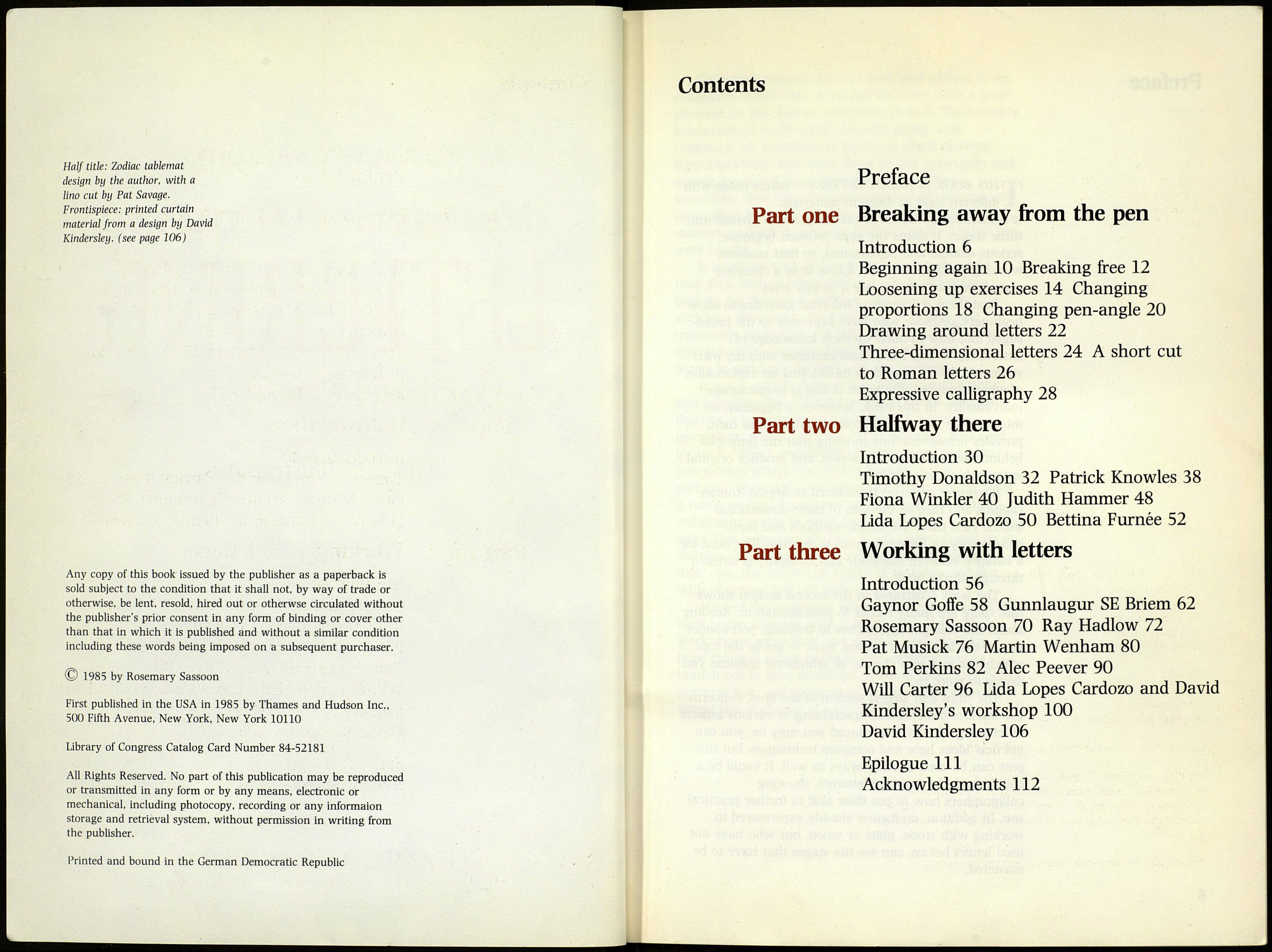 Half title: Zodiac tablemat
design by the author, with a
lino cut by Pat Savage.
Frontispiece: printed curtain
material from a design by David
Kindersley. (see page 106)
Any copy of this book issued by the publisher as a paperback is
sold subject to the condition that it shall not, by way of trade or
otherwise, be lent, resold, hired out or otherwse circulated without
the publisher's prior consent in any form of binding or cover other
than that in which it is published and without a similar condition
including these words being imposed on a subsequent purchaser.
© 1985 by Rosemary Sassoon
First published in the USA in 1985 by Thames and Hudson Inc.,
500 Fifth Avenue, New York, New York 10110
Library of Congress Catalog Card Number 84-52181
All Rights Reserved. No part of this publication may be reproduced
or transmitted in any form or by any means, electronic or
mechanical, including photocopy, recording or any informaion
storage and retrieval system, without permission in writing from
the publisher.
Printed and bound in the German Democratic Republic
Contents
Preface
Part one Breaking away from the pen
Introduction 6
Beginning again 10 Breaking free 12
Loosening up exercises 14 Changing
proportions 18 Changing pen-angle 20
Drawing around letters 22
Three-dimensional letters 24 A short cut
to Roman letters 26
Expressive calligraphy 28
Part two Halfway there
Introduction 30
Timothy Donaldson 32 Patrick Knowles 38
Fiona Winkler 40 Judith Hammer 48
Lida Lopes Cardozo 50 Bettina Furnée 52
Part three Working with letters
Introduction 56
Gaynor Goffe 58 Gunnlaugur SE Briem 62
Rosemary Sassoon 70 Ray Hadlow 72
Pat Musick 76 Martin Wenham 80
Tom Perkins 82 Alec Peever 90
Will Carter 96 Lida Lopes Cardozo and David
Kindersley's workshop 100
David Kindersley 106
Epilogue 111
Acknowledgments 112