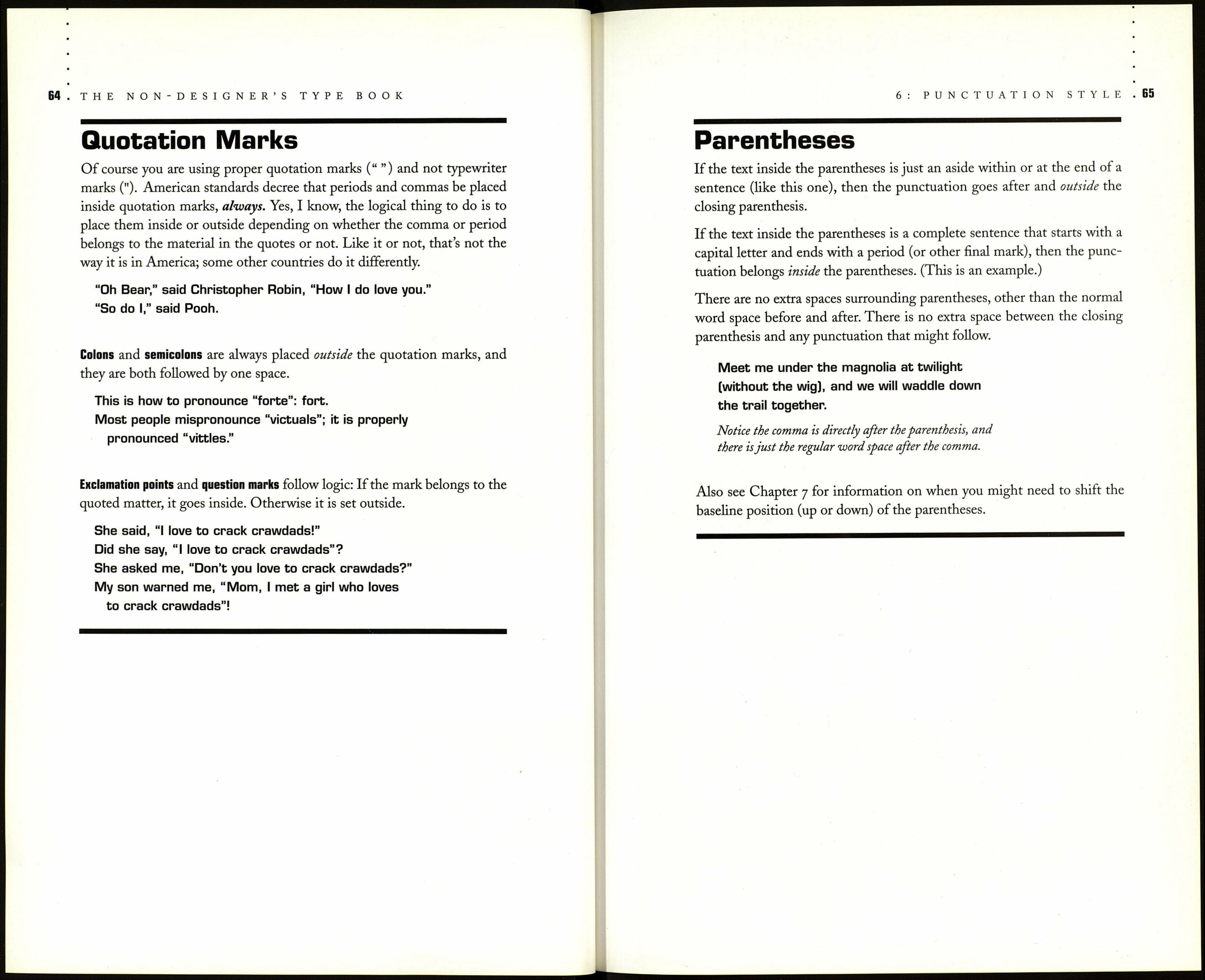 62
THE NON-DESIGNER'S TYPE BOOK
Kern outside the text block or box
In PageMaker or QuarkXPress, try this: Type a hard space in front of'the
first quotation mark. Then kern until the quotation mark hangs outside the
text block or box. The mark will seem to disappear, but in PageMaker, you
will see the quotation mark as soon as you redraw your screen. In Quark¬
XPress, you won't ever see that quotation mark, but it will print just fine.
To do this with flush right text, follow these steps: After the last quotation
mark, type a hard space. Then hit the left arrow key once so the insertion
point moves to the left of the hard space. Now kern and the quotation
mark and period will move outside the block or box.
To type this: Mac
regular hard space Option Spaceb
>ar
Windows
Alt 0160
"We haven't the money,
so we've got to think."
Lord Rutherford
о : ■
Notice the quotation mark is
hanging outside of the text block.
"We haven't the money,
so we've got to think."
Lord Rutherford
■---------------------------О----------------------------■
The quotation mark is
hanging off the right edge,
but since both lines have
punctuation, the period does
not need to hang outside also.
I added a thin space after
"Lord Rutherford" to visually
align it with the text above.
lunctuation

All of us are now circumventing the professional typesetter and creating
beautiful publications on our own desktops. We've heard all about the
typesetting standards of setting one space after periods, and how to access
em dashes and en dashes and true quotation marks and apostrophes.
Although most of us know how to create these alternate characters, there
still seems to be considerable confusion over when to use them. The
punctuation in your publication affects the professional appearance of your
work just as powerfully as the characters themselves. (It's interesting that
when the "rules" of design are broken it is called "creative," but when the
established rules of punctuation are broken it is called "uneducated."
Creative punctuation isn't a well-accepted idea.)

So following are some guidelines to help give your desktop-designed work
a more professional edge. If you have other questions, read The Chicago
Manual of Style, William Strunks wonderful little book, The Elements of
Style, or check out the back of your dictionary—most dictionaries include
a basic manual of style.

It is often the very small details that set mediocre work apart from out¬
standing work. To push a publication to the professional edge, make sure
you carry your style all the way through, even to such mundane principles
as punctuation.