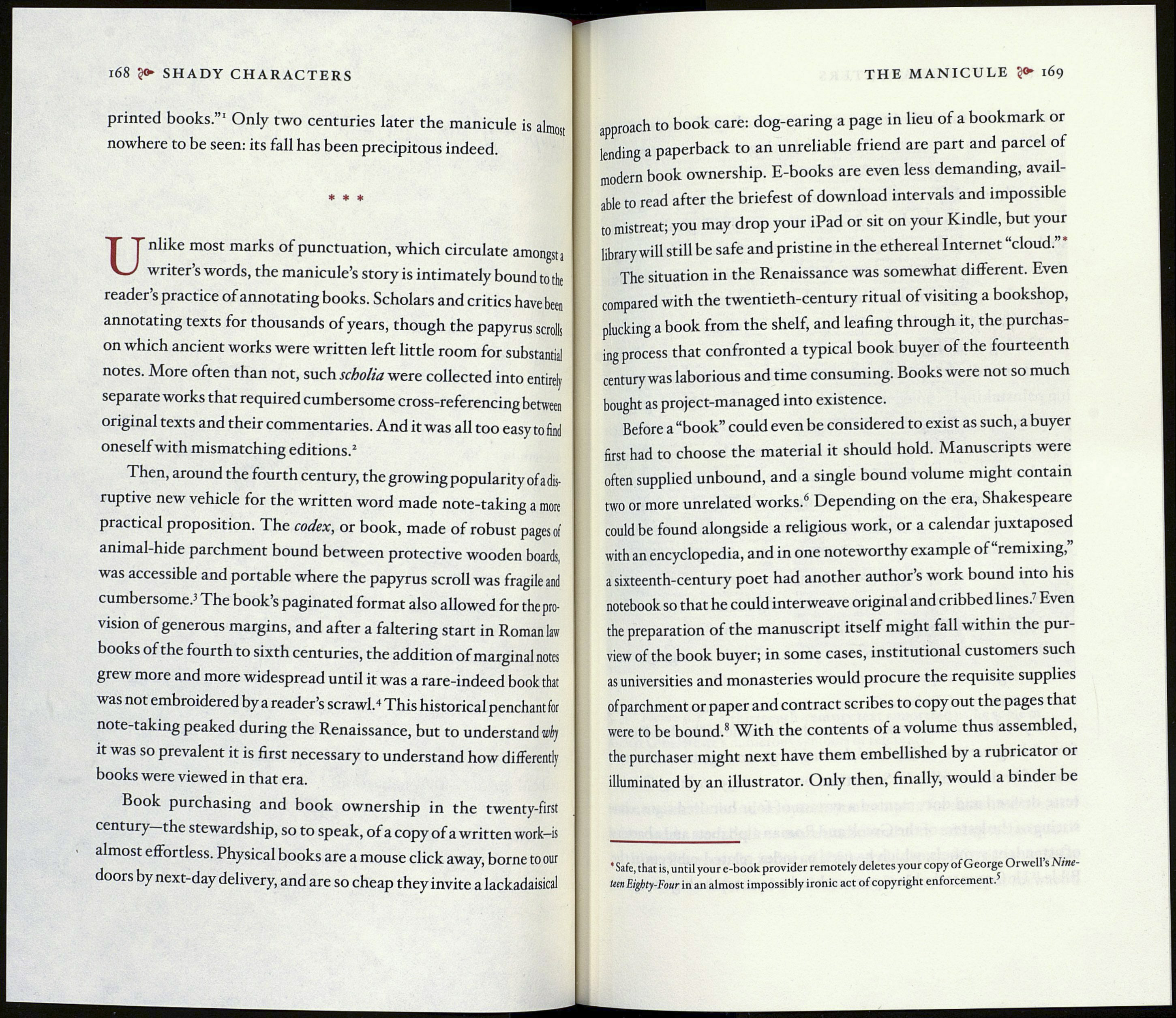 i68 ?о» SHADY CHARACTERS
printed books."' Only two centuries later the manicule is almost
nowhere to be seen: its fall has been precipitous indeed.
* * *
Unlike most marks of punctuation, which circulate amongsta
writer's words, the manicule's story is intimately bound to the
reader s practice of annotating books. Scholars and critics have been
annotating texts for thousands of years, though the papyrus scrolls
on which ancient works were written left little room for substantial
notes. More often than not, such scholia were collected into entirely
separate works that required cumbersome cross-referencing between
original texts and their commentaries. And it was all too easy to find
oneself with mismatching editions.2
Then, around the fourth century, the growing popularity of a dis¬
ruptive new vehicle for the written word made note-taking a more
practical proposition. The codex, or book, made of robust pages of
animal-hide parchment bound between protective wooden boards,
was accessible and portable where the papyrus scroll was fragile and
cumbersome.3 The book's paginated format also allowed for the pro¬
vision of generous margins, and after a faltering start in Roman law
books of the fourth to sixth centuries, the addition of marginal notes
grew more and more widespread until it was a rare-indeed book that
was not embroidered by a reader's scrawl.4 This historical penchant for
note-taking peaked during the Renaissance, but to understand wbj
it was so prevalent it is first necessary to understand how differently
books were viewed in that era.
Book purchasing and book ownership in the twenty-first
century-the stewardship, so to speak, of a copy of a written work-is
almost effortless. Physical books are a mouse click away, borne to our
doors by next-day delivery, and are so cheap they invite a lackadaisical
THE MANICULE ?«►• 169
approach to book care: dog-earing a page in lieu of a bookmark or
lending a paperback to an unreliable friend are part and parcel of
modern book ownership. E-books are even less demanding, avail¬
able to read after the briefest of download intervals and impossible
to mistreat; you may drop your iPad or sit on your Kindle, but your
library will still be safe and pristine in the ethereal Internet "cloud."*
The situation in the Renaissance was somewhat different. Even
compared with the twentieth-century ritual of visiting a bookshop,
plucking a book from the shelf, and leafing through it, the purchas¬
ing process that confronted a typical book buyer of the fourteenth
century was laborious and time consuming. Books were not so much
bought as project-managed into existence.
Before a "book" could even be considered to exist as such, a buyer
first had to choose the material it should hold. Manuscripts were
often supplied unbound, and a single bound volume might contain
two or more unrelated works.6 Depending on the era, Shakespeare
could be found alongside a religious work, or a calendar juxtaposed
with an encyclopedia, and in one noteworthy example of remixing,
a sixteenth-century poet had another author's work bound into his
notebook so that he could interweave original and cribbed lines.7 Even
the preparation of the manuscript itself might fall within the pur¬
view of the book buyer; in some cases, institutional customers such
as universities and monasteries would procure the requisite supplies
of parchment or paper and contract scribes to copy out the pages that
were to be bound.8 With the contents of a volume thus assembled,
the purchaser might next have them embellished by a rubricator or
illuminated by an illustrator. Only then, finally, would a binder be
' Safe, that is, until your e-book provider remotely deletes your copy of George Orwell's Nine¬
teen Eigbty-Four in an almost impossibly ironic act of copyright enforcement.