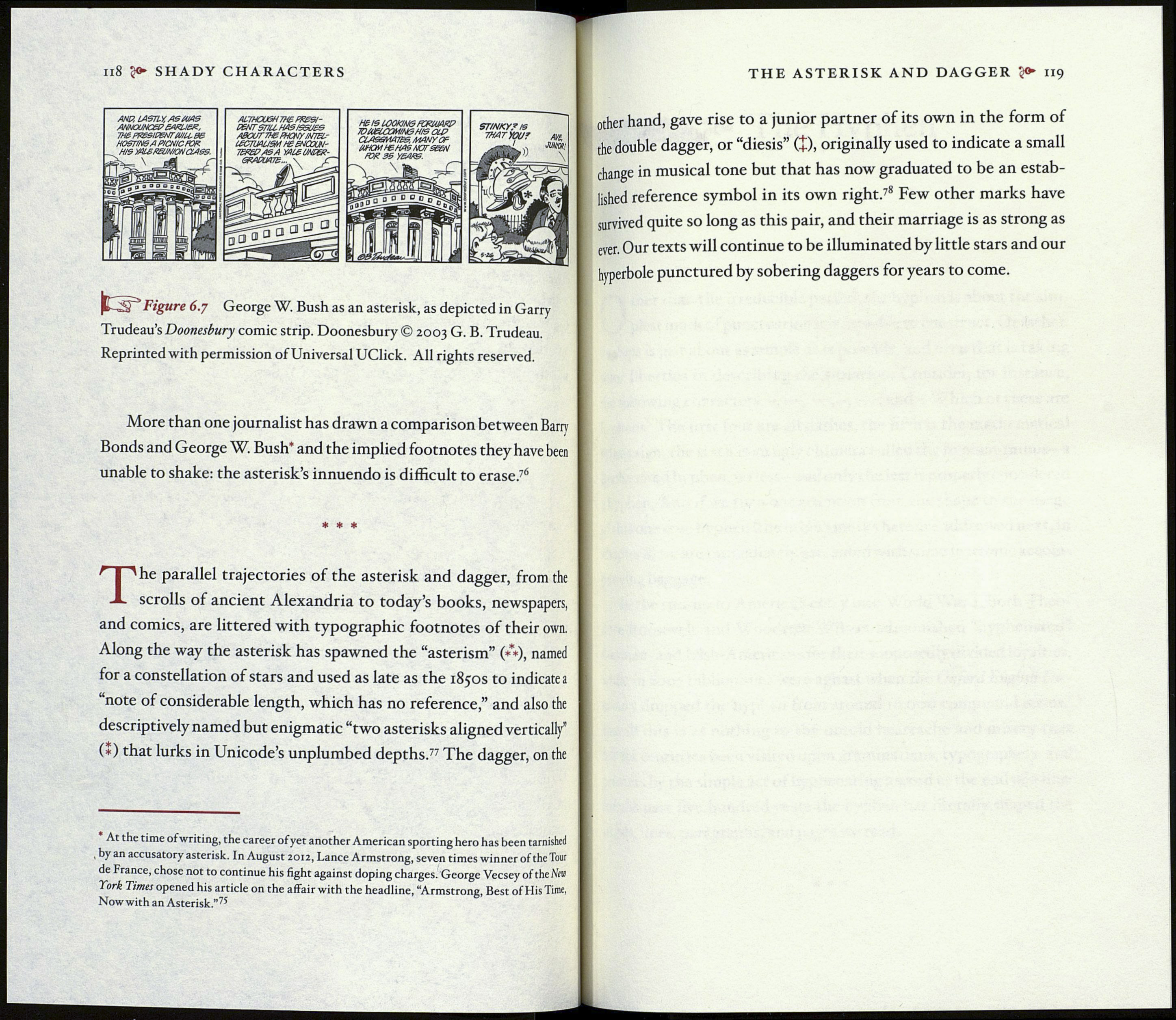 ii8 3^ SHADY CHARACTERS
ANP, LASTLY, AS ms ALTHOUSHTHBPRBSI-
ANNOUNCSP ZARU&Z, PBW STJL¿ HAS/SSU5S
THS PFS5IPSNT(U/LL 03 ABOUT 7HSPHONY ОШг
HOST/NS A PICNIC FOR iâCTWUSM HB 5NCOUN-
H/SYALBBBUWON CLASS. j TBB5P AS A YALB UNPER-
\ Г s ORAPUATB...
ST/NKY? IS
7NAT YOU?
Figure 6.7 George W. Bush as an asterisk, as depicted in Garry
Trudeau's Doonesbury comic strip. Doonesbury © 2003 G. B. Trudeau.
Reprinted with permission of Universal UClick. All rights reserved.
More than one journalist has drawn a comparison between Barry
Bonds and George W. Bush* and the implied footnotes they have been
unable to shake: the asterisk's innuendo is difficult to erase.76
* * *
The parallel trajectories of the asterisk and dagger, from the
scrolls of ancient Alexandria to today's books, newspapers,
and comics, are littered with typographic footnotes of their own.
Along the way the asterisk has spawned the "asterism" (***), named
for a constellation of stars and used as late as the 1850s to indicate a
note of considerable length, which has no reference," and also the
descriptively named but enigmatic "two asterisks aligned vertically"
(*) that lurks in Unicode's unplumbed depths.77 The dagger, on the
At the time ofwriting, the career ofyet another American sporting hero has been tarnished
, by an accusatory asterisk. In August 2012, Lance Armstrong, seven times winner of the Tour
de France, chose not to continue his fight against doping charges. George Vecsey of the Niw
York Times opened his article on the affair with the headline, "Armstrong, Best of His Time,
Now with an Asterisk."75
THE ASTERISK AND DAGGER 119
other hand, gave rise to a junior partner of its own in the form of
the double dagger, or "diesis" (+), originally used to indicate a small
change in musical tone but that has now graduated to be an estab¬
lished reference symbol in its own right.78 Few other marks have
survived quite so long as this pair, and their marriage is as strong as
ever. Our texts will continue to be illuminated by little stars and our
hyperbole punctured by sobering daggers for years to come.