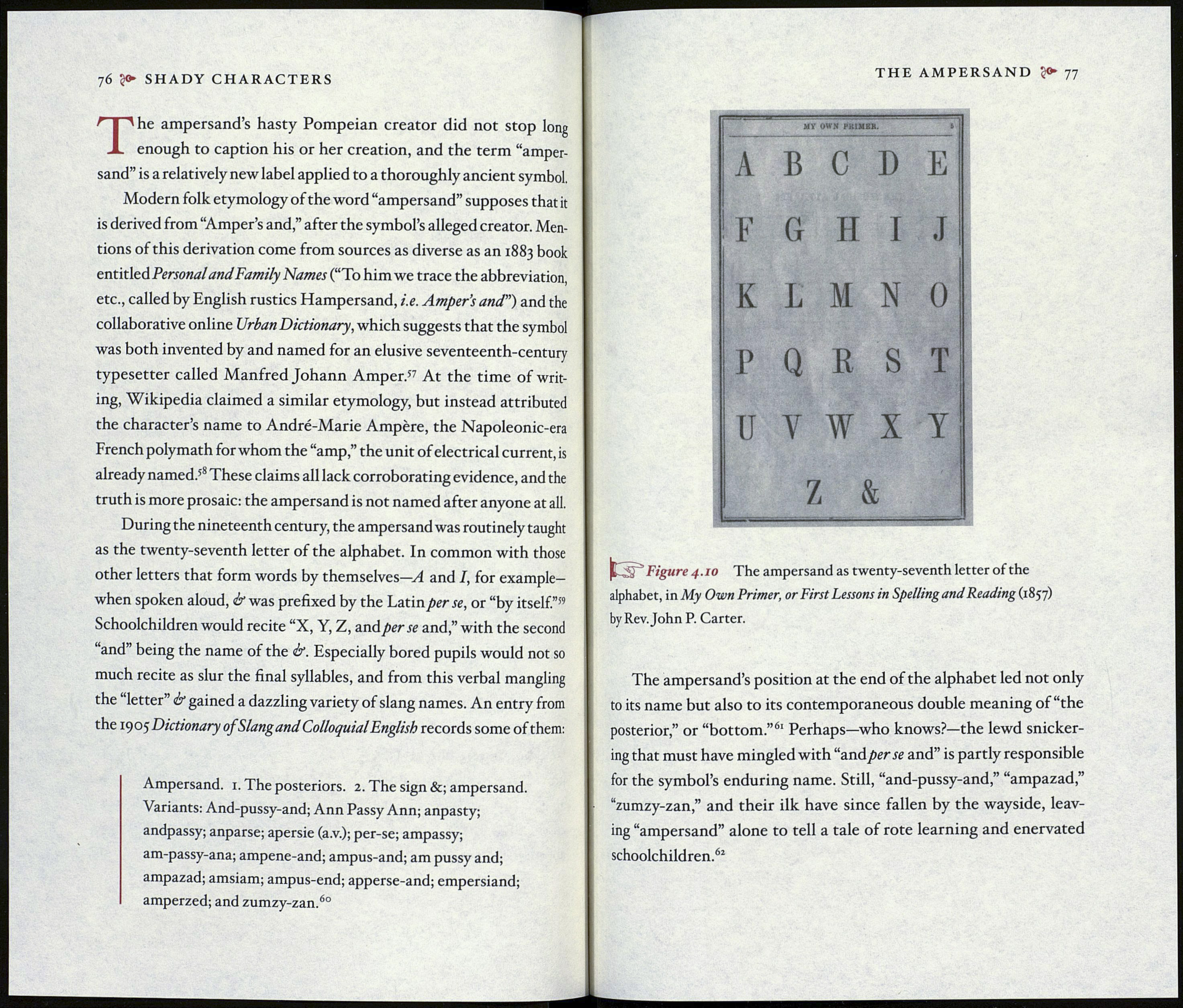 уб SHADY CHARACTERS
The ampersand's hasty Pompeian creator did not stop long
enough to caption his or her creation, and the term "amper¬
sand" is a relatively new label applied to a thoroughly ancient symbol.
Modern folk etymology of the word "ampersand" supposes that it
is derived from "Amper's and," after the symbol's alleged creator. Men¬
tions of this derivation come from sources as diverse as an 1883 book
entitled Personal and Family Names ("To him we trace the abbreviation,
etc., called by English rustics Hampersand, i.e. Amper's and") and the
collaborative online Urban Dictionary, which suggests that the symbol
was both invented by and named for an elusive seventeenth-century
typesetter called Manfred Johann Amper.57 At the time of writ¬
ing, Wikipedia claimed a similar etymology, but instead attributed
the character's name to André-Marie Ampère, the Napoleonic-era
French polymath for whom the "amp," the unit of electrical current, is
already named.58 These claims all lack corroborating evidence, and the
truth is more prosaic: the ampersand is not named after anyone at all.
During the nineteenth century, the ampersand was routinely taught
as the twenty-seventh letter of the alphabet. In common with those
other letters that form words by themselves—A and 7, for example-
when spoken aloud, if was prefixed by the Latin per se, or "by itself."59
Schoolchildren would recite "X, Y, Z, and perse and," with the second
and being the name of the ¿f. Especially bored pupils would not so
much recite as slur the final syllables, and from this verbal mangling
the "letter" & gained a dazzling variety of slang names. An entry from
the 1905 Dictionary of Slang and Colloquial English records some of them:
Ampersand. 1. The posteriors. 2. The sign&; ampersand.
Variants: And-pussy-and; Ann Passy Ann; anpasty;
andpassy; anparse; apersie (a.v.); per-se; ampassy;
am-passy-ana; ampene-and; ampus-and; am pussy and;
ampazad; amsiam; ampus-end; apperse-and; empersiand;
amperzed; and zumzy-zan.6°
THE AMPERSAND ?»• 77
MV OWN PRIMER.
6
A
В
с
D
E
If
G
H
I
J
к
L
M
N
0
p
Q
R
S
T
и
V
w
X
Y
r
&
1
j[ Figure 4.10 The ampersand as twenty-seventh letter of the
alphabet, in My Own Primer, or First Lessons in Spelling and Reading (1857)
by Rev. John P. Carter.
The ampersand's position at the end of the alphabet led not only
to its name but also to its contemporaneous double meaning of "the
posterior," or "bottom."61 Perhaps—who knows?—the lewd snicker¬
ing that must have mingled with "andperse and" is partly responsible
for the symbol's enduring name. Still, "and-pussy-and," "ampazad,"
"zumzy-zan," and their ilk have since fallen by the wayside, leav¬
ing "ampersand" alone to tell a tale of rote learning and enervated
schoolchildren.62