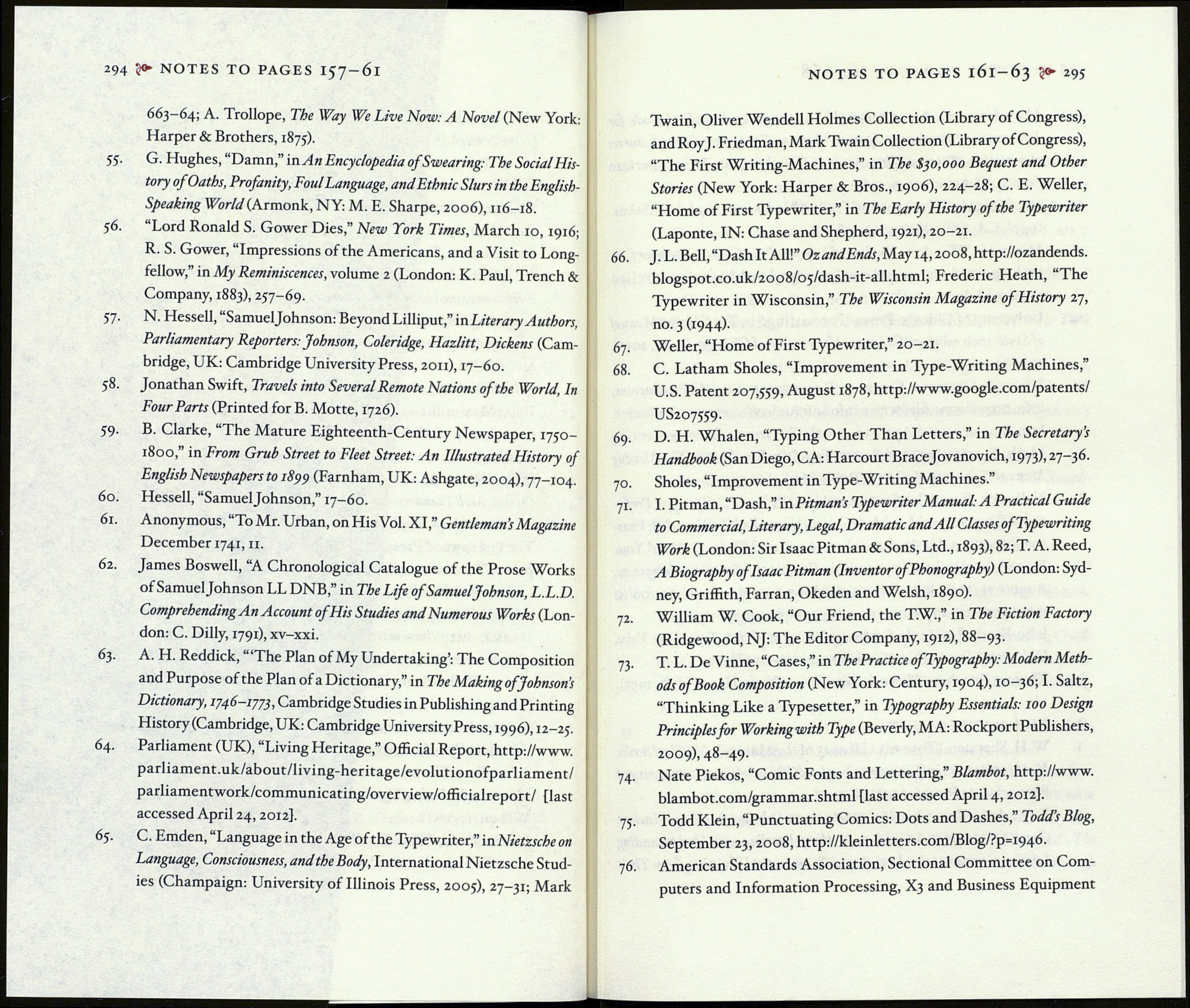 294 У* NOTES TO PAGES 157-61
663-64; A. Trollope, The Way We Live Now: A Novel (New York:
Harper & Brothers, 1875).
55. G. Hughes, "Damn," in An Encyclopedia of Swearing: The Social His¬
tory of Oaths, Profanity, Foul Language, and Ethnic Slurs in the English-
Speaking World(Armonk, NY: М. E. Sharpe, 2006), 116-18.
56. Lord Ronald S. Gower Dies," New Tork Times, March 10,1916;
R. S. Gower, "Impressions of the Americans, and a Visit to Long¬
fellow," in My Reminiscences, volume 2 (London: K. Paul, Trench &
Company, 1883), 257-69.
57. N. Hessell, "Samuel johnson: Beyond Lilliput," in Literary Authors,
Parliamentary Reporters: Johnson, Coleridge, Hazlitt, Dickens (Cam¬
bridge, UK: Cambridge University Press, 2011), 17-60.
58. Jonathan Swift, Travels into Several Remote Nations of the World, In
Four Parts (Printed for B. Motte, 1726).
59. В. Clarke, "The Mature Eighteenth-Century Newspaper, 1750-
1800," in From Grub Street to Fleet Street: An Illustrated History of
English Newspapers to 1899 (Farnham, UK: Ashgate, 2004), 77-104.
60. Hessell, "Samuel Johnson," 17-60.
61. Anonymous, ToM.T.XJrban,onlîisVol.XI," Gentleman's Magazine
December 1741,11.
62. James Boswell, "A Chronological Catalogue of the Prose Works
of Samuel Johnson LL DNB," in The Life of Samuel Johnson, L.L.D.
Comprehending An Account of His Studies and Numerous Works (Lon¬
don: C. Dilly, 1791), xv-xxi.
63. A. H. Reddick, The Plan of My Undertaking': The Composition
and Purpose of the Plan of a Dictionary," in The Making of Johnson's
Dictionary, 1746-1773, Cambridge Studies in Publishing and Printing
History (Cambridge, UK: Cambridge University Press, 1996), 12-25.
64. Parliament (UK), "Living Heritage," Official Report, http://www.
parliament.uk/about/living-heritage/evolutionofparliament/
parliamentwork/communicating/overview/officialreport/ [last
accessed April 24,2012].
65. C. Emden, "Language in the Age of the Typewriter," in Nietzsche on
Language, Consciousness, and the Body, International Nietzsche Stud¬
ies (Champaign: University of Illinois Press, 2005), 27-31; Mark
NOTES TO PAGES 161-63 §<* 295
Twain, Oliver Wendell Holmes Collection (Library of Congress),
and RoyJ. Friedman, Mark Twain Collection (Library of Congress),
"The First Writing-Machines," in The $30,000 Bequest and Other
Stories (New York: Harper & Bros., 1906), 224-28; С. E. Weller,
"Home of First Typewriter," in The Early History of the Typewriter
(Laponte, IN: Chase and Shepherd, 1921), 20-21.
66. J. L. Bell, "Dash It All!" OzandEnds, May 14,2008, http://ozandends.
bl0gsp0t.c0.uk/2008/05/dash-it-all.html; Frederic Heath, "The
Typewriter in Wisconsin," The Wisconsin Magazine of History 27,
no. 3 (1944).
67. Weller, "Home of First Typewriter," 20-21.
68. C. Latham Sholes, "Improvement in Type-Writing Machines,"
U.S. Patent 207,559, August 1878, http://www.google.com/patents/
US207559.
69. D. H. Whalen, "Typing Other Than Letters," in The Secretary's
Handbook (San Diego, CA: Harcourt BraceJovanovich, 1973), 27-36.
70. Sholes, "Improvement in Type-Writing Machines."
71. I. Pitman, "Dash," in Pitman's Typewriter Manual: A Practical Guide
to Commercial, Literary, Legal, Dramatic and All Classes of Typewriting
Work (London: Sir Isaac Pitman & Sons, Ltd., 1893), 82; T. A. Reed,
A Biography of Isaac Pitman (Inventor of Phonography) (London: Syd¬
ney, Griffith, Farran, Okeden and Welsh, 1890).
72. William W. Cook, "Our Friend, the T.W.," in The Fiction Factory
(Ridgewood, NJ: The Editor Company, 1912), 88-93.
73. T. L. De Vinne, "Cases," in The Practice of Typography: Modem Meth¬
ods of Book Composition (New York: Century, 1904), 10-36; I. Saltz,
"Thinking Like a Typesetter," in Typography Essentials: 100 Design
Principles for Working with Type (Beverly, MA: Rockport Publishers,
2009), 48-49.
74. Nate Piekos, "Comic Fonts and Lettering," Blambot, http://www.
blambot.com/grammar.shtml [last accessed April 4,2012}.
75. Todd Klein, "Punctuating Comics: Dots and Dashes," Todd's Blog,
September 23,2008, http://kleinletters.com/Blog/?p=i946.
76. American Standards Association, Sectional Committee on Com¬
puters and Information Processing, X3 and Business Equipment