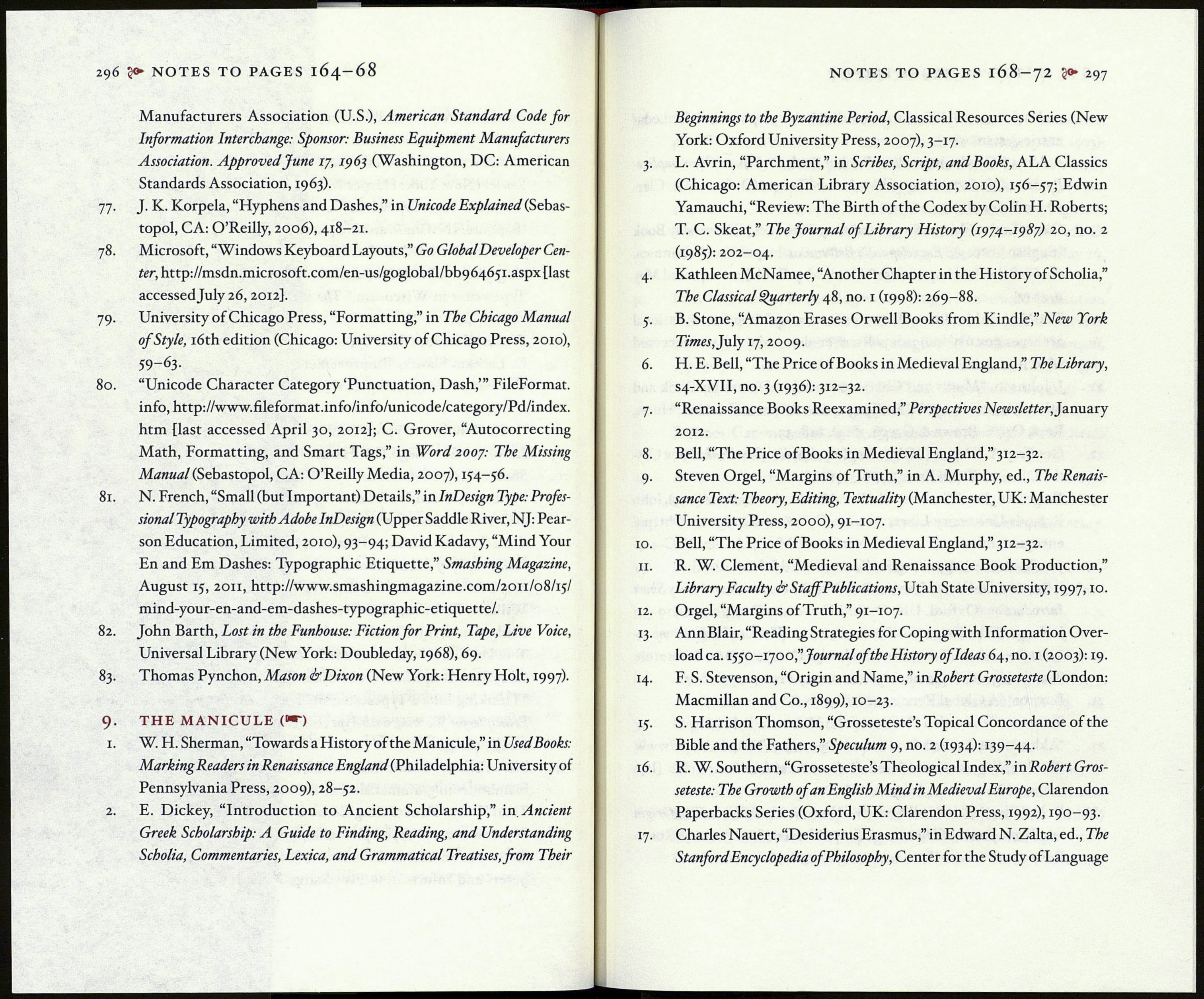 296 NOTES ТО PAGES 164-68
Manufacturers Association (U.S.), American Standard Code for
Information Interchange: Sponsor: Business Equipment Manufacturers
Association. Approved June 17, 1963 (Washington, DC: American
Standards Association, 1963).
77. J. K. Korpela, "Hyphens and Dashes," in Unicode Explained (Sebas¬
topol, CA: O'Reilly, 2006), 418-21.
78. Microsoft, "Windows Keyboard Layouts," Go Global Developer Cen¬
ter, http://msdn.microsoft.com/en-us/goglobal/bb9646jr.aspxLlast
accessed July 26,2012}.
79. University of Chicago Press, "Formatting," in The Chicago Manual
of Style, 16th edition (Chicago: University of Chicago Press, 2010),
59-63.
80. "Unicode Character Category 'Punctuation, Dash,'" FileFormat.
info, http://www.fileformat.info/info/unicode/category/Pd/index.
htm [last accessed April 30, 2012}; C. Grover, "Autocorrecting
Math, Formatting, and Smart Tags," in Word 2007: The Missing
Manual (Sebastopol, CA: O'Reilly Media, 2007), 154-56.
81. N. French, "Small (but Important) Details," in InDesign Type: Profes¬
sional Typography with Adobe InDesign (Upper Saddle River, NJ: Pear¬
son Education, Limited, 2010), 93-94; David Kadavy, "Mind Your
En and Em Dashes: Typographic Etiquette," Smashing Magazine,
August 15, 2011, http://www.smashingmagazine.com/20n/08/r5/
mind-your-en-and-em-dashes-typographic-etiquette/.
82. John Barth, Lost in the Funhouse: Fiction for Print, Tape, Live Voice,
Universal Library (New York: Doubleday, 1968), 69.
83. Thomas Pynchon, Mason & Dixon (New York: Henry Holt, 1997).
9. THE MANICULE ("■")
r. W. H. Sherman, "Towards a History of the Manicule," in Used Books:
Marking Readers in Renaissance England (Philadelphia: University of
Pennsylvania Press, 2009), 28-52.
2. E. Dickey, "Introduction to Ancient Scholarship," in. Ancient
Greek Scholarship: A Guide to Finding, Reading, and Understanding
Scholia, Commentaries, Lexica, and Grammatical Treatises, from Their
NOTES TO PAGES 168-72 297
Beginnings to the Byzantine Period, Classical Resources Series (New
York: Oxford University Press, 2007), 3-17.
3. L. Avrin, "Parchment," in Scribes, Script, and Books, ALA Classics
(Chicago: American Library Association, 2010), 156-57; Edwin
Yamauchi, "Review: The Birth of the Codex by Colin H. Roberts;
T. C. Skeat," The Journal of Library History (1974-1987) 20, no. 2
(1985): 202-04.
4. Kathleen McNamee, "Another Chapter in the History of Scholia,"
The Classical Quarterly 48, no. 1 (1998): 269-88.
5. B. Stone, "Amazon Erases Orwell Books from Kindle," New York
Times,] uly 17,2009.
6. H. E. Bell, "The Price of Books in Medieval England," The Library,
S4-XVII, no. 3 (1936): 312-32.
7. "Renaissance Books Reexamined," Perspectives Newsletter, January
2012.
8. Bell, "The Price of Books in Medieval England," 312-32.
9. Steven Orgel, "Margins of Truth," in A. Murphy, ed., The Renais¬
sance Text: Theory, Editing, Textuality (Manchester, UK: Manchester
University Press, 2000), 91-107.
10. Bell, "The Price of Books in Medieval England," 312-32.
11. R. W. Clement, "Medieval and Renaissance Book Production,"
Library Faculty & Staff Publications, Utah State University, 1997,10.
12. Orgel, "Margins of Truth," 91-107.
13. Ann Blair, "Reading Strategies for Coping with Information Over¬
load ca. 1550-1700," Journal of the History of Ideas 64, no. 1 (2003): 19.
14. F. S. Stevenson, "Origin and Name," in Robert Grosseteste (London:
Macmillan and Co., 1899), 10-23.
15. S. Harrison Thomson, "Grosseteste's Topical Concordance of the
Bible and the Fathers," Speculum 9, no. 2 (1934): 139-44.
16. R. W. Southern, "Grosseteste's Theological Index," in Robert Gros¬
seteste: The Growth ofan English Mind in Medieval Europe, Clarendon
Paperbacks Series (Oxford, UK: Clarendon Press, 1992), 190-93.
17. Charles Nauert, "Desiderius Erasmus," in Edward N. Zalta, ed., The
Stanford Encyclopedia of Philosophy, Center for the Study of Language