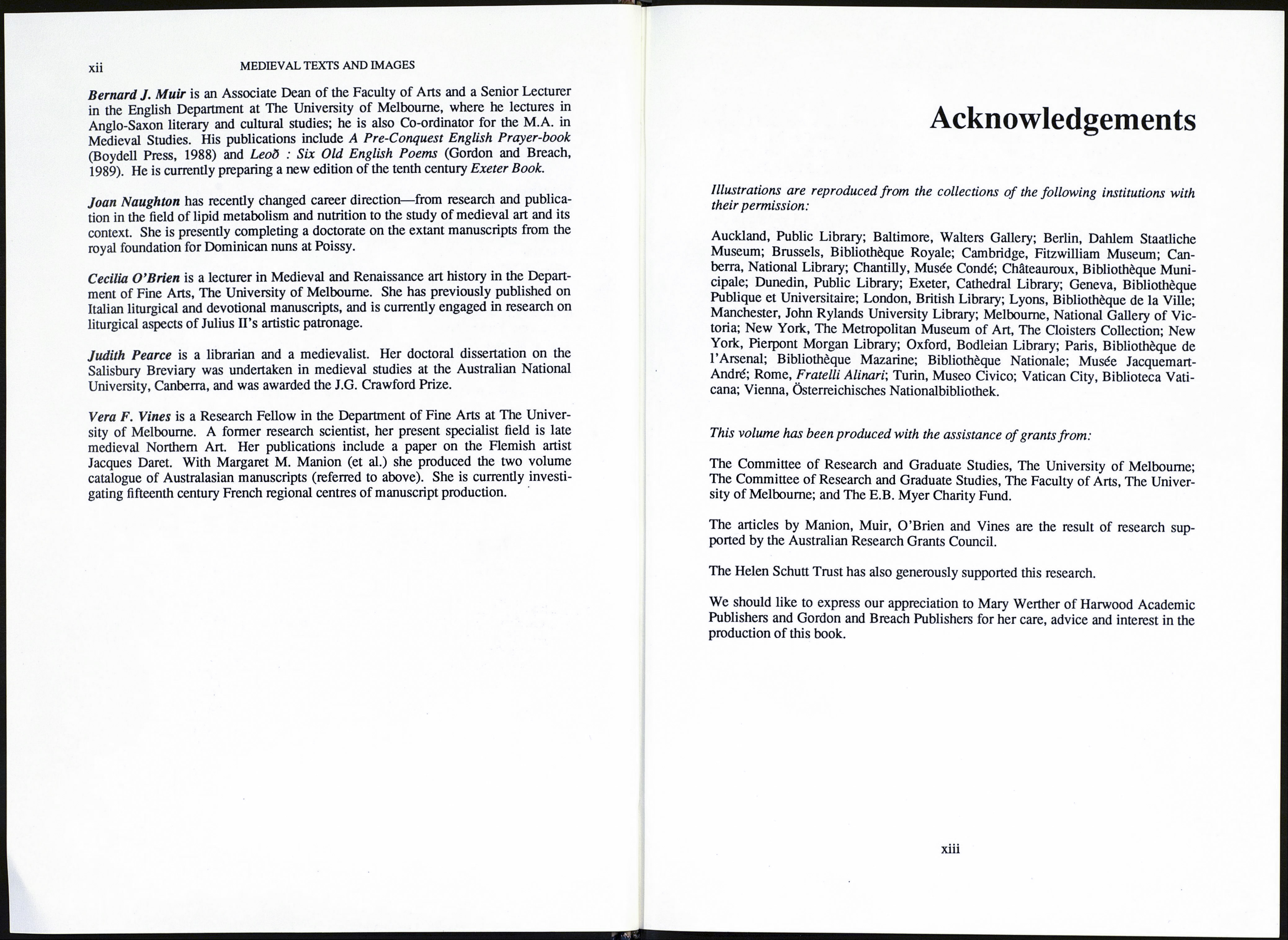 Il Г ~ ЛшШ Д
List of Contributors
Veronica Condon holds a Master's Degree in Art History from The University of
Melbourne. She has published a number of articles on fourteenth century Missal
illumination, with specific attention to MS Douce 313. She is currently researching
liturgical manuscripts from fourteenth century French regional schools.
Alison R. Fleti holds Honours degrees in Classics and Art History from The Univer¬
sity of Melbourne and has a particular interest in manuscript studies. She is
currently living in Christchurch, New Zealand and is a Teaching Assistant in the
School of Fine Arts, University of Canterbury.
Hilary Maddocks recently completed a doctoral dissertation at The University of
Melbourne on the illuminated manuscripts of Jean de Vignay's translation of the
Legenda Aurea. She is currently engaged in research into nineteenth and early twen¬
tieth century Australian artists' materials at the Ian Potter Conservation Centre, The
University of Melbourne. She is also a Research Assistant for a project funded by
the Australian Research Council entitled "Art, Devotion and the Medieval Book''
currently being conducted in the Department of Fine Arts.
Margaret M. Manion is Herald Professor of Fine Arts (Art History) and Head of
Department at The University of Melbourne. Her specialist field is medieval art, and
she has worked extensively on illuminated manuscripts. Her publications include a
facsimile edition of the Wharncliffe Hours', Medieval and Renaissance Illuminated
Manuscripts in Australian Collections (co-authored with Vera F. Vines); and
Medieval and Renaissance Manuscripts in New Zealand Collections (co-authored
with Vera F. Vines and Christopher de Hamel).
Katherine McDonald is a graduate in Art History from The University of Mel¬
bourne and is currently teaching at Fintona Girls' School. Her research into North
Italian art has focused in particular on Michelino da Besozzo and the Lombard
School.
Peter Rolfe Monks is an Art History Consultant. He has published articles on
fifteenth century French manuscript illumination, The Brussels Horloge de Sapience
(Brill, 1990), and has a study of The Rolin Master due to be published soon (Ludwig
Reichert Verlag). He is currently preparing a monograph on fifteenth century French
patrons.
xi