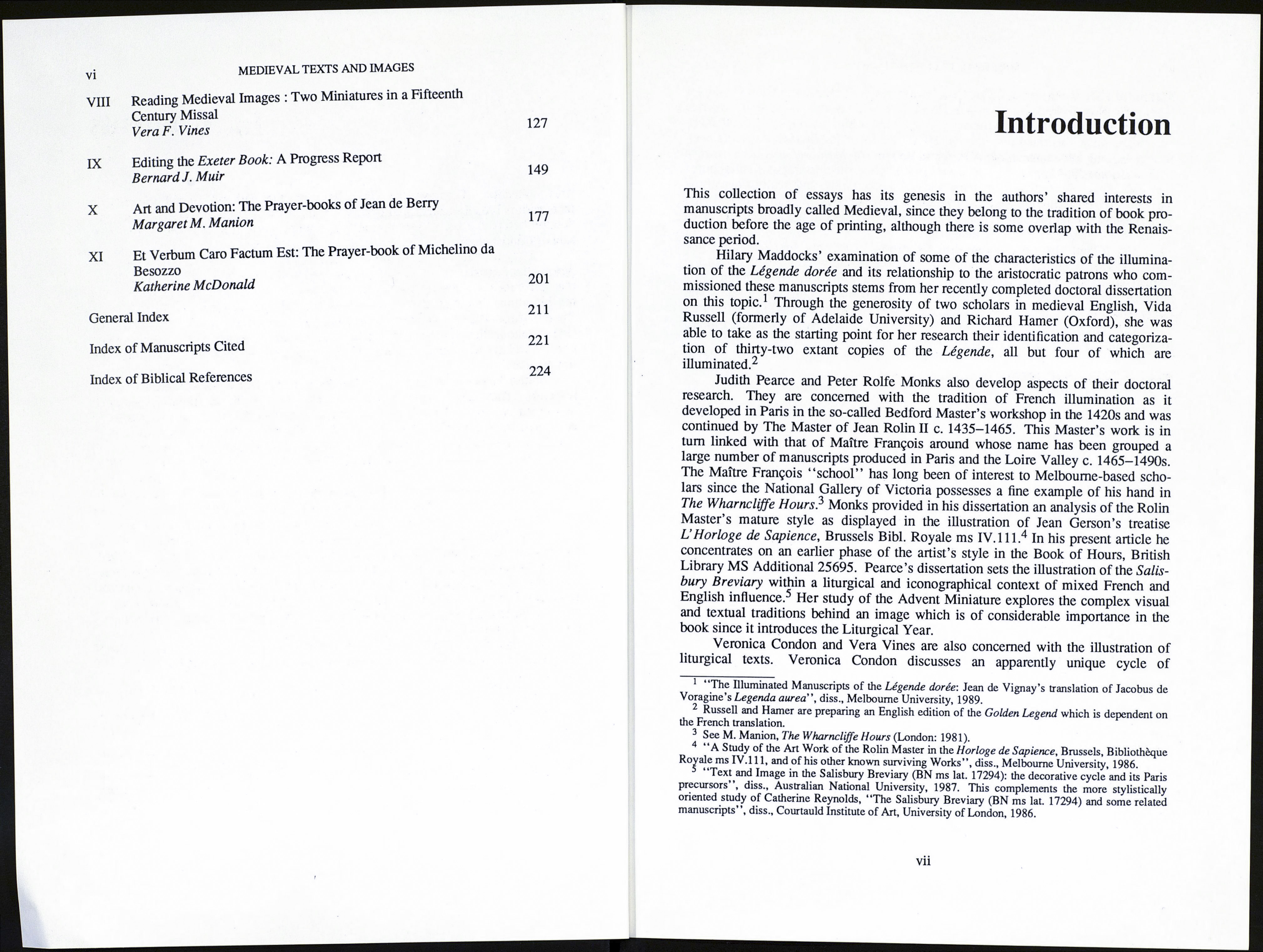 Copyright © 1991 by Harwood Academic Publishers GmbH, Poststrasse 22, 7000 Chur,
Switzerland. All rights reserved.
Published in conjunction with Craftsman House ВVI Ltd, Tortola, BVI,
с/o Craftsman House, P.O. Box 480, Roseville, New South Wales 2069, Australia.
First Published 1991
Second Printing 1992
Harwood Academic Publishers
Post Office Box 90
Reading, Berkshire RG1 8JL
United Kingdom
58, rue Lhomond
75005 Paris
France
5301 Tacony Street, Drawer 330
Philadelphia, Pennsylvania 19137
United States of America
3-14-9, Okubo
Shinjuku-ku, Tokyo 169
Japan
Private Bag 8
Camberwell, Victoria 3124
Australia
Library of Congress Cataloging-in-Publication Data
Medieval texts and images: studies of manuscripts from the Middle Ages/edited by Margaret M.
Manion and Bernard J. Muir,
p. cm.
Includes bibliographical references and indexes.
ISBN 3-7186-5133-5. —ISBN 9768097175 (Craftsman House)
1. Manuscripts, Medieval. 2. Illumination of books and manuscripts, Medieval. 3. Literature,
Medieval—Criticism, Textual. 4. Literature, Medieval—Illustrations. 5. Art and literature.
I. Manion, Margaret М. II. Muir, Bernard James.
Z6.M43 1991
002—dc20
91-8868
CIP
ISBN (Harwood Academic Publishers): 3-7186-5133-5
ISBN (Craftsman House): 976-8097-17-5
No part of this book may be reproduced or utilized in any form or by any means, electronic or mechanical,
including photocopying and recording, or by any information storage or retrieval system, without
permission in writing from the publishers. Printed in Singapore by Kyodo Printing Co (S'pore) Pte Ltd.
Contents
Introduction
vii
List of Contributors
xi
Acknowledgements
xiii
Abbreviations
xiv
List of Colour Plates
XV
Colour Plates
(follow p. xvi)
List of Figures
xvii
I Pictures for Aristocrats: the Manuscripts of the Légende dorée
Hilary Maddocks
II Liturgy and Image: the Advent Miniature in the Salisbury
Breviary
Judith Pearce
25
III The Significance of Text Scrolls : Towards a Descriptive
Terminology
Alison R. Flett 43
IV The Rolin Master's Hand in London BL MS Additional 25695
Peter Rolfe Monks 57
V Renaissance Books and Raphael's Disputa: Con/exiualizing the
Image
Cecilia O'Brien y |
VI An Unusual Pentecost Cycle in a Fourteenth Century Missal
Veronica Condon 91
VII A Minimally-intrusive Presence : Portraits in Illustrations for
Prayers to the Virgin
Joan Naughton j j j