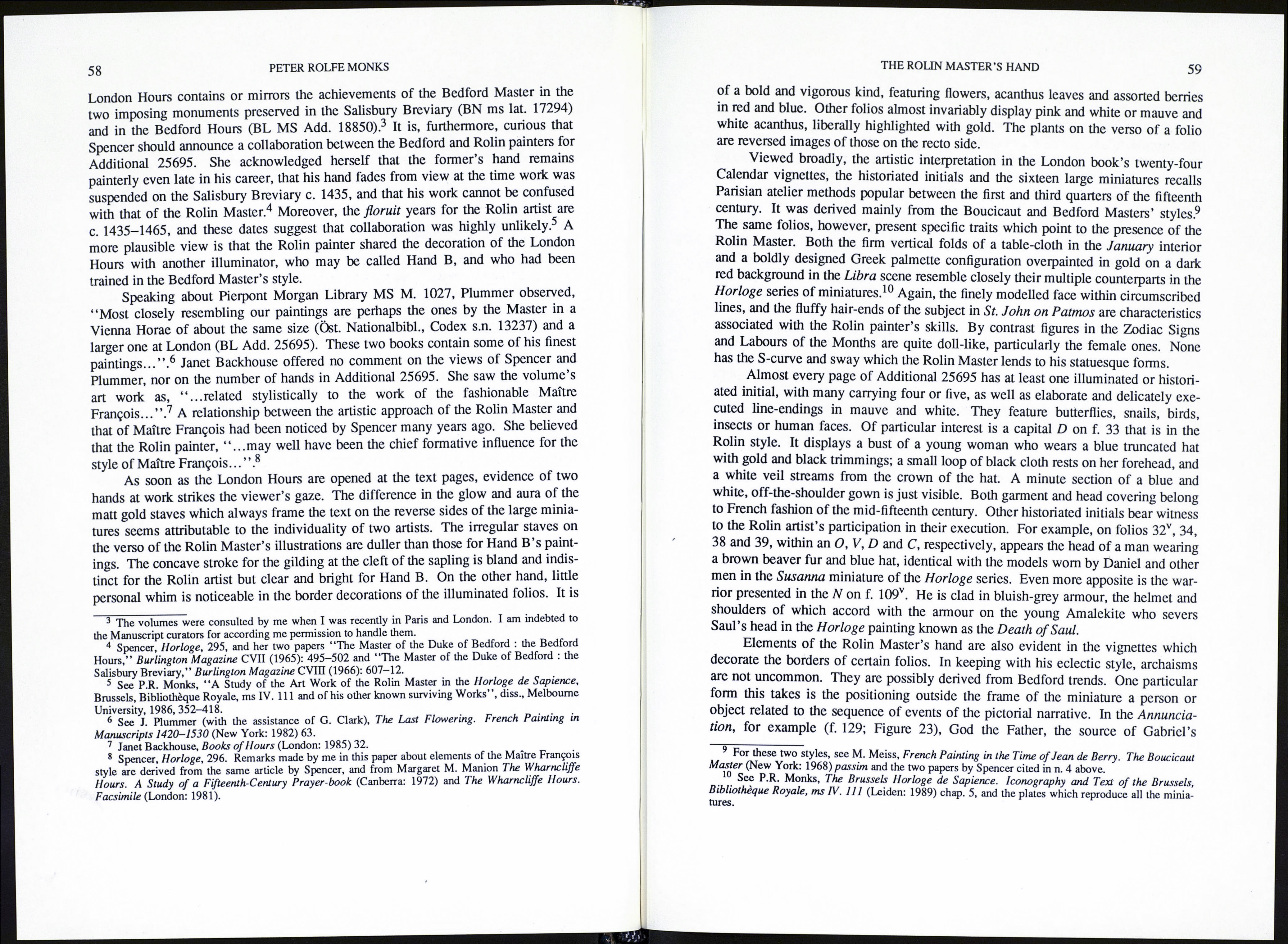 ALISON R. FLETT
Lanini Г ! Ill I Vi1'*
Figure 22 The Crucifixion. Book of Hours, Canberra, National Library, Clifford
Collection MS 1097/9, f. 68v; 195x150 mm.
IV
The Rolin Master's Hand in London
BL MS Additional 25695
Peter Rolfe Monks
It is not uncommon for a French miniaturist's work to present stylistic inconsisten¬
cies, but it is often difficult to offer a satisfactory explanation for them. One such
artist is the Master of the Brussels Horloge de Sapience, better known as the Rolin
Master or Master of Jean Rolin II. The Horloge in Brussels, Bibliothèque Royale,
ms IV. Ill was sumptuously illustrated c. 1450 by this Parisian miniaturist. Its art
work affirms his maturity as a master and offers a plenitude of references for his
stylistic canon. On the other hand, the Rolin painter's accomplishments in the unas¬
suming Book of Hours that is British Library MS Additional 25695 offer disparate
elements which critics have not explored or explained.1 A closer look at the varia¬
tions may suggest reasons for their presence.
Three critics have ventured brief comments on the illustrations in the London
volume, Eleanor Spencer, John Plummer and Janet Backhouse. Spencer noted that
two hands collaborated in its artistic production, the Bedford Master and the Rolin
Master, but she did not relate her statement to specific pictures.2 The identification
of one of the hands as that of the Bedford Master is open to question. There are
other doubts occasioned by comparisons. Stylistically, none of the miniatures in the
1 The approximately two hundred vellum sheets, small quarto in size, contain the following Latin
texts : Calendar (fols. 1-12 v); Gospel Extracts (fols. 13—28v); Hours of the Virgin (fols. 29-120vV
Hours of the Cross (fols. 121—138v); Hours of the Holy Spirit (fols. 139—146v); Office of the Virgin
(fols. 147-152 ); Penitential Psalms (f. 153-164v); Vigils of the Dead (f. 165-end). See Catalogue of
Additions to the Manuscripts in the British Museum in the Years MDCCCLIV-MDCCCLXXV (London:
1877) II: 223. I should like to thank the Manuscripts Librarian, Mr. M.A.F. Borrie, and the Superintcn-
dent and Staff of the Students Room in the British Library for their kindness and co-operation during
my mspection of the volume. Janet Backhouse was most generous with her time, and our discussions
were fruitful.
2 See Eleanor Spencer, "L'Horloge de Sapience, Bruxelles, Bibliothèque Royale, ms IV 111 "
Scriptorium ХѴП (1963): 295, n. 44; (hereafter Spencer, Horloge).
57