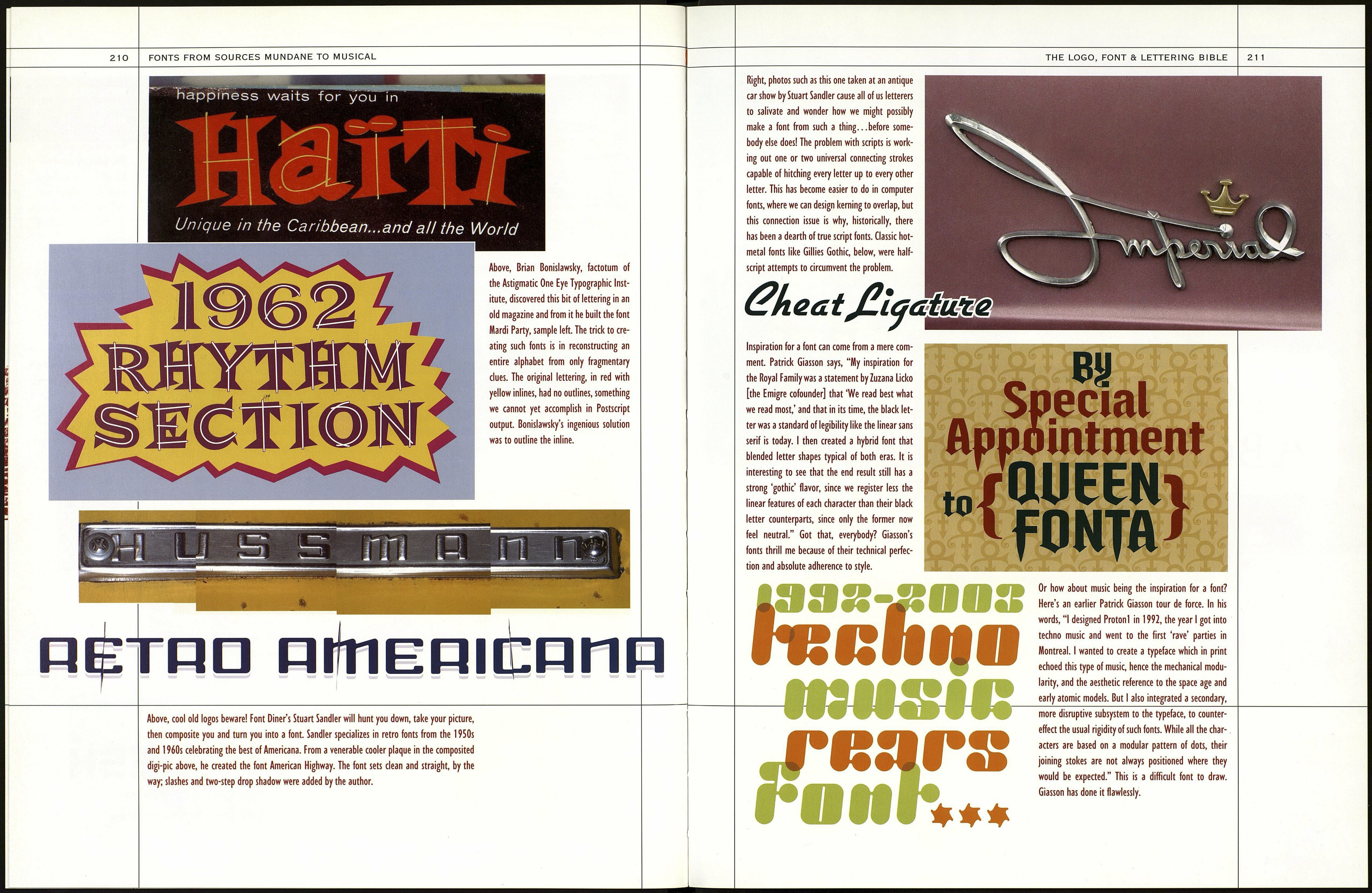 208
SIGNS OF FONTS TO COME
THEATEß rUÄCHIWSKll
Above, I would love to base
a font on the exotic and
historic Theater Tuschinsky
logo I photographed in
Amsterdam, but it wouldn't
sell. It's too exotic, which
would limit its usability.
Right, you don't necessarily
have to travel to Europe to
find wonderful alphabetic
reference material, though.
I found this old wall sign
containing about six
different lettering styles
in Detroit, Michigan.
О
<0 T
208
Left, this sign for Latteria, found in Barcelona, is no
longer even there, but its grimy silhouette is a ghostly
invitation for fonts to come. Below, you won't be able
to go bungee jumping at this Dutch Bunge-Huis (a
shipping company), but you might jump on its signage
for a font idea, or consider the great Art Deco building
itself as inspiration for a border design.
ш. -
LOGO, FONT & LETTERING BIBLE
209
Left, I am really impressed with this font
by Pablo Medina of Cubanica because it
speaks "truth" to me. He lifted it off a
Cuban restaurant sign in deepest New
Jersey, but it could have come straight
out of Havana, a place where time—
enchantingly—stands still. Look past the
Photoshop treatment I cooked up to
really see Pablo's font.
Below, this was one of several sources for
my font BadTyp. In addition, through the
years I kept a running catalog in my head
of absolutely atrocious amateur lettering
that I finally put together as a font.
Left, a clothing store in Italy
for lawyers, I guess, done up
with a neat steel and neon
script. Although not seen in
this neon sign, in Europe,
neon tubes are sometimes
actually cut and welded to
create sharp mitered cor¬
ners, something no American
sign shop has ever had the
patience to do.
Middle left, you can pick up
everything at De Bernardi's
House of Music, from a
fliigelhorn to a Humanatone.
And if your brain is auto¬
matically set, like mine is, to
"font-find mode," you might
pick up a type idea, as well.
FARM FRESH
PRODIJp^