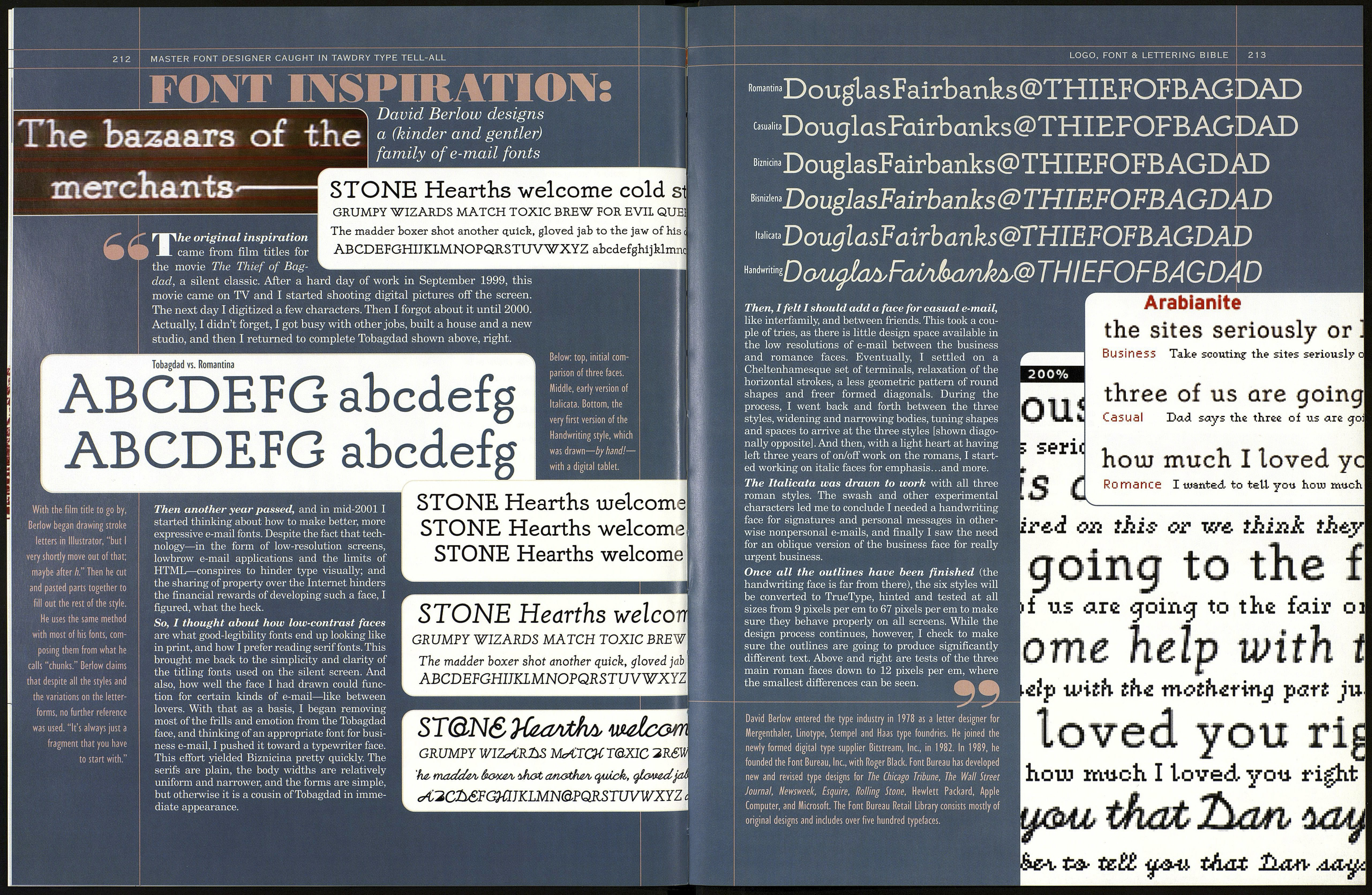 Above, Brian Bonislawsky, factotum of
the Astigmatic One Eye Typographic Inst¬
itute, discovered this bit of lettering in an
old magazine and from it he built the font
Mardi Party, sample left. The trick to cre¬
ating such fonts is in reconstructing an
entire alphabet from only fragmentary
clues. The original lettering, in red with
yellow inlines, had no outlines, something
we cannot yet accomplish in Postscript
output. Bonislawsky's ingenious solution
was to outline the inline.
ПЕТ ПО ПГПЕПІСППП
Above, cool old logos beware! Font Diner's Stuart Sandler will hunt you down, take your picture,
then composite you and turn you into a font. Sandler specializes in retro fonts from the 1950s
and 1960s celebrating the best of Americana. From a venerable cooler plaque in the composited
digi-pic above, he created the font American Highway. The font sets clean and straight, by the
way; slashes and two-step drop shadow were added by the author.
Right, photos such as this one taken at an antique
car show by Stuart Sandler cause all of us letterers
to salivate and wonder how we might possibly
make a font from such a thing...before some¬
body else does! The problem with scripts is work¬
ing out one or two universal connecting strokes
capable of hitching every letter up to every other
letter. This has become easier to do in computer
fonts, where we can design kerning to overlap, but
this connection issue is why, historically, there
has been a dearth of true script fonts. Classic hot-
metal fonts like Gillies Gothic, below, were half-
script attempts to circumvent the problem.
ßlieatJ-ìacLtwze
Inspiration for a font can come from a mere com¬
ment. Patrick Giasson says, "My inspiration for
the Royal Family was a statement byZuzana Licko
[the Emigre cofounder] that 'We read best what
we read most,' and that in its time, the black let¬
ter was a standard of legibility like the linear sans
serif is today. I then created a hybrid font that
blended letter shapes typical of both eras. It is
interesting to see that the end result still has a
strong 'gothic' flavor, since we register less the
linear features of each character than their black
letter counterparts, since only the former now
feel neutral." Got that, everybody? Giasson's
fonts thrill me because of their technical perfec¬
tion and absolute adherence to style.
Special
appointment
*tfOHTA'
аая-гяоо»
«Il If»
llfNUfH
Or how about music being the inspiration for a font?
Here's an earlier Patrick Giasson tour de force. In his
words, "I designed Protoni in 1992, the year I got into
techno music and went to the first 'rave' parties in
Montreal. I wanted to create a typeface which in print
echoed this type of music, hence the mechanical modu¬
larity, and the aesthetic reference to the space age and
early atomic models. But I also integrated a secondary,
¿•кат
ranh**
more disruptive subsystem to the typeface, to counter-
effect the usual rigidity of such fonts. While all the char¬
acters are based on a modular pattern of dots, their
joining stokes are not always positioned where they
would be expected." This is a difficult font to draw.
Giasson has done it flawlessly.