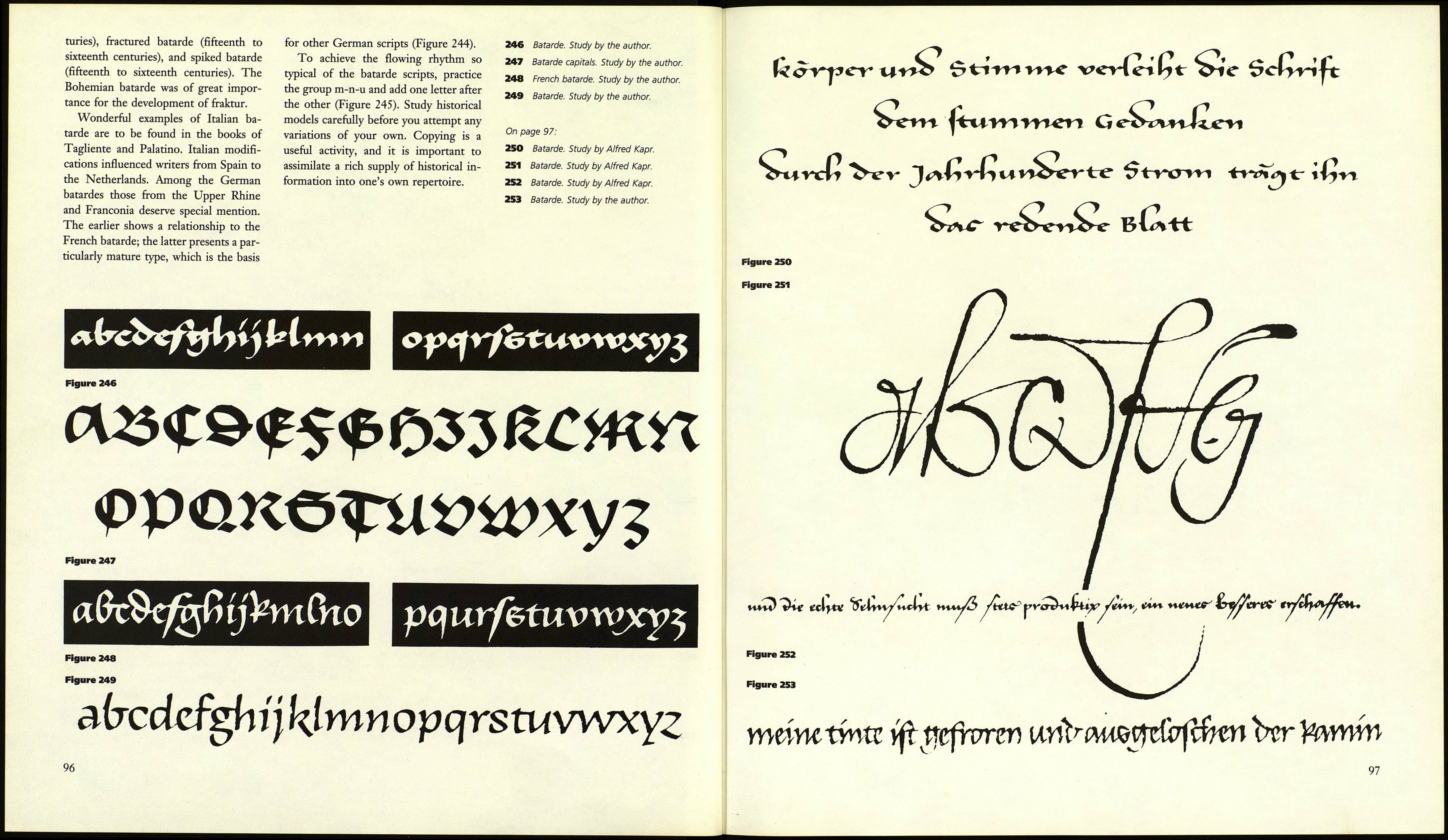 nbcdc
fst)íh
Imno
pqtts
tuoni
Figure 237
Figure 239
ZumUdkn
Ocrcpdamten
Mcnfcbtxft
kann niemanö
beitragen
mnícht
ausfíchlelblt
macht
mas aue ihm
ratröenfcann
uno foil;
Figure 238
@Ш10Щ>ЗП0 1234567890
abcöefg^ijkintnopqröftttoi0^5
94
On page 94:
237 Textura. Study by Albert Карг.
238 Rotunda. Study by the author.
239 Caslon Gothic (36-point). D. Stempel AG,
Frankfurt/Main. Typesetting by Andersen Nexo,
Leipzig.
240 Late medieval cursive (1469). From
Chroust, Monumenta Palaeographica.
241 French bâtarde, fiñeenth century. From
Crous/Kirchner, Die gotischen Schriftarten.
242 The "elephant trunk" style. Study by the
author.
243 Italian bâtarde (historic form). From Crousl
Kirchner,D'\e gotischen Schriftarten.
244 Prankish bâtarde (historic form). From
Crous/Kirchner, Die gotischen Schriftarten.
<\¿ ¿L #—к J- X
(WceCfaib pzbfi Gurtest fw
ü rtiruetru tuto ли©*-«laclo atreí«
attannma «Hot ctfebianna ©fi
Euro nonfirat таг tutu« ЧйЛеЛ
urne
245 Exercise.
Gothic Scripts and Variations
Gothic Cursive
Textura remained reserved for liturgical
use because it was hard to read and slow
to write. From the Carolingian minus¬
cule a cursive hand for a wider use was
developed. Its characteristic is a high
degree of connection between strokes.
A fluid writing sequence softened the
fractured forms, x-heights were low,
ascenders and descenders long. Arches
and loops were attached to ascenders,
the letters were written with a wide
quill, and there was much room for indi¬
vidual variations.
Bâtarde
Bâtarde is a group of fifteenth-century
styles that are neither true cursives
nor bookhands, according to Muzika.
From its origins in France and the royal
Bohemian chanceries it spread across
the German states as far as Poland, the
Netherlands, and England. Bâtarde scripts
exist in many variations and served as
vehicle for uncounted examples of works
of national literature and languages.
Typefaces were created in its image and
combined with textura capitals. Separate
capital alphabets were also in existence.
Only the most important variations will
be discussed here.
The French bâtarde is very decorative
and elegant. The hour books in the Flem¬
ish tradition of illuminated manuscripts
are of special beauty. The well-known
Civilité, a typeface of the sixteenth cen¬
tury, also has its origin in the French
bâtarde (Figure 241).
A peculiarity of the Bohemian bâtarde
is the so-called elephant's trunks (Figure
242) and the fact that letters are written
separate from each other in books.
Muzika makes the following distinctions
among the Bohemian bâtardes: round
bâtarde (fourteenth to fifteenth cen-
95