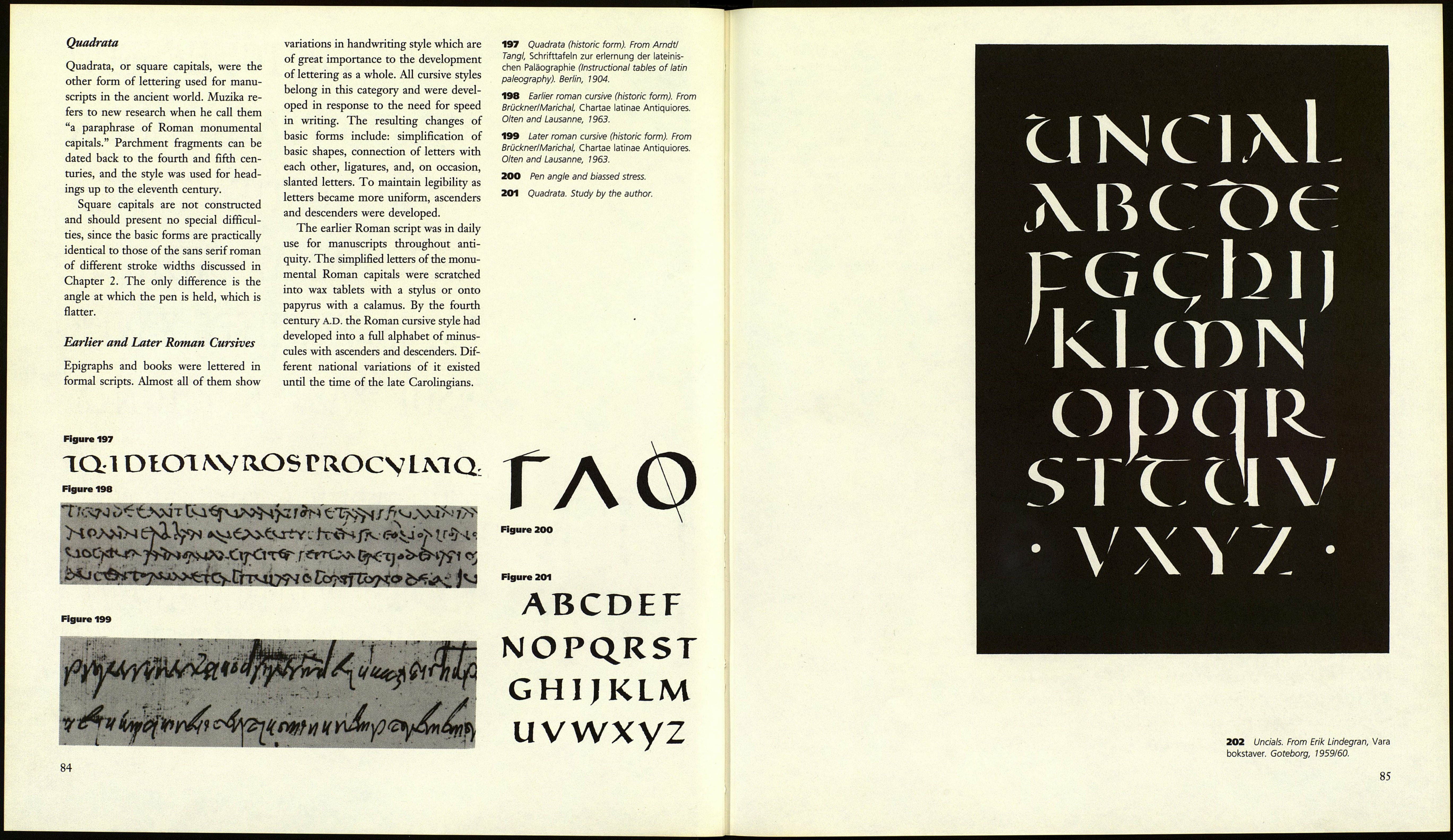 Rustica
We use the term rustica, even though it
is controversial in literature. Rustic cap¬
itals resulted from a calligraphic modifi¬
cation of Roman monumental capitals.
These were used to call the Romans to
the polls, for official announcements and
news items, often written on walls in red
and black ink. Some examples are pre¬
served in stone or bronze. Monumental
and rustic capitals were often mixed in a
single inscription. Rustic capitals were
used extensively in manuscripts up to the
sixth century, and their form remained
largely unchanged. During the eleventh
century the use of rustic capitals was
limited to headings.
The basic forms of the rustic capitals
are not the square and the circle, but the
rectangle and the oval. Narrower vari¬
ations followed wider ones. Stroke
variations can be achieved with a wide
brush: verticals appear rather thin, hori¬
zontals including serifs are wide. The
pen angle is usually slanted. The nib is
almost held at a right angle to the base¬
line, which creates the thin vertical and
wide horizontal strokes. For practice use
reed pens, steel nibs, or flat brushes.
192 Detail of an inscription on a Pompeiian
wall. (Photo by Albert Kapr.)
ЛѴІСиШОиЫО\Ш!іШіЫкОШ10і)5--
ыоашѵізмиѵзітѵілшошшол]
іошшѵААЮсшишѵіыоштсш
t IQVIMAISÍ JLOSta fei rvN lAûiVM l M ISIQh
Il m Gl UN IША0СМІШ5І ыяісмла
193 Rustic capitals (detail). Handlettered in¬
scription from the fifteenth century. From Châte¬
lain, Paléographie des classiques latins.
82
JONAS raiOl HEBKON
MIDIAS BRASIL CAESAR
DAVID RUSTIKA URBAN
NASE ORNAT QUINTUS
lOTOS WACHTEl XAVER
YSOP ZASTER PÏÏDNIX
1/0
194 Pen angle.
195 Rustic capitals (detail). Study by the author.
196 Rustic capitals (detail). Study by Harald
Brodel.
ICH HALTE DIEJENIGEN FÜR GLÜCK-
ЫСН, DENEN ES Ш DEN GÖTTERN
VERGÖNNT WORDEN IST; ETWAS ZU
LEISTEN, WAS AUFGESCHRIEBEN l\J
WERDEN, ODER ETWAS ZUSCHREIBEN,
WAS GELESEN ZU WERDEN VERDIENT.
83