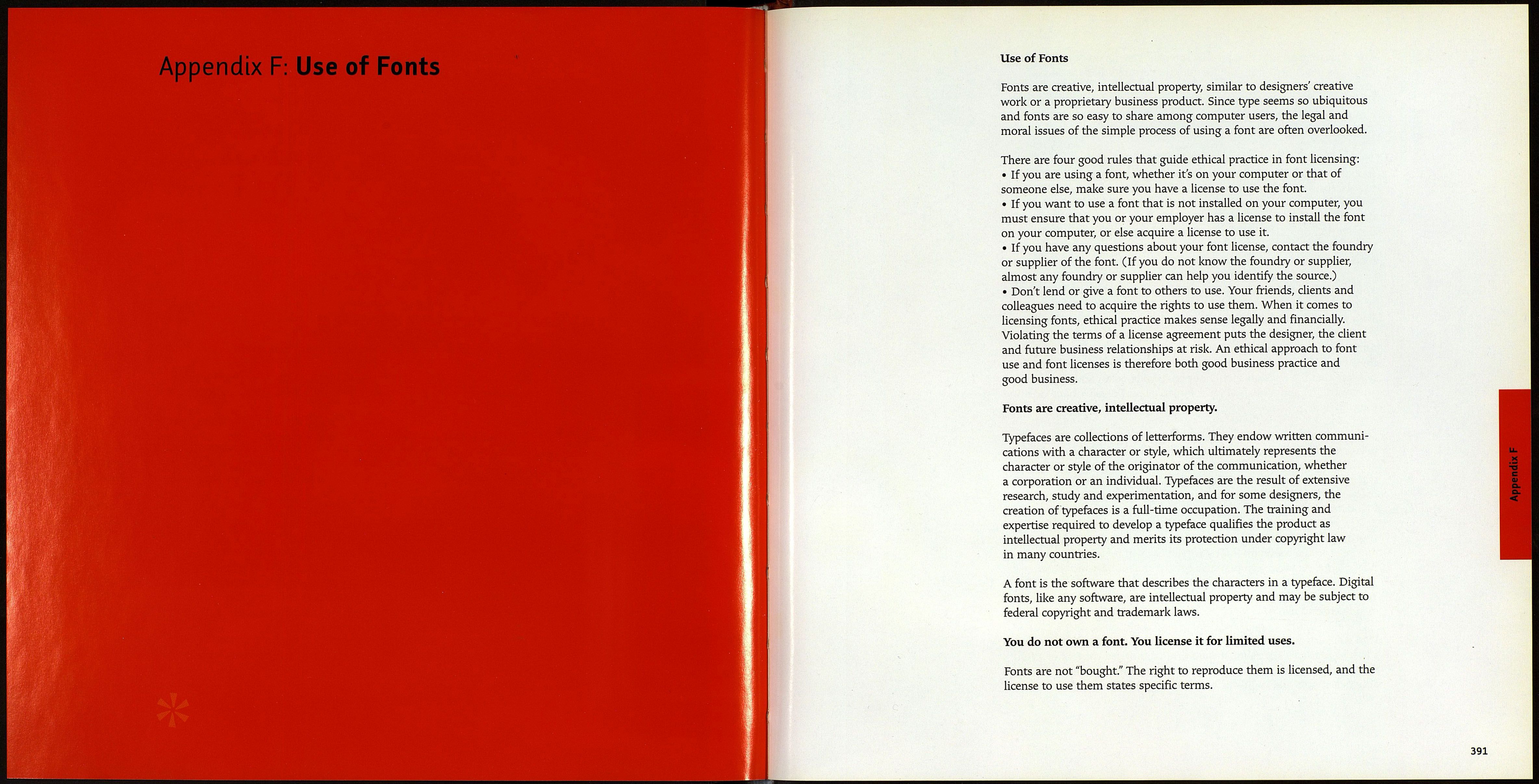 CARTER, ROB, AND MEGGS, PHILLIP B. (CONTRIBUTOR).
Typographic Specimens: The Great Typefaces. John Wiley 8¿ Sons, New
York, New York, 1993.
CHICAGO EDITORIAL STAFF; GROSSMAN, JOHN (PREFACE).
Chicago Manual of Style: The Essential Guide for Writers, Editors and
Publishers, 14th edition. University of Chicago Press, Chicago,
Illinois, 1993-
FRIEDL, FRIEDRICH; OTT, NICOLAUS; AND STEIN, BERNARD
(EDITORS). Typography: an Encyclopedic Survey of Type Design and
Techniques Throughout History. Black Dog and Leventhal Publishers,
New York, New York, 1998.
GILL, ERIC. An Essay on Typography. David R. Godine, Publisher, Boston,
Massachusetts, 1993.
GOUDY, FREDERIC W. Typologia: Studies in Type Design and Type Making,
with Comments on the Invention of Typography, the First Types, Legibility
and Fine Printing. University of California Press, Berkeley,
California, 1976.
GRAPHIC ARTISTS GUILD. Graphic Artist's Guild Handbook of Pricing 61
Ethical Guidelines, 10th Edition. Graphic Artists Guild, Inc., New
York, New York, 2001.
HALEY, ALLAN. Typographic Milestones. John Wiley 8¿ Sons, New York,
New York, 1997-
HELLER, STEVEN, AND FILI, LOUISE. Typology: Type Design from the
Victorian Era to the Digital Age. Chronicle Books, San Francisco,
California, 1999.
MCGREW, MAC. American Metal Typefaces of the Twentieth Century, 2nd
edition. Oak Knoll Press, New Castie, Delaware, 1993.
MCLEAN, RUARI. The Thames and Hudson Manual of Typography, reprint
edition. Thames 8¿ Hudson, London, England, 1992.
MOYE, STEPHEN. Fontographer: Type by Design. MIS: Press, New York,
New York, 1995-
PRESTIANNI, JOHN (EDITOR). Calligraphic Type Design in the Digital
Age: An Exhibition in Honor of the Contributions of Hermann and
Gudrun Zapf. Gingko Press, Corte Madera, California, 2002.
SMEIJERS, FRED. Counterpunch: Making Type in the Sixteenth Century,
Designing Typefaces Now. Hyphen Press, London, England, 1996.
STONE, SUMNER. On Stone: The Art ві Use of Typography on the Personal
Computer. Bedford Arts, San Francisco, California, 1991.
TRACY, WALTER. Letters of Credit: A View of Type Design. David R.
Godine, Publisher, Boston, Massachusetts, 1986.
TSCHICHOLD, JAN. The New Typography: A Handbook for Modern
Designers. University of California Press, Berkeley, California, 1995.