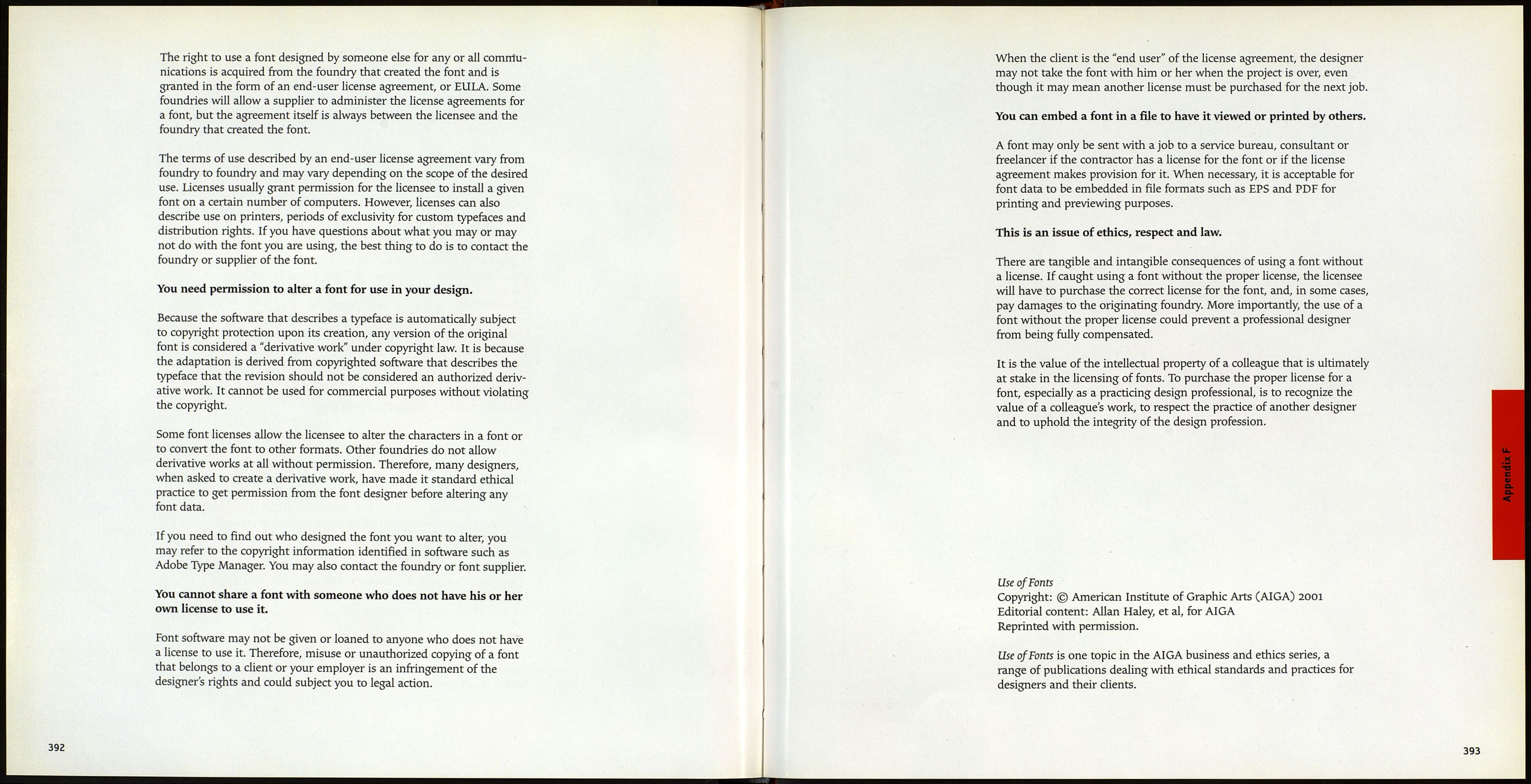 Use of Fonts
Fonts are creative, intellectual property, similar to designers' creative
work or a proprietary business product. Since type seems so ubiquitous
and fonts are so easy to share among computer users, the legal and
moral issues of the simple process of using a font are often overlooked.
There are four good rules that guide ethical practice in font licensing:
• If you are using a font, whether it's on your computer or that of
someone else, make sure you have a license to use the font.
• If you want to use a font that is not installed on your computer, you
must ensure that you or your employer has a license to install the font
on your computer, or else acquire a license to use it.
• If you have any questions about your font license, contact the foundry
or supplier of the font. (If you do not know the foundry or supplier,
almost any foundry or supplier can help you identify the source.)
• Don't lend or give a font to others to use. Your friends, clients and
colleagues need to acquire the rights to use them. When it comes to
licensing fonts, ethical practice makes sense legally and financially.
Violating the terms of a license agreement puts the designer, the client
and future business relationships at risk. An ethical approach to font
use and font licenses is therefore both good business practice and
good business.
Fonts are creative, intellectual property.
Typefaces are collections of letterforms. They endow written communi¬
cations with a character or style, which ultimately represents the
character or style of the originator of the communication, whether
a corporation or an individual. Typefaces are the result of extensive
research, study and experimentation, and for some designers, the
creation of typefaces is a full-time occupation. The training and
expertise required to develop a typeface qualifies the product as
intellectual property and merits its protection under copyright law
in many countries.
A font is the software that describes the characters in a typeface. Digital
fonts, like any software, are intellectual property and may be subject to
federal copyright and trademark laws.
You do not own a font. You license it for limited uses.
Fonts are not "bought." The right to reproduce them is licensed, and the
license to use them states specific terms.
391