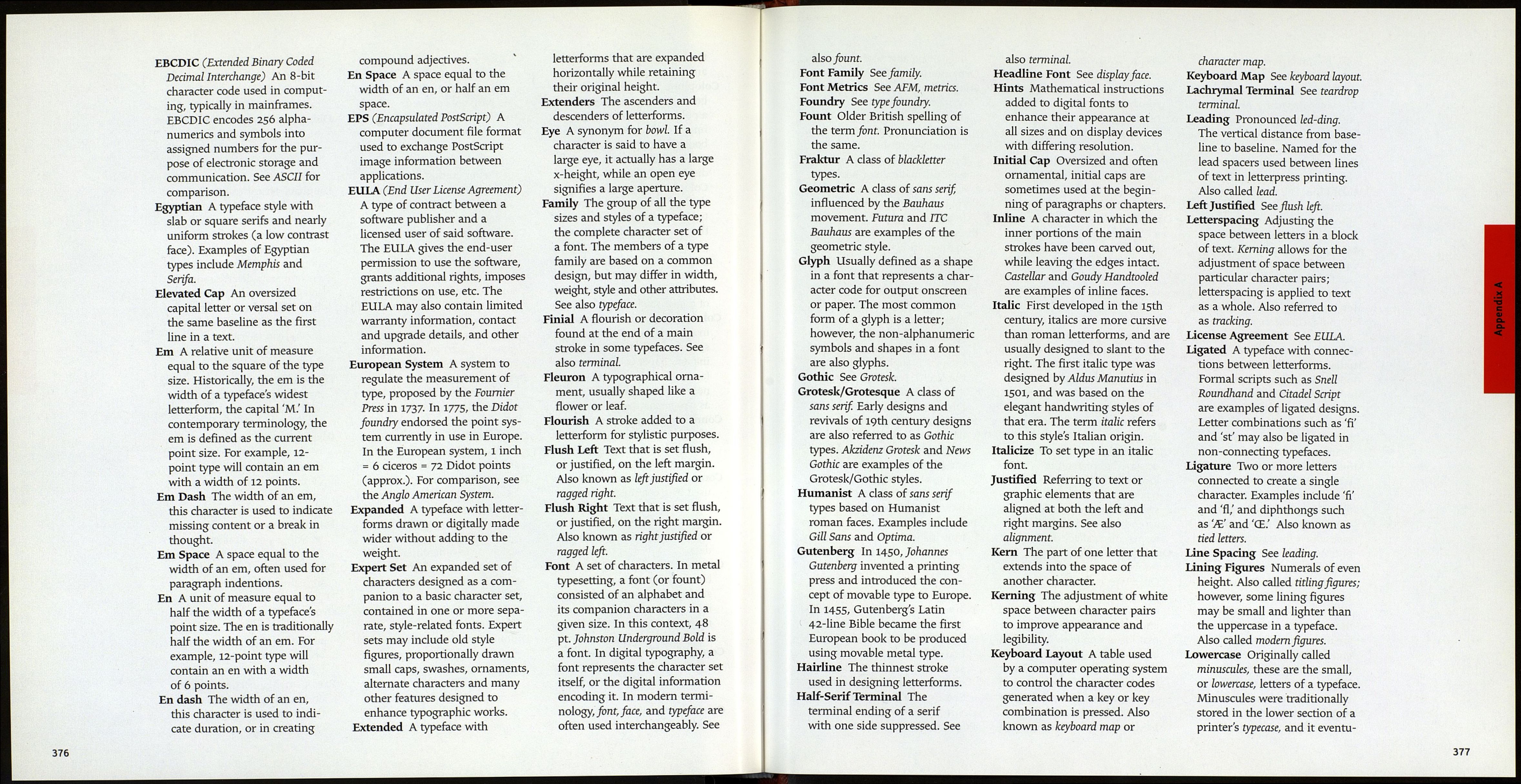 from baseline to baseline.
Bastarda A class of blackletter
types.
BCP (Bézier Control Point) One
of two points guiding a Bézier
curve.
Beak Terminal A sharp spur
form found in some typefaces
on characters such as 'a/ 'c/ 'f/
and 'r.' Typically found in many
twentieth-century Romans and
some italics, such as Perpetua
and Pontiftx. See also terminal.
Bézier Curve Mathematical
equations used to describe
the character shapes in digital
typography. French computer
scientist Pierre Bézier developed
the mathematical representa¬
tion used to describe this curve.
Bicameral Two alphabets joined,
as in the Latin alphabet with its
upper and lower cases. See also
tricameral and unicameral.
Bitmap A matrix of dots or pixels
malting up a graphic display.
Bitmap Font A font which is
made up of pixels. Bitmap fonts
are usually used in combination
with oudine fonts; the bitmap
is viewed onscreen, while the
corresponding outline font is
used in a printer. In cases
where fonts are intended for
screen use only, bitmap fonts
may be used without accompa¬
nying outline fonts. Also known
as a screen font.
Blackletter The typographical
counterpart to Gothic in archi¬
tecture, this typically heavy,
often ornate, style of letterform
was the first metal type in
Europe. The earliest of these
types were found in the
Gutenberg workshop, copied
from characters in handwritten
manuscripts. Bastarda, fraktur,
quadrata, rotunda, and textura
are all categories of blackletter.
Also known as Old English.
Block Quotation A quotation
set apart from the body of text,
often set in a different size
or face than the main text.
Body Size The point size, or
height, of a face, measured
from ascender to descender and
including a set surrounding
space. In letterpress terminology,
body size signified the height of
the face of the physical metal
block on which a character was
cast. In contemporary digital
typography, this is the height
of its imaginary equivalent—not
the dimension of the character,
but the rectangle defining the
entire space owned by the
letterform.
Boldface (l) A typeface drawn
with thicker strokes to achieve a
heavier appearance. (2) To draw
or digitally make letterforms
darker or thicker for emphasis.
Bolded Not to be confused with a
boldface type drawn from
scratch, this generally refers to
thickening letterforms using a
computer program's automatic
holding capabilities.
Bookface See text face.
Border A continuous rule or
decorative graphic element
enclosing the body of material
on a printed page or onscreen.
Bowl The round or elliptical form
of the body shape of certain
characters. Examples include 'C,'
'O,' c/ and 'e.' Also referred to as
the eye.
Bracket The curved or round joint,
or wedge, between the stem
and the serif of a letterform.
Calligraphic In typography, this
typically refers to Roman or
italic alphabets that appear to
have been drawn with pen or
brush. The term is derived from
the Greek kalligraphia, literally
meaning, beautiful writing.
Cap Height The distance from
the baseline to the cap line of
an alphabet; the approximate
height of an uppercase letter.
Lowercase ascenders often
extend beyond the cap height.
Capital Line, Cap Line An
imaginary line running across
the uppermost point of capital
letters.
Capitals, Caps See uppercase.
Centered Text set at an equal
distance from both margins.
Chancery A class of italic letter-
form, often typified by length¬
ened or curved extenders.
Character A symbol in writing
and typography. Characters
include letters, numerals,
punctuation marks and other
figures.
Character Encoding A table in
a font or computer operating
system that maps character
codes to a font's glyphs.
Character encoding is not
standardized across platforms
and operating systems.
Character Map See keyboard
layout.
Character Set The group of char¬
acters—typically alphanumerics,
punctuation and symbols—that
make up a single font.
Cicero Part of the European
System, the cicero is a unit of
measure equaling 12 Didot
points. The European counter¬
part to the British/American
pica, the cicero is slightly larger
374
than the pica. See also Didot
and the European System.
Colophon (1) A symbol used in
book printing to represent
a publisher or publisher's
imprint. (2) Information on a
book's title, printer, publisher
and publication date, typically
displayed at the end of a book.
Colophons often offer details on
the typefaces, type designers or
typographers associated with
the production of a printed
piece. The tradition has mi¬
grated to the digital arena, with
colophons sometimes included
on websites and in other forms
of digital media.
Color The appearance of darkness
in set type. Letterspacing, word
spacing, leading, stroke weight,
ink and paper color and other
factors contribute to the black¬
ness of typeset text. Also known
as typographic color.
Condensed A narrower version
of a typeface, designed with the
intention of fitting more char¬
acters into a given measure.
Contour Data The complex data
used by a computer processor
in the mathematical formula
responsible for generating
Bézier curves and curvilinear
data.
Contrast The degree of contrast
between the thick and thin
strokes of a letterform. Helvetica
is an example of a face with
no contrast, while Bodoni is
a high-contrast design.
Copyfitting The technique of
adjusting type size and spacing
so that it fits within a defined
space.
Counter The interior white space
enclosed by a letterform. 'D' and
'O' are examples of characters
with wholly enclosed counters,
while the counters in 'c' and 'm'
are partially enclosed.
Cross bar See cross-stroke.
Cross-stroke A horizontal stroke
connecting two stems, as in 'A'
and 'H,' or the projecting stroke
of a letter cutting horizontally
across the stem, as in T and 't.'
Also known as the cross bar
or bar.
Cursive Dating from the 16th
century, cursive typefaces
imitate the flowing style of
handwriting. Both script faces
and cursive designs give the
appearance of being drawn with
pen and ink. Script types are
typically joined, while cursives
generally are not. Also used as
a synonym for italic.
Descender That part of a lower¬
case letter which extends below
the baseline. Examples include
'),' 'q,' and 'y.'
Descender line The imaginary
horizontal line marldng the
lowermost point of a descender.
Descent A characters maximum
distance below the baseline.
Diacritic A mark over, under or
through a character, added to
give it a different phonetic
value, or to differentiate
between words which are
visually identical. Examples of
diacritics include the umlaut,
cedilla and tilde. Also known as
an accent.
Didone A modified version of Old
Style serif types, Didones retain
some of the characteristics of
engraving. These high contrast
letterforms were originally
developed by Firmin Didot and
Giambattista Bodoni from the
late 18th to early 19th centuries.
Bauer Bodoni and TTC Fenice are
examples of Didone styles, also
called Modern Serifs.
Didot A standard unit of measure
in European typography, the
Didot point is slightly larger
than the American point. See
also the European System.
Dingbats Historically called print¬
er's flowers, dingbats are typically
small decorative elements,
bullets, or other symbols. In
contemporary typography,
dingbat fonts have expanded to
encompass a diverse range of
imagery, from detailed illustra¬
tions of buildings, animals and
insects to abstract sketches of
the human face. Sometimes
referred to as picture fonts, image
fonts, or icon fonts.
Diphthong Two vowels joined to
create a single character: 'Al,'
'СЕ/ 'эе/ and 'ce.' Diphthongs are
also considered ligatures.
Display Face A larger or bolder
version of a text face, specifically
cut for use in setting headlines.
Often used to describe decora¬
tive type not suited for body
copy.
Double Story A lowercase 'a' or
'g' with a closed tail or curved
finial.
DPI (Dots Per Inch) The standard
measure of the resolution of a
video monitor or output device.
Drop Cap An oversized capital
letter or versai set at the begin¬
ning of a paragraph, drop caps
occupy two or more lines of
text.
Ear A small projection found
on some letterforms, such as
the stroke attached to the bowl
of a 'g.'