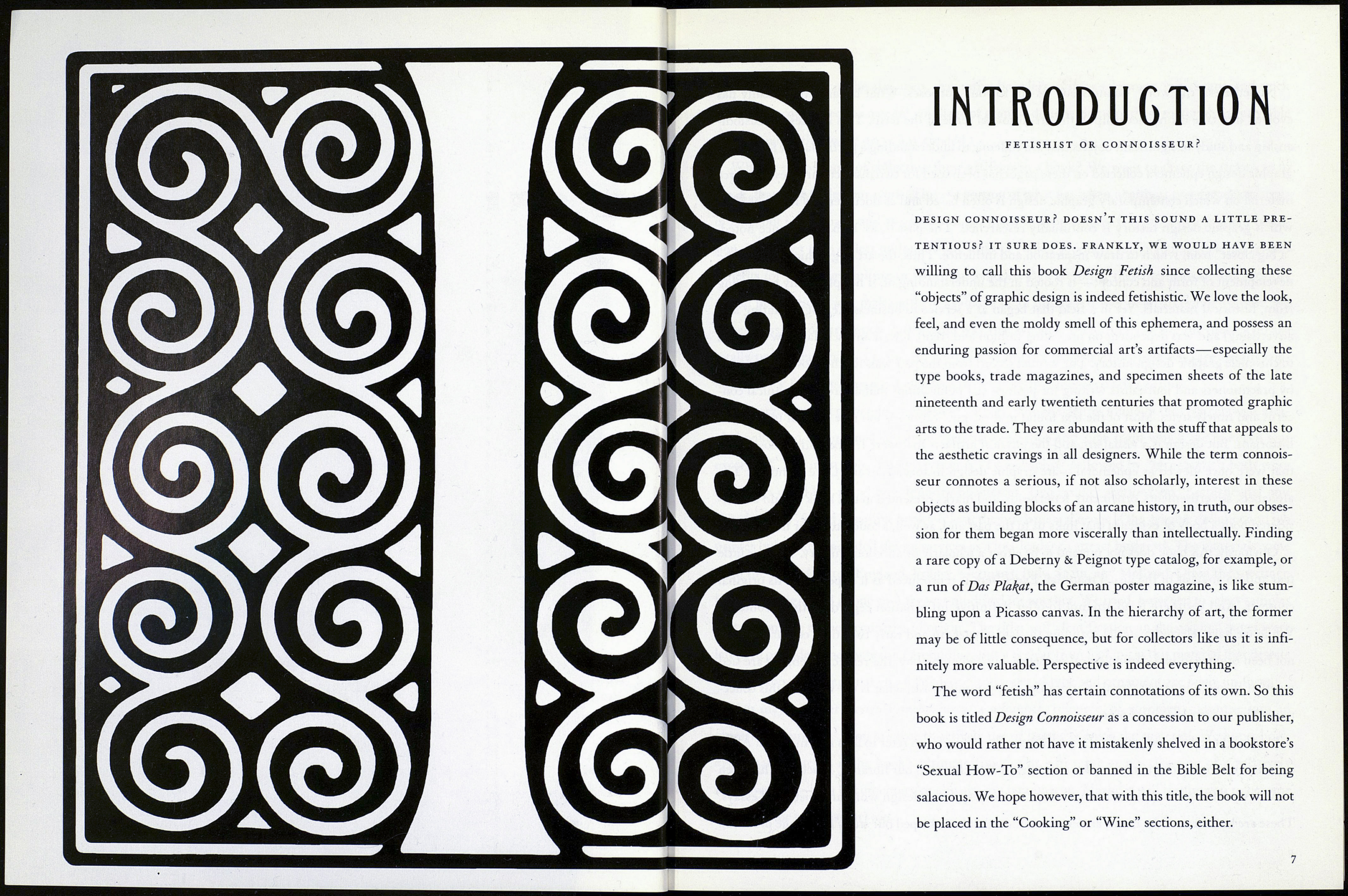 INTRODUCTION
FETISHIST OR CONNOISSEUR?
DESIGN CONNOISSEUR? DOESN'T THIS SOUND A LITTLE PRE¬
TENTIOUS? IT SURE DOES. FRANKLY, WE WOULD HAVE BEEN
willing to call this book Design Fetish since collecting these
"objects" of graphic design is indeed fetishistic. We love the look,
feel, and even the moldy smell of this ephemera, and possess an
enduring passion for commercial art's artifacts—especially the
type books, trade magazines, and specimen sheets of the late
nineteenth and early twentieth centuries that promoted graphic
arts to the trade. They are abundant with the stuff that appeals to
the aesthetic cravings in all designers. While the term connois¬
seur connotes a serious, if not also scholarly, interest in these
objects as building blocks of an arcane history, in truth, our obses¬
sion for them began more viscerally than intellectually. Finding
a rare copy of a Deberny & Peignot type catalog, for example, or
a run of Das Plakat, the German poster magazine, is like stum¬
bling upon a Picasso canvas. In the hierarchy of art, the former
may be of little consequence, but for collectors like us it is infi¬
nitely more valuable. Perspective is indeed everything.
The word "fetish" has certain connotations of its own. So this
book is titled Design Connoisseur as a concession to our publisher,
who would rather not have it mistakenly shelved in a bookstore's
"Sexual How-To" section or banned in the Bible Belt for being
salacious. We hope however, that with this title, the book will not
be placed in the "Cooking" or "Wine" sections, either.
7