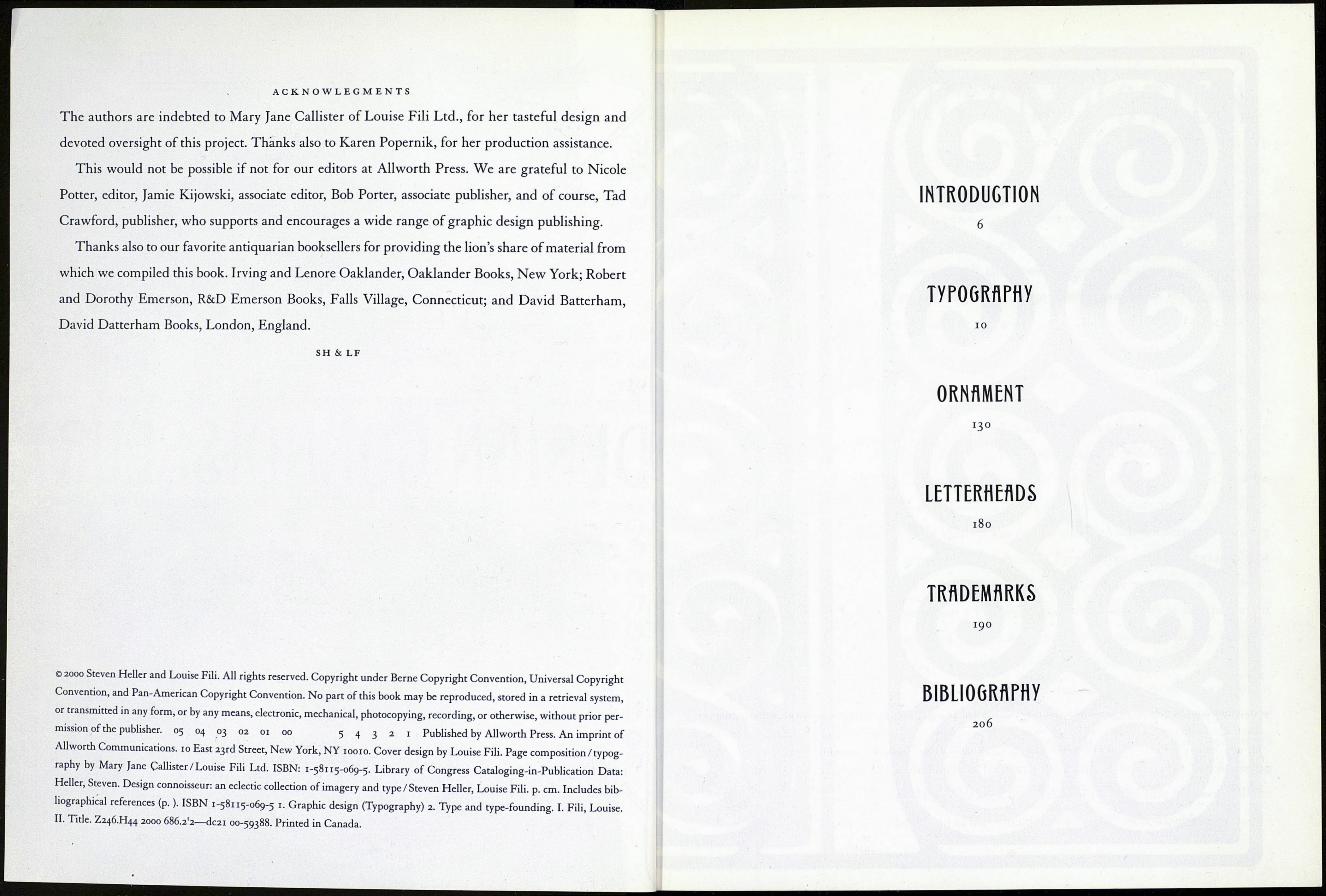 ACKNOWLEGMENTS
The authors are indebted to Mary Jane Callister of Louise Fili Ltd., for her tasteful design and
devoted oversight of this project. Thanks also to Karen Popernik, for her production assistance.
This would not be possible if not for our editors at Allworth Press. We are grateful to Nicole
Potter, editor, Jamie Kijowski, associate editor, Bob Porter, associate publisher, and of course, Tad
Crawford, publisher, who supports and encourages a wide range of graphic design publishing.
Thanks also to our favorite antiquarian booksellers for providing the lion's share of material from
which we compiled this book. Irving and Lenore Oaklander, Oaklander Books, New York; Robert
and Dorothy Emerson, R&D Emerson Books, Falls Village, Connecticut; and David Batterham,
David Datterham Books, London, England.
SH & LF
©2000 Steven Heller and Louise Fili. All rights reserved. Copyright under Berne Copyright Convention, Universal Copyright
Convention, and Pan-American Copyright Convention. No part of this book may be reproduced, stored in a retrieval system,
or transmitted in any form, or by any means, electronic, mechanical, photocopying, recording, or otherwise, without prior per¬
mission of the publisher. 05 04 03 02 01 00 54321 Published by All worth Press. An imprint of
Allworth Communications. 10 East 23rd Street, New York, NY 10010. Cover design by Louise Fili. Page composition / typog¬
raphy by Mary Jane Callister/Louise Fili Ltd. ISBN: 1-58115-069-5. Library of Congress Cataloging-in-Publication Data:
Heller, Steven. Design connoisseur: an eclectic collection of imagery and type/Steven Heller, Louise Fili. p. cm. Includes bib¬
liographical references (p. ). ISBN 1-58115-069-5 1. Graphic design (Typography) 2. Type and type-founding. I. Fili, Louise.
II. Title. Z246.H44 2000 686.2'2—dc2i 00-59388. Printed in Canada.
INTRODUCTION
6
TYPOGRAPHY
10
ORNAMENT
130
LETTERHEADS
180
TRADEMARKS
190
BIBLIOGRAPHY