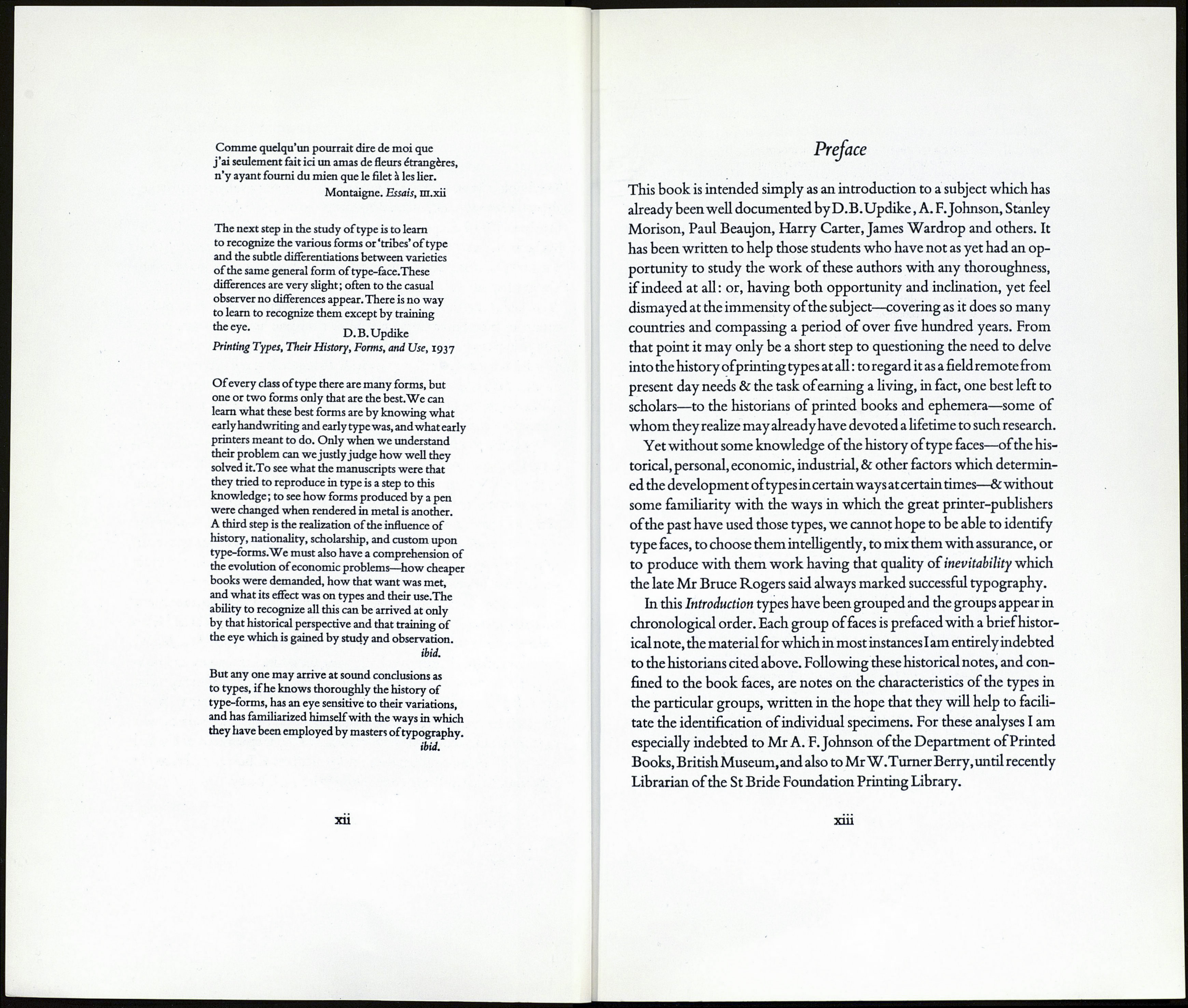 Acknowledgements
ant Keeper of the Department of Manuscripts and members of the staff
ofthat Department, and by the staffof the Print Room.
It gives me pleasure to thank Mr James Mosley for making it possible
for me to examine quietly a number of books in the St Bride Foundation
Printing Library and also for making some of these precious volumes
available for photography (see illustrations on pages 62,68,83,92,94,96,
125,130,132,133,142,150,151,156,158,160,170,176,180,182,186,188,
190&192); Mr A.W.Wheen and the staffof the Library of the Victoria
and Albert Museum for help and for permission to print the illustration
on page 42; Mr Edward K. Timings of the Public Record Office for
most helpful assistance (the example on page 13 8 is reproduced by per¬
mission of the Controller of H.M. Stationery Office and is Crown Copy¬
right); and also Mr V. С Elliot of The Mediaeval Academy of America
for allowing me to show the example on page 18 from Professor Rand's
book ; and Mrs Irene Wellington for generously allowing me to repro¬
duce the only writing sheet she produced for her students.
Others to whom I am grateful for help or counsel are Mr B. S. Cron,
Ann and Paul Dowding, Monsieur G. Chardon of Deberny & Peignot,
Dr James Eckman of Rochester, Minnesota, Priscilla Johnston, Mr Jan
van der Ploeg of the American Type Founders Co, Mr Walter Soldán,
Mrs K. Wightwick, the authorities at Quedlinberg for the search made
for an MS in the Carolingian hand, and to the Monotype Corporation
for the setting on page 100 and for the special sorts appearing in the text
of this book.
My brother Howard's constant help in all the stages of the production
of this book has been invaluable; & I am again indebted to my publishers,
and in particular to their Managing Director, Mr Edward Sykes, for the
complete freedom he has given me in producing this book and for his
forbearance once again in the matter ofproduction time.
And for a third time it gives me great pleasure to thank Mr E. J.
Goddard whose keyboard operators &compositors have maintained in
this book the high standards evidenced in the settings ofthefirst two vol¬
umes in this series. Such standards of composition could not have been
achieved without his unremitting surveillance. My warm thanks are
x
Acknowledgements
also due to the Taurus Press for printing difficult material so splendidly.
I would also like to thank Mr B. E. Freeman for the excellence of his
photography ; my friend Peter Gates for giving me the original of the
title-page reproduced on pages 84 and 85 ; my old friend S. who has so
often helped me in ways unknown to him; & finally, Ruth, for willing
help in the exacting task of reading the proofs.
xi