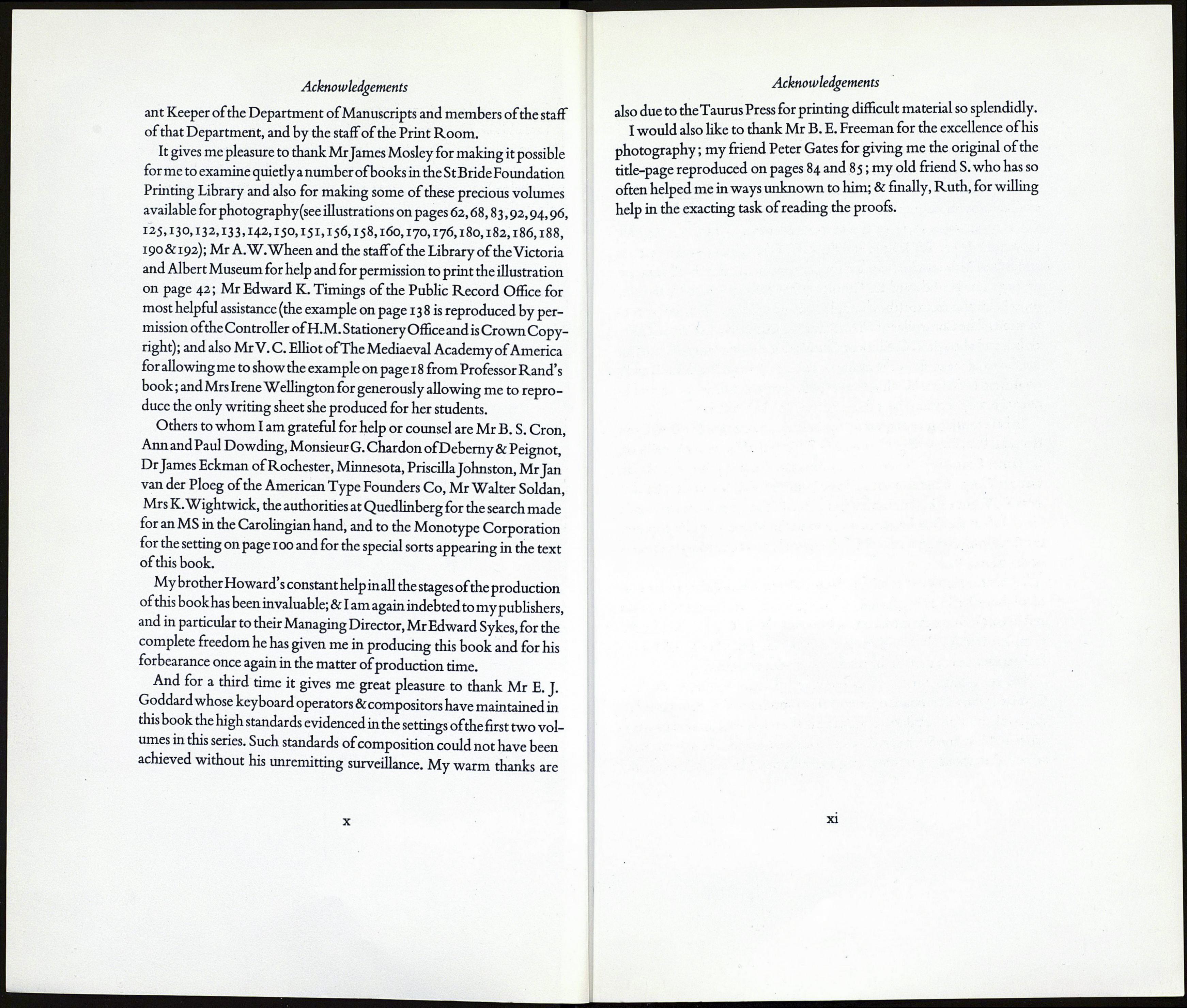 Acknowledgements
I am indebted, above all, to Mr A. F.Johnson of the British Museum
for his help with this book, particularly for reading and correcting the
text, for assistance with the choice of illustrations, and for counsel at all
times so readily and freely given.
Likewise my grateful thanks are due to Sir Sydney Carlyle Cockerell
for wise advice on a number of things connected with the contents of
this book, for his encouragement, and for his help in choosing from his
library the Venetian MS an example from which is shown on page 20.
Dr В. Frans Enschedé was kind enough to send me the material for
the examples on pages 74,119,120,152 and 15 3 and to settle a number
of queries on the decorated types of Jacques and Matthais Rosart. The
safes of the Caslon Letter Foundry revealed some of their treasures to
me. For the illustrations on pages 141,151,159,164,165,166,168,172,174,
i78,i82,i84,i94&i96andforthe type fromwhich the heading on page
97 was reproduced I am obliged to Sir Francis Stephenson, Mr James
B. Blake and Mr Charles Stephenson, each of whom have given most
generously of their time, assistance and advice.
I am also indebted to Professor A. Ruppel, Director of the Gutenberg
Museum, Mainz, for sending me the illustration shown on page 4, to
M. ArnoultofthelmprimerieNationaleforso generously making avail¬
able many examples oftheworkof the celebrated French type-cutters
of the seventeenth, eighteenth and nineteenth centuries and for giving
me permission to reproduce those shown on pages 67,78, 88, 89 &90.
I would like to thank the Trustees of the British Museum for permit¬
ting me to reproduce the illustrations on pages 6, 9,10,11,13,15.16,23,
25,27,28,зо,зЗ,34,35,Зб,37.38,39,40,44,4б,48.49,50,52,54.5б,57,
58,60,66,69,70,71,72,77,79, 80, 81, 82, 86,93,95,108,112,114,116,
118,121,122,123,124,126,128,135,136,137.139.144.146,149,154,162
and 173 ; and also to acknowledge the help given to me by Mr George
Painter, and the staffof the North Library; by Mr D. H.Tumer, Assist-
ix