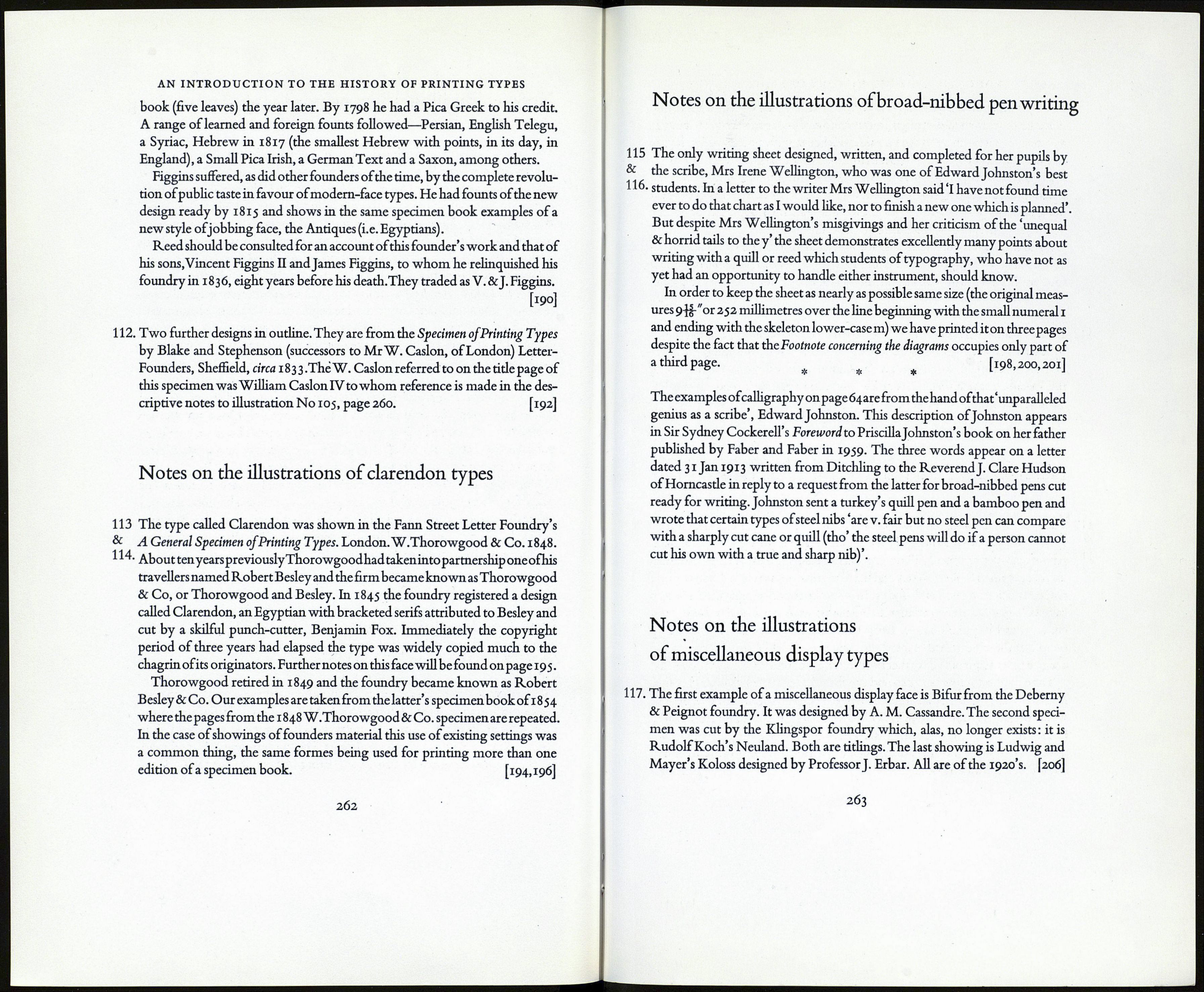 AN INTRODUCTION TO THE HISTORY OF PRINTING TYPES
sans serif (see the illustration No 106, page 180) and William Thorowgood,
successor to Thome, under the name grotesque*.
On the retirement of his father,William Caslon III, from the business in
1807, his son, also William, changed the name of the firm from W. Caslon
& Son toW. Caslon, Junior.When his father died in 183 3 /William Caslon IV
inherited the foundry, enlarging it.'especially', remarks Reed,'by the ad¬
dition of the new-fashioned fat-faced types'. He also introduced special, built-
up matrices in 1810 for the casting of large types previously produced in sand
moulds. Nine years later he sold his foundry to Blake, Garnett & Co and the
stock was removed to that company's premises in Sheffield. Between 1820
and 1830 the firm's name was changed to Blake and Stephenson and in 1841
became Stephenson, Blake & Co. [178]
106. A page from Specimen of Printing Types by Vincent Figgins, Letter Founder,
West Street, West Smithfield, London 1832. From the time of the appear¬
ance ofW. Caslon Junior's single Une of titling in 1816 no more was seen of
the sans serif design until black, clumsy versions appeared under their correct
name in this specimen of 18 3 2. In the same 8vo book he shows ugly, rudely
cut, two-line pearl sans serif capitals, & a tremendously black, eight-line pica
titling : in his specimen of the following year 20-line pica sans serif letters are
shown ! Though sans serif appeared in the Thorowgood supplement of 18 3 2
it is probable that Vincent Figgins was the founder who revived it. [180]
Notes on the illustrations of reversed or cameo types
107. Lines from Л Specimen of Printing Types in the Fann-Street Letter Foundery,
London i828.Thorowgood (W) & Co.Two lines of reversed Egyptian italic
& a line of Tuscan Reversed are shown in our example from this 8vo. speci¬
men. A note on the invention of the Tuscan face is given in a footnote on
page 183 and a specimen of Brevier Tuscan is shown on page 192. [182]
108. From the Specimen of Printing Types by G.W. Bower (late Bower & Bacon),
Sheffield 18 3 7, one of the minor foundries which started in Sheffield as В о wer,
Bacon, and Bower, circa 1810.While William Thorowgood in his specimen
260
Reversed or Cameo, Ionic and Outline
of 1828 refers to white letters on a black ground as reversed types, G.W.
Bower labels similar types in his specimen, white. [iSa]
Notes on the illustrations of ionic types
109 The name Ionic appears to have been used for the first time in the specimen
& of Blake and Stephenson of circa 1833 where it is used to tide an outline letter.
110. it Was also used by the early Victorian typefounders as an alternative name for
Egyptian types and Nicolette Gray has described the early Ionic face as 'an
Egyptian with the slab serif bracketed and a definite differentiation between
the thick and thin strokes'.
The examples shown from the Specimen of Printing Types by Henry Caslon
(ГѴ), Letter-Founder, Chiswell Street, London, circa 1844, are of bold types
quite unlike the Ionics of today, which are almost exclusively used as news¬
paper and jobbing text faces. [186,188]
Notes on the illustrations of outline or open types
111. A page from the Specimen of Printing Types issued by Vincent Figgins, London
18 3 3. Notice that all the types are small. An even smaller size is shown on the
page following our specimen—a nonpareil outline. Outline letters had been
used years before these first types appeared—on engravings and etchings.
Vincent Figgins, born in 1766, was apprenticed to Joseph Jackson in 1782
(Jackson, born in 1733 was apprenticed to William Caslon I) and remained
with his master until the latter's death in 1792. For the last three years of his
master's life Figgins had managed the foundry for him entirely. Notwith¬
standing this he failed to succeed to the business and it was purchased by
William Caslon III. Figgins decided to start on his own.
The opportunity which enabled him to establish his reputation occurred
almost immediately. He was commissioned by the printer Thomas Bensley
to cut a two-line English roman to correspond with the beautiful fount pre¬
viously cut by Jackson for Bensley. Figgins completed this task with distinc-
tion.Then he completed Jackson's unfinished fount of Double Pica and issued
his first single leaf specimen in 1792, following this with his first spccimen-
261