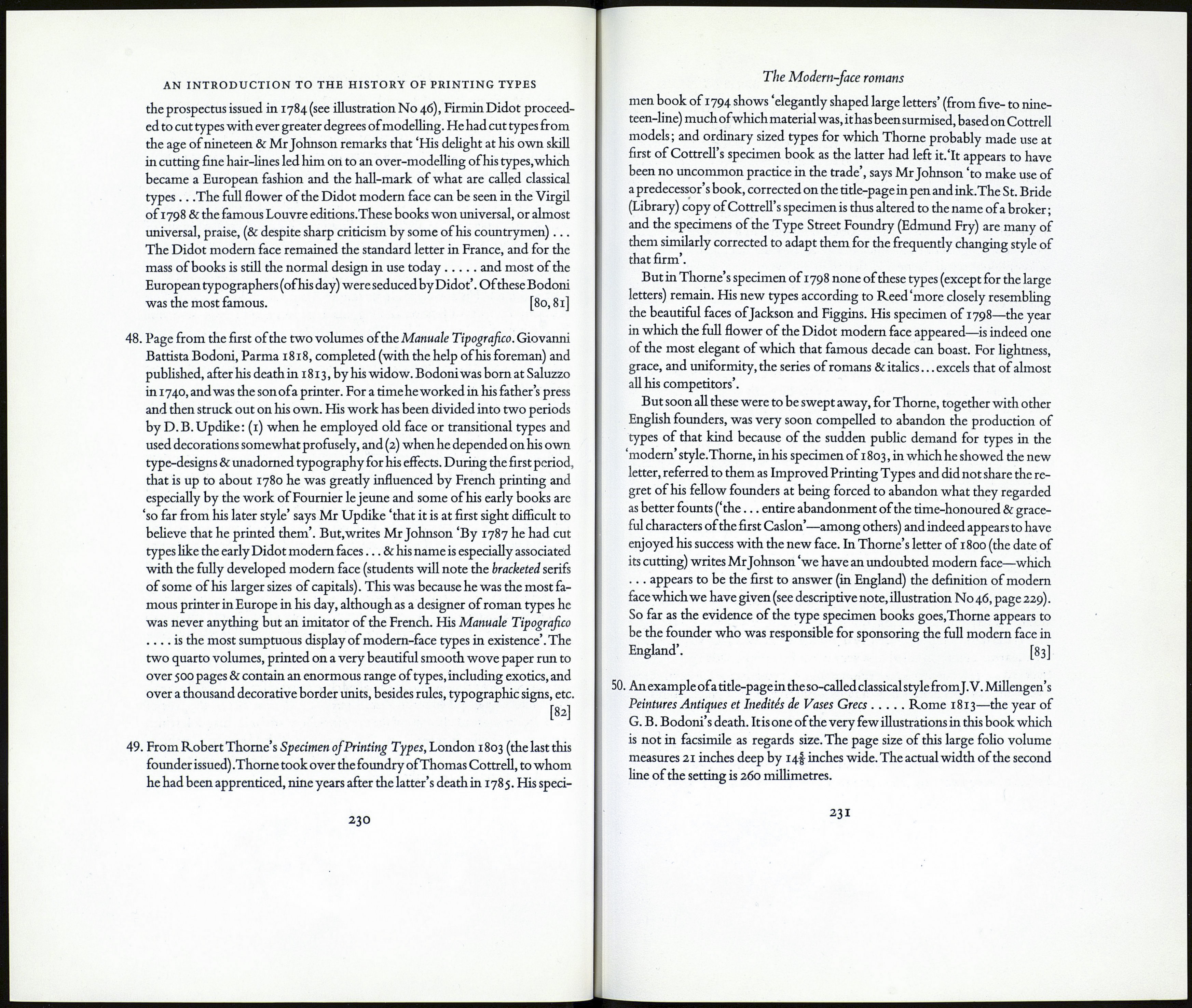 Notes on the illustrations of modern-face romans
43. From the Haerlemse Courant, ist March 1746. Unfortunately onlypart of this
very handsome page can be shown. It is reproduced from Charles Enschedé's
Fonderies de Caractères et leur matériel dans les Pays-Bas du XVe au XIXe siècle,
Haarlem 1908 & shows the first number of the j ournal to be printed in Fleisch¬
man's gaillarde roman engraved by him in 1745. The capitals are examples of
the kind often found in the first half of the eighteenth century with thin, un-
bracketed or only slightly bracketed, serifs and vertical shading 'when the
lower case was still in the state of transition'. Mrjohnson mentions specimens
of J. F. Rosart's capitals, and those issued by the Luther firm at Frankfurt in
the years 1716 and 1718 as examples. [74]
44. From a page of A. Christian's Débuts de l'Imprimerie en France, L'Imprimerie
Nationale, Paris 1905, a quarto, each chapter of which is set in a different type,
thus m airing it a specimen book of the Imprimerie Nationale. Many interest¬
ing types are shown includingjannon's Caractères de l'Université. One chap¬
ter is devoted to Jaugeon and the 'romain du roi' : modern cuttings based on
Jaugeon's report (Caractères Jaugeon, cut in 1904) ; and this chapter includes
one of Jaugeon's squares divided into 2,304 small squares.There are also,
among others, the types poétiques engraved in 1740 by Louis Luce and the
caractères millimétriques engraved by Firmin Didot, 1812. A prehminary
note to the chapter from which our specimen was taken reads 'Le présent
chapitre a été composé avec les caractères. .. désignés sous le nom de types
de Louis XIV gravés en 1693 par Phillipe Grandjean and Jean Alexandre'. A
comparison of Grandjean's type as printed in 1702 (see illustration No 34,
page 60) with the same type printed by twentieth-century methods shows
clearly how much was lost by earlier methods of presswork (in which, of
course are inextricably bound up not only the physical attributes of the press
itself but the quality of ink, the method of inking, and the paper surfaces
also) This illustration shows clearly that 'the modern face was implicit in
(Grandjean's) design'.
Grandjean's type was also used in an article on Arthur Christian, Director
of the Imprimerie Nationale, which appearedin Signature, No 9,1949. [77]
45. This further example of Grandjean's romain du roi Corps 20, printed at the
Imprimerie Nationale in 195 5 on a smooth-surfaced paper shows even more
clearly than illustration 44 how early eighteenth century methods of print-
228
The Modern-face romans
ing to a large extent obscured the changes he had made in transforming the
old-face design. r_gi
46. Prospectus for Torquato Tasso's romantic epic on the Crusades, La Geru¬
salemme Liberata printed by F. A. Didot (l'ainé), 1784. 'The house of Didot',
says Mrjohnson,'is one of the illustrious families in the annals of typography.
About the year 1789 there were no less than seven members of the farmly
engaged in the various branches of the book trade at Paris', F. A. Didot,
i'ainé.was both printer and type-founder. He and his brother P. F. Didot,
were appointed printers respectively to the Comte d'Artois, & to the King's
eldest brother and it is thought that those appointments played a part in the
Didot's experiments in cutting new types.There is uncertainty as to the en¬
graver of the early Didot types and to the dates of their appearance. In 1783
F. A. Didot printed three French classics in an excellent but very light transi¬
tional roman. Other light types followed—D. B. Updike speaks of one of
them as 'so thin and fragile-----This results in faded-looking pages that are
perfecdy legible, but give an insecure feeling to the eye'. But while these
'maigre' romans were being used the type shown in our example appeared.
It had been cut in the foundry of F. A. Didot and Mrjohnson says of it that
'Following the definition of modem face—as a roman embodying the three
following characteristics (1) Flat & unbracketed serifs, (2) abrupt & exagger¬
ated modelling, (3) vertical shading—we must accept this type as a modern
face and the first of its class.The thin, flat serifs, the verticality and abruptness
of the shading (contrast the e of this type with that of any earlier roman)
make this roman different only in degree of shading from the founts which
Firmin Didot (F. A. Didot's younger son, 1764-1836) was later to cut'. But
he remarks that this roman is, because the shading is not too exaggerated and
because of the great skill of the engraver, a far better type than the later cut¬
tings which the Didots themselves came to prefer.
All the types (even the approximately 10 point) in this prospectus print
beautifully.They are sharp and clear—a tribute not only to the types but to
the improved presses (with larger platens) which the Didots were using by
1784, and also to the papier-vélin (a highly finished wove paper modelled on
uiat used by Baskerville) which showed their precisely engraved types to ad-
vantage.The idea of using wove paper was probably taken from Baskerville.
[79]
47. The type of the splendidly printed Virgil, edited and printed by P. Didot,
Paris 1798. From the time of the appearance of the first modem face used in
229