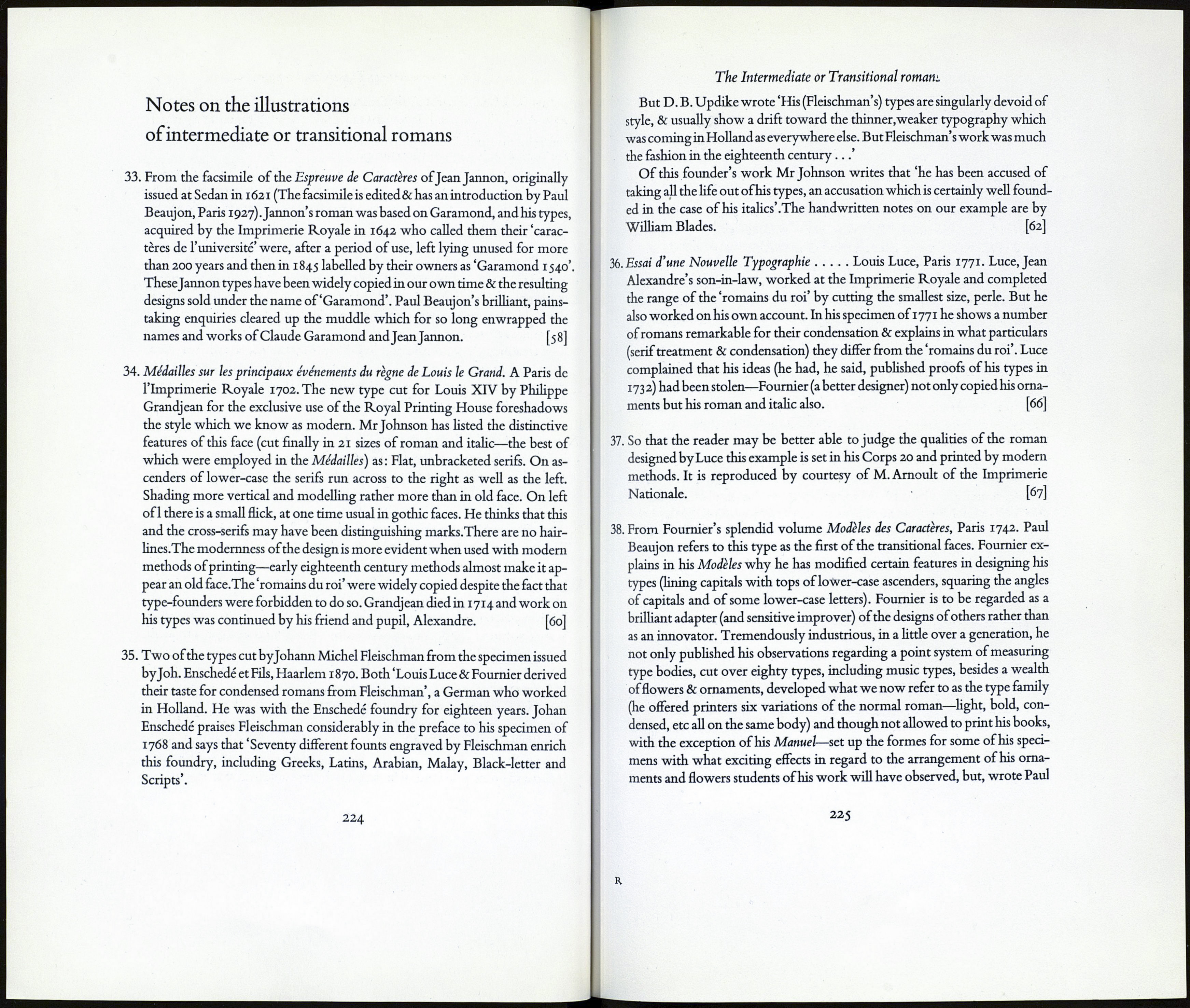 Notes on the illustrations of italic types
24. From the Poems of Cardinal Bembo. A beautiful example of the cursive
writing perfected in Italy during the first half of the loth century. Possibly
written after 1534. Formerly in the library of Sir Sydney Carlyle Cockerell
and now in the Victoria and Albert Museum. [42]
25. From the Virgil printed on vellum by Aldus at Venice in 1501, the first book
in which the new italic type was used for the purpose for which it had been
designed, i.e. as a conserver of space—to make it possible to compress volumes
of the classics into small compass.The type was cut by Francesco Griffo of
Bologna, the engraver Aldus employed for cutting all his types.The wide
distribution of this new type which the Aldine volumes secured for it was
further promoted by the plagiarists : the design was widely copied through¬
out Europe. Despite its initial popularity it did not live because of the serious
faults in its design—it is not to be compared with the beautiful italics of the
Vincentino group. [44]
26. From thesecondpartofArrighi's beautiful writing manual Ilmodo de temperare
le Penne Con le varie Sorti de littere ordinato per Ludovico Vicentino, printed
at Venice in 1523 .This continuation of his writing manual issued in the pre¬
vious year (La Operino), is printed from wood blocks but also contains several
pages printed from italic type, the earliest showing of this italic. [46]
27. From a book of poems, Coryciana by B. Palladius printed at Rome in 1524.
Arrighi was one of the printers and the book is set in the first italic designed
by him.Nineteen smallbooks printedin dus cursive in 1524 and 1525 are listed
by Mr Johnson in his Type Designs. [48]
28. From H.Vida De Arte Poetica printed by Vicentino at Rome in May 1527
in a new formal chancery cursive. Only six books printed in this type by
Arrighi have been recorded.writes Mr Johnson, the last being that from
which our example is taken. It is thought that Arrighi may have perished in
the disaster which overtook Rome in that year. Note the serifs which have
taken the place of the rounded terminals of Arrighi's first type and the ab¬
sence of swash letters. In body size it approximates the earlier type but it is of
larger face. [49]
222
The Italics
29. Camillo Agrippa. Trattato de scientia d'arme printed by Antonio Biado, Rome
1553 (Biado was a connection of Aldus). Arrighi's second type came into
this printer's hands and his first use of it dates from about 1530. It 'proved to
be' writes Mr Johnson,'the forerunner of an even larger group of formal
cursives'and was widely copied throughout Europe/the best exampleof the
school (Vincentino) outside Italy and France turns up in an English law book
printed in London in 1531'. [50]
30. Epigrammata of Claudius Rosselettus printed by Sebastien Gryphius at Lyons,
15 3 7. A pleasant book, set, as were so many sixteenth century books, in italic
throughout, except for the crossheads—the earliest recorded work set in this
italic. Note the considerable slope of the lower-case and the greatly differing
degrees of slope of the capitals (the О for instance is upright or may even be
said to lean very slighdy backwards !)—designed during the period when
printers were experimenting and apparently finding great difficulty in pro¬
ducing a satisfactory upper-case—one which would accord with the slope
of the lower-case. A further note on this italic will be found on page 53. [52]
31. From theEmblemata ofjoannes Sambucus printed by Christopher Plantin at
Antwerp, 1566 in an italic (Littera Currens Ciceroniana) by Robert Granjon,
the famous French typecutter and designer of many old-face italics. Granjon
appears to have supplied this printer.who had a very large and interesting
range of italic types.with at least half-a-dozen italics in addition to romans,
exotics and scripts. Plantin appears to have enjoyed producing illustrated
works. Such was the demand for these Emblem books that he printed many
editions in various languages. [54]
32.'One of the few surviving types of the distinguished designer of the seven¬
teenth century, Christoffel van Dijck, is an italic of this (old-face) school, a
vigorous design cut without any idea of accompanying a roman, however
it might be used'. In this note Mr Johnson refers to the type used in the pre¬
fatory matter to PlinianxExercitationes. C. Salmasius. Utrecht 1689, & shown
in our example. [56,57]
223