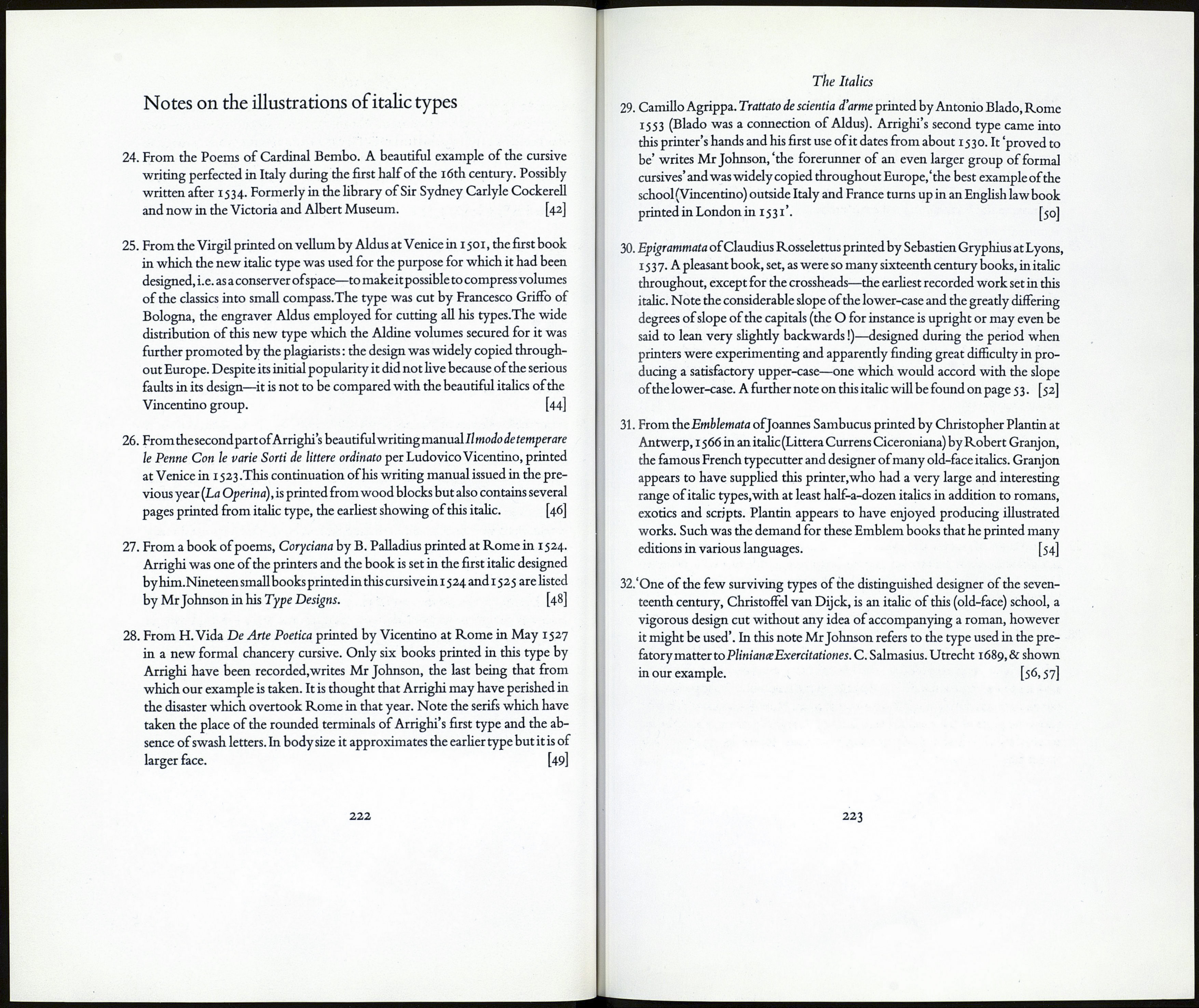 Notes on the illustrations of old-face romans
16. Page from the tract De JEtna written by Pietro Bembo and printed by Aldus
Manutius at Venice, 1495 .This example is referred to on page 31. It represents
the Aldine roman in its 'first-state'. Mr Morison has said that in this type we
have 'the origin of all old-faces'. In a comparatively short time it superseded
Jenson's letter. [30]
17. From the Hypnerotomachia Poliphili by Francesco Colonna printed by Aldus
at Venice in 1499 and set in his roman in its final and perfected form.We
refer to this illustration on page 31. Mr Johnson does not think that Aldus
was especially interested in the design of roman letters—'his interest was in
Greek literature & in the publication of the classics—& that the chief credit
(as designer) should be given to his type-cutter, Francesco Griffo'. It may be
noted here that Aldus had no gothic types. [3 3]
18. From another beautiful Aldine volume, Saint Catharine de Siena's Epistole
printed at Venice in isoo.The earliest Italian literature has come down to us
from the thirteenth century. It was not until the time of Dante—who was
bom in 1265, two hundred years before the first book was printed in Italy,
that Italian effectively began to compete with Latin as a literary language.
[34]
19. From a philological work by Jacques Du Bois In Linguam Gallicam Isagoge
published by Robert Estienne, Paris, January 1531 in his roman—in three
sizes.'. . . the lower-case'.wrote Paul Beaujon 'of French book printers for
two centuries to come, as far as general design goes, though modified in the
course of time by imitation'. Derived from the Aldine type of the De JEtna.
Cutting attributed to Garamond in the Egenolff-Berner sheet of 1592. [3 5]
20. From L'Histoire de la terre neuve de Peru by Gonzalo Fernandez published in
Paris in 1545. Paul Beaujon refers to the types in which this volume is set as
'possibly an earlier impression of the types' used in Dominique Jacquinot's
L'usaige de l'astrolabe. See descriptive note for illustration 21, below. [36]
21. From L'usaige de l'astrolabe by Dominique Jacquinot printed by Jean Barbé,
Paris 1545. Set in roman (2 sizes) and italic which are believed to have been
cut by Claude Garamond.'As there is only one other roman of normal book
220
Roman, Old face
size that we can definitely attribute to him, and no other italic' wrote Paul
Beaujon in the 'garamond' types, The Fleuron No 5, 'the founts deserve
careful study'. [37]
22. From Christopher Plantin's famous Polyglot Bible printed at Antwerp 1569-
1573 (actual width of type matter 181 millimetres). The rather heavy lower¬
case is Plantin's Canon Romain & that below it is his Moyen Canon Romain,
which Mr Harry Carter has said is Garamond's Gros Canon with capitals and
shortened letters by Henri du Tour. Plantin bought material of Garamond's
after the latter's death in 1561 and employed a number of punch-cutters, in¬
cluding Granjon and Le Bé to furnish his printing house with a wide range
of types—gothics, romans, italics, scripts, exotics (including Greek, Hebrew
and Syriaque) music types, etc.
During recent years much about Plantin's life has been brought to light
through the researches of Mr Harry Carter, Mr Colin Clair & others. Ample
material therefore exists for those readers who would like to know more
about this great French printer and his work. [3 8,3 9]
23. Part of the splendid broadside specimen issued byWilliam Caslon (the first) in
1734. Mr Johnson writes 'The last of the distinguished type designers who
were, consciously or unconsciously, pupils of Garamond wasWilham Caslon
... He stopped the importation of Dutch types... (and) took as his model
the best Dutch types of the seventeenth century ... However (he) was not
better than the designers he took as models. He owes his success in England,
not to any originality, but to the fact that he was the first really competent
engraver and caster of types in this country ... It wasWilham Caslon who
first began the practice of setting the text of his specimens in that notorious
passage from Cicero's Catiline Orations which begins : Quousque tandem...'
[40]
221