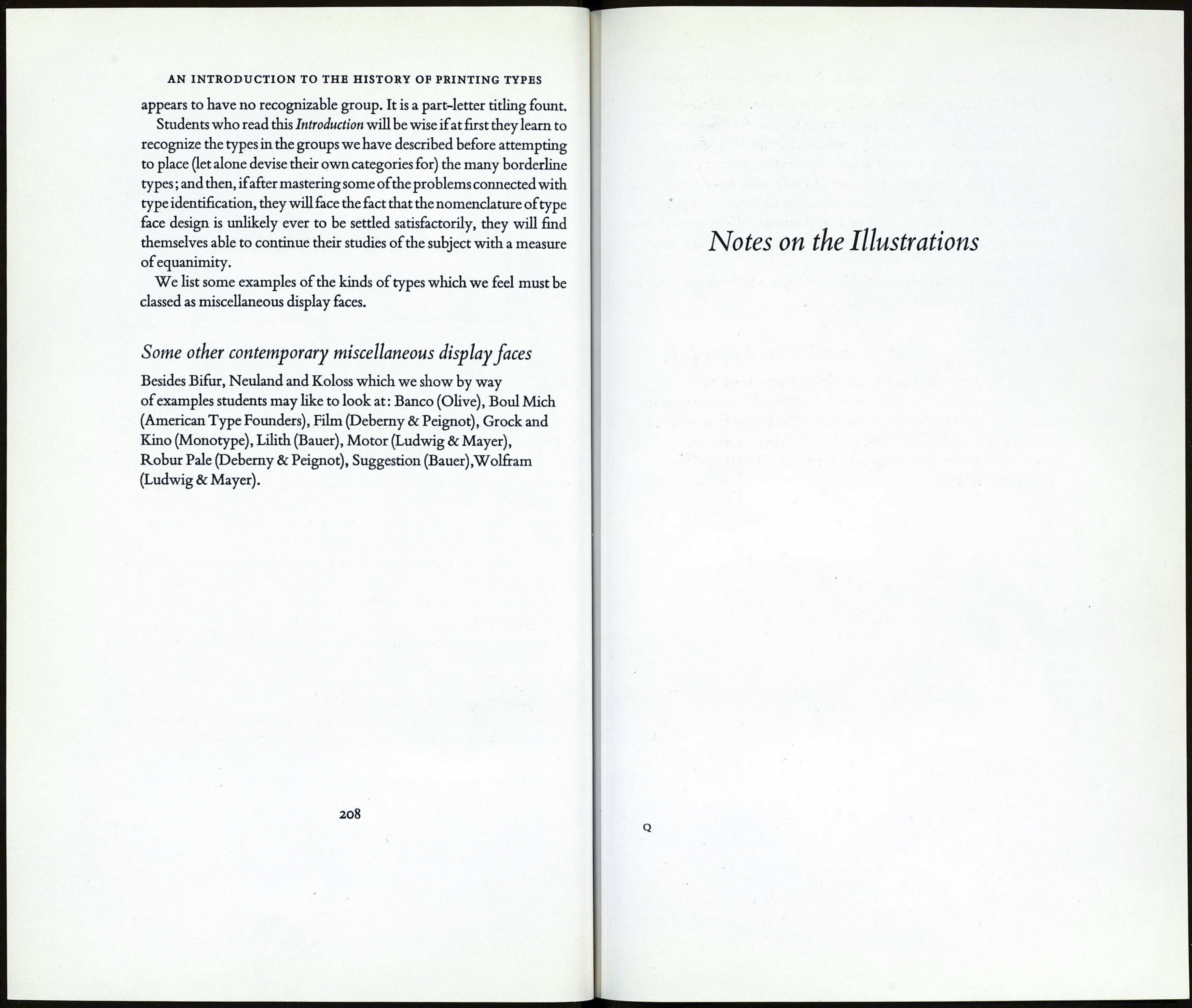 UIJiiMIOPQlSïl
1334967§§Ф&4С$*
ABCDEF«
HIJKLMNOPQRSTUVWXyZ
12I4S67890&£+*
ABCDEFGHIJHLIHNO
PQEIIUVWIYI
111456IS90
abcdefghijklmn
opqiifuvwMyi
117. Bifur, Neuland and Koloss [263]
к
MISCELLANEOUS
DISPLAY
TYPES
N
So far eight groups of book faces and sixteen groups of display faces
have been described.These represent a very large proportion of the
types extant today. If to these are added the bold or semi-bold versions
of many of our book faces, for example Baskerville, Bembo, Ehrhardt,
'Garamond', Imprint, Perpetua and Romulus, and the bolds ofjobbing
faces like Plantin Series no and Times (which though born as jobbing
faces are nevertheless used as book faces) &, further, if we remind read¬
ers of the enormous number of poorly designed faces mentioned in the
introduction to this book it would seem that all type designs must sure¬
ly have been accounted for. But that is far from being the case.
There are many interesting display types which cannot be placed
simply in one or other of the groups described in this Introduction. Some
are hybrids, a mixture say of a sans serif and a three dimensional face:
others are types which have been modified in some way.
It will be agreed that Gill can be considered as a perfect example of a
sans serif type. But what of Bifur and Neuland and Koloss ? These can
be called sans serifs only if we accept seriflessness as the sole criterion
of sans serif types. But of course it is not. Bodoni divested of its serifs
does not look like anything we have been taught to recognize as a sans
serif type ! Koloss is of course a hybrid. It has been described as an extra
bold sans serif which suggests a fat face. Neuland has been described
as a bold sans serif with modifications. Bifur is one of those types which
207