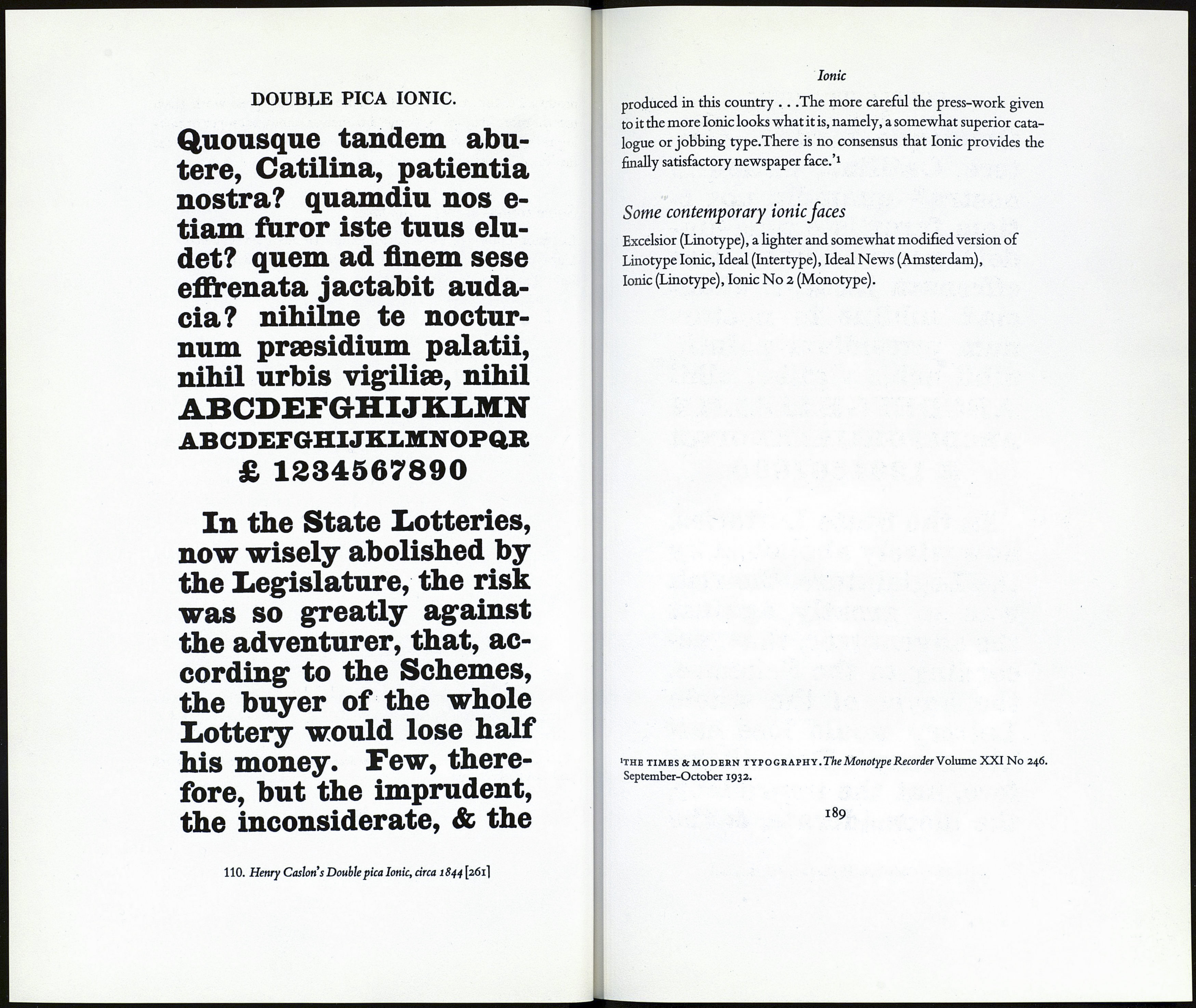 ©
О g
a
¡в
H
СО
a?
о
M
ъ
H
M
h
H
О
w
>
P
К
И
Р
н
О?
О
S
Я
ь
н
В
Рч
H
fi
M
«S
s«
И ^
H
H
Of ti
о
ti
р
о
й
Í4 ti
H H
Р «4
о H
Ч M
«I н
о
fi
Й
о
я
Еч
О
Î*
H
Й
р
о
Й
о
о
и
о
* g
к
о
fi
и
8
Щ
i È ta
с > H
È E Я
м w
§ fi
О
ta
H
H
h
H
fi
ü
Hl
О
fi
ti
О
я
H
а я
а
н я
M
tí
<;
tí
к
о
« и
(Я
H
►а
о)
С«
р
О
н
О
<
О
се
О
s
H
Я
■а
ö
Ч
>
p
н
ЕЯ
Pi
Of
Рн
О
н
M
о
Гч
H
д
о
д
H
H
ы
¡5
р
H
X
Рч
о
¡¡5
H
a
ti
<
fe
ел
fe
О
О
о
Ft
О
H
ce
P
О
S
H
«
H
со
n
о
H»
(ч
О
H
cfl
P
О
»
H
i
"с
»3
ь
5 и
i
Ionic
The name Ionic seems to have been used by early Victorian founders
as an additional name for Egyptian types. Ideal was an early Victorian,
and Cushing Antique an early American synonym for Ionic.The latter
is thought to have been first used by Blake and Stephenson in 1833 :
their specimen is of a modified form of the earliest Antique/Egyptian.
A comparison of this type with those of Figgins and of Thorne shows
that the serifs are bracketed and not as slab-like, that there is a greater
differentiation between the thick and thin strokes, and that the letters
are not as heavy and certainly not as sharply cut.Types of this kind are
now classed as modified egyptians. Present day revivals would include
Stephenson Blake's Consort in its various forms, and Stevens Shanks
Antique Nos 3 & 5, and a variety of clarendons, for example that of the
Haas'sche Schriftgiesserie.
Originally display types, the types in this group are now primarily
newspaper text faces. Some use of them is also made in Bible printing,
magazines and advertisements.The present day versions of the Ionics
having been designed specifically with newspaper production in mind
are usually monoline letters of large x-height, with very short ascend¬
ers and descenders, open counters and sturdy, flat, or slightly bracketed,
serifs.
'A primary defect of Ionic—from the point of view of text compo¬
sition—is a certain monotony resulting from the complete uniformity
of line throughout every character . . . having no thick and thin, it
does not look 'customary' to eyes habituated to the old faces, old styles
and moderns employed in 99 per cent of the reading matter which is
187