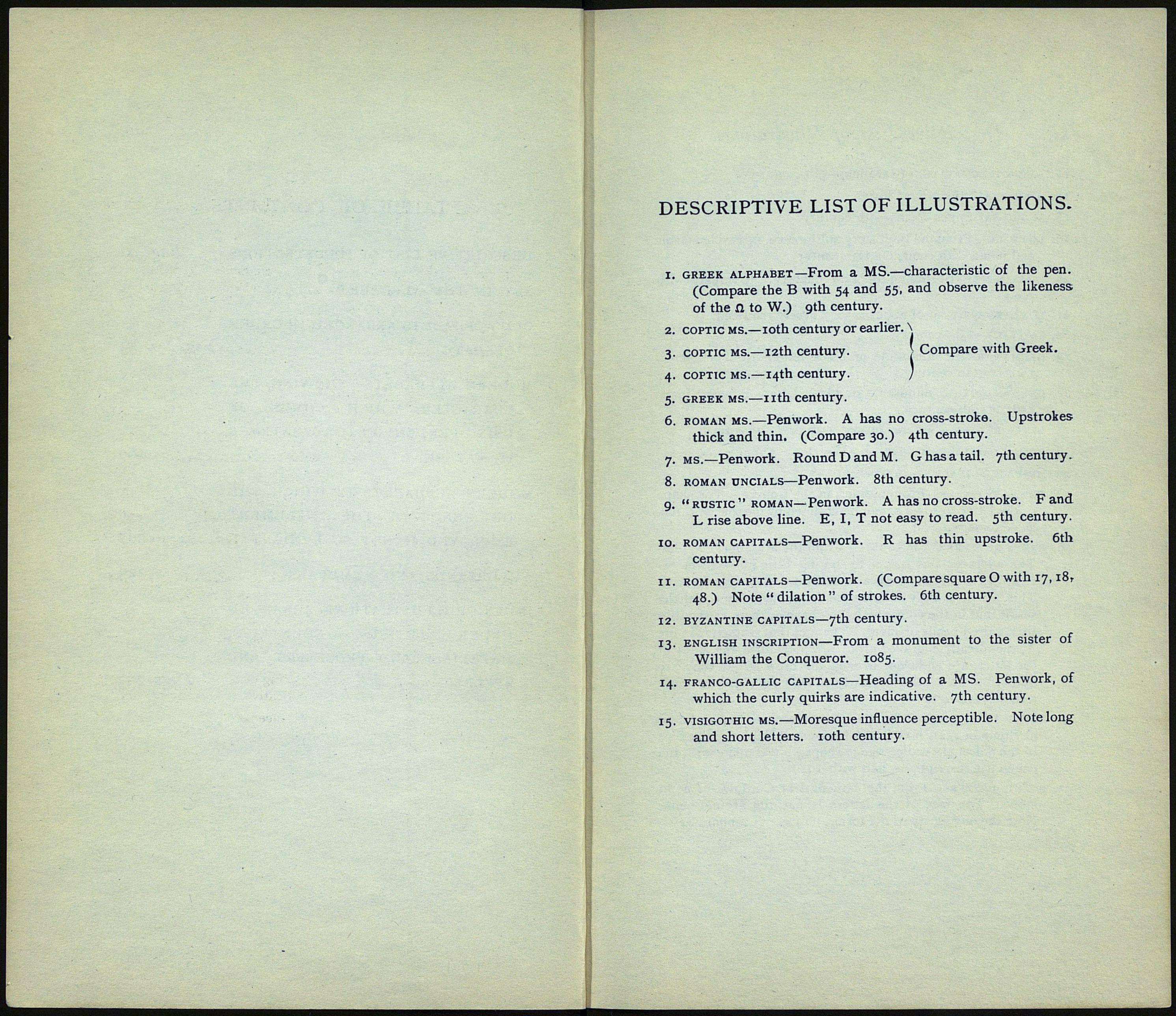 DESCRIPTIVE LIST OF ILLUSTRATIONS.
i. greek alphabet—From a MS.—characteristic of the pen.
(Compare the В with 54 and 55, and observe the likeness
of the a to W.) gth century.
2. Coptic ms.—10th century or earlier. \
3. Coptic ms.—12th century. j Compare with Greek.
4. Coptic ms.—14th century. )
5. greek ms.—nth century.
6. roman ms.—Penwork. A has no cross-stroke. Upstrokes
thick and thin. (Compare 30.) 4th century.
7. ms.—Penwork. Round D and M. G has a tail. 7th century.
8. roman uncials—Penwork. 8th century.
9. "rustic " roman—Penwork. A has no cross-stroke. Fand
L rise above line. E, I, T not easy to read. 5th century.
10. roman capitals—Penwork. R has thin upstroke. 6th
century.
11. roman capitals—Penwork. (Compare square О with 17, i8r
48.) Note " dilation" of strokes. 6th century.
12. BYZANTINE CAPITALS—7th Century.
13. English inscription—From a monument to the sister of
William the Conqueror. 1085.
14. franco-gallic capitals—Heading of a MS. Penwork, of
which the curly quirks are indicative. 7th century.
15. visigothic ms.—Moresque influence perceptible. Note long
and short letters. 10th century.