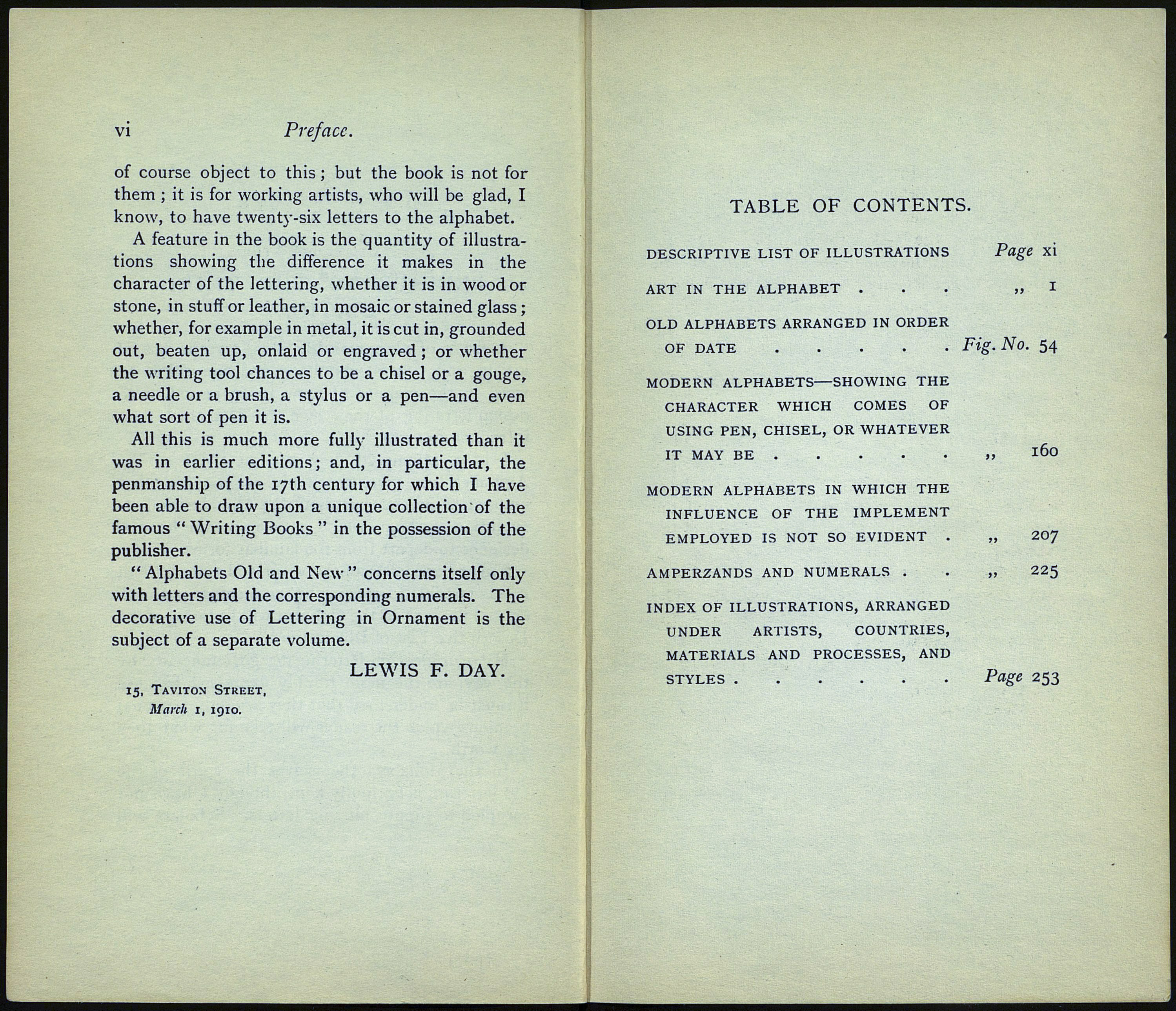 vi
Preface.
of course object to this ; but the book is not for
them ; it is for working artists, who will be glad, I
know, to have twenty-six letters to the alphabet.
A feature in the book is the quantity of illustra¬
tions showing the difference it makes in the
character of the lettering, whether it is in wood or
stone, in stuff or leather, in mosaic or stained glass ;
whether, for example in metal, it is cut in, grounded
out, beaten up, onlaid or engraved ; or whether
the writing tool chances to be a chisel or a gouge,
a needle or a brush, a stylus or a pen—and even
what sort of pen it is.
All this is much more fully illustrated than it
was in earlier editions; and, in particular, the
penmanship of the 17th century for which I have
been able to draw upon a unique collection of the
famous " Writing Books " in the possession of the
publisher.
" Alphabets Old and New " concerns itself only
with letters and the corresponding numerals. The
decorative use of Lettering in Ornament is the
subject of a separate volume.
LEWIS F. DAY.
15, Taviton Street,
March i, 1910.
TABLE OF CONTENTS.
DESCRIPTIVE LIST OF ILLUSTRATIONS Page ХІ
ART IN THE ALPHABET ... " I
OLD ALPHABETS ARRANGED IN ORDER
OF DATE ..... Fig. No. 54
MODERN ALPHABETS—SHOWING THE
CHARACTER WHICH COMES OF
USING PEN, CHISEL, OR WHATEVER
IT MAY BE.....» 160
MODERN ALPHABETS IN WHICH THE
INFLUENCE OF THE IMPLEMENT
EMPLOYED IS NOT SO EVIDENT . " 207
AMPERZANDS AND NUMERALS . . " 225
INDEX OF ILLUSTRATIONS, ARRANGED
UNDER ARTISTS, COUNTRIES,
MATERIALS AND PROCESSES, AND
styles......Page 253