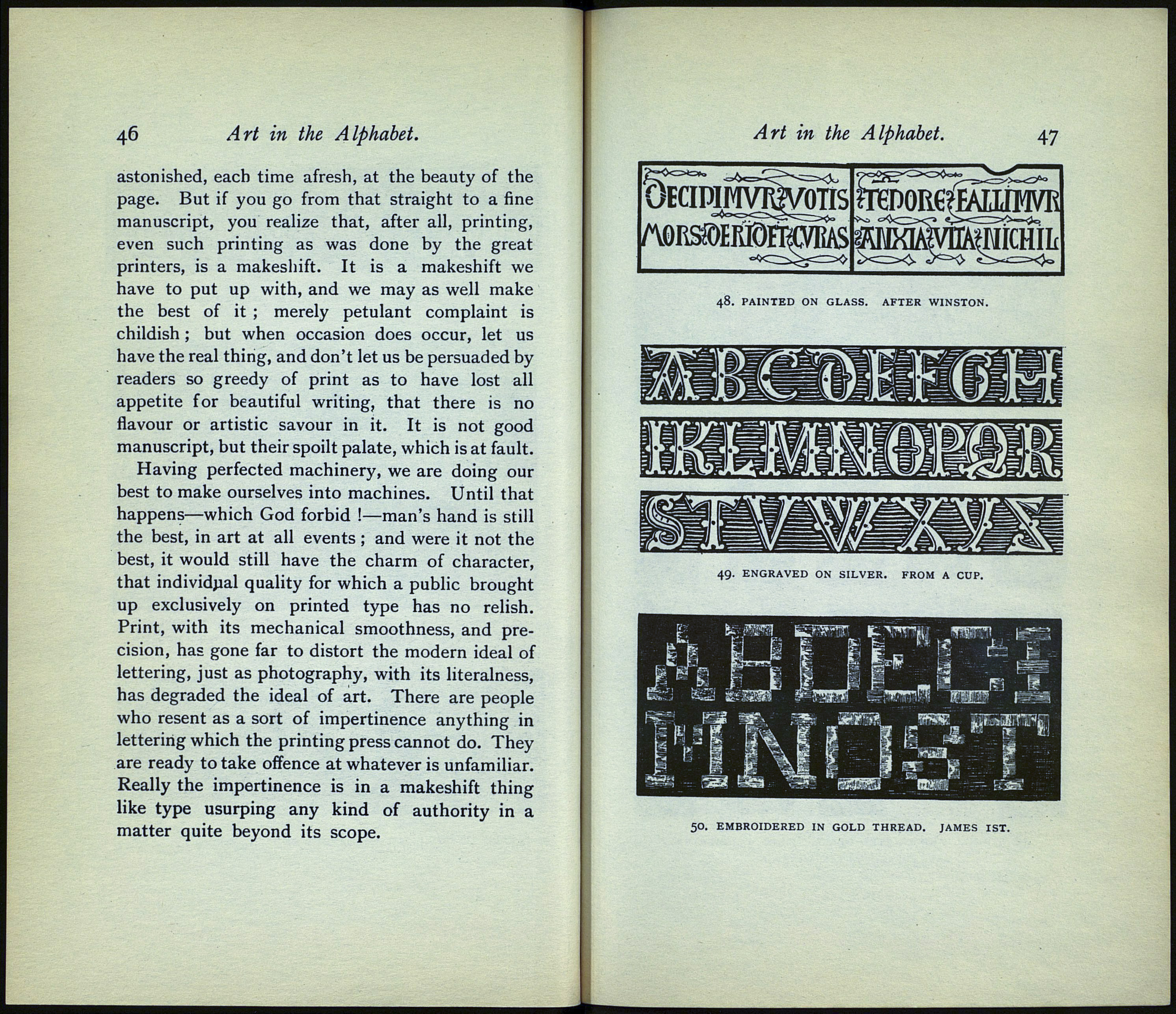 46 Art in the Alphabet.
astonished, each time afresh, at the beauty of the
page. But if you go from that straight to a fine
manuscript, you realize that, after all, printing,
even such printing as was done by the great
printers, is a makeshift. It is a makeshift we
have to put up with, and we may as well make
the best of it ; merely petulant complaint is
childish ; but when occasion does occur, let us
have the real thing, and don't let us be persuaded by
readers so greedy of print as to have lost all
appetite for beautiful writing, that there is no
flavour or artistic savour in it. It is not good
manuscript, but their spoilt palate, which is at fault.
Having perfected machinery, we are doing our
best to make ourselves into machines. Until that
happens—which God forbid !—man's hand is still
the best, in art at all events ; and were it not the
best, it would still have the charm of character,
that individual quality for which a public brought
up exclusively on printed type has no relish.
Print, with its mechanical smoothness, and pre¬
cision, has gone far to distort the modern ideal of
lettering, just as photography, with its literalness,
has degraded the ideal of art. There are people
who resent as a sort of impertinence anything in
lettering which the printing press cannot do. They
are ready to take offence at whatever is unfamiliar.
Really the impertinence is in a makeshift thing
like type usurping any kind of authority in a
matter quite beyond its scope.
Art in the Alphabet.
47
Seopiiwiwoïïs
/\ѲШШЙГ<
48. PAINTED ON GLASS. AFTER WINSTON.
II
ВТ
* ѵітаггітгі
49. ENGRAVED ON SILVER. FROM A CUP.
50. EMBROIDERED IN GOLD THREAD. JAMES 1ST.