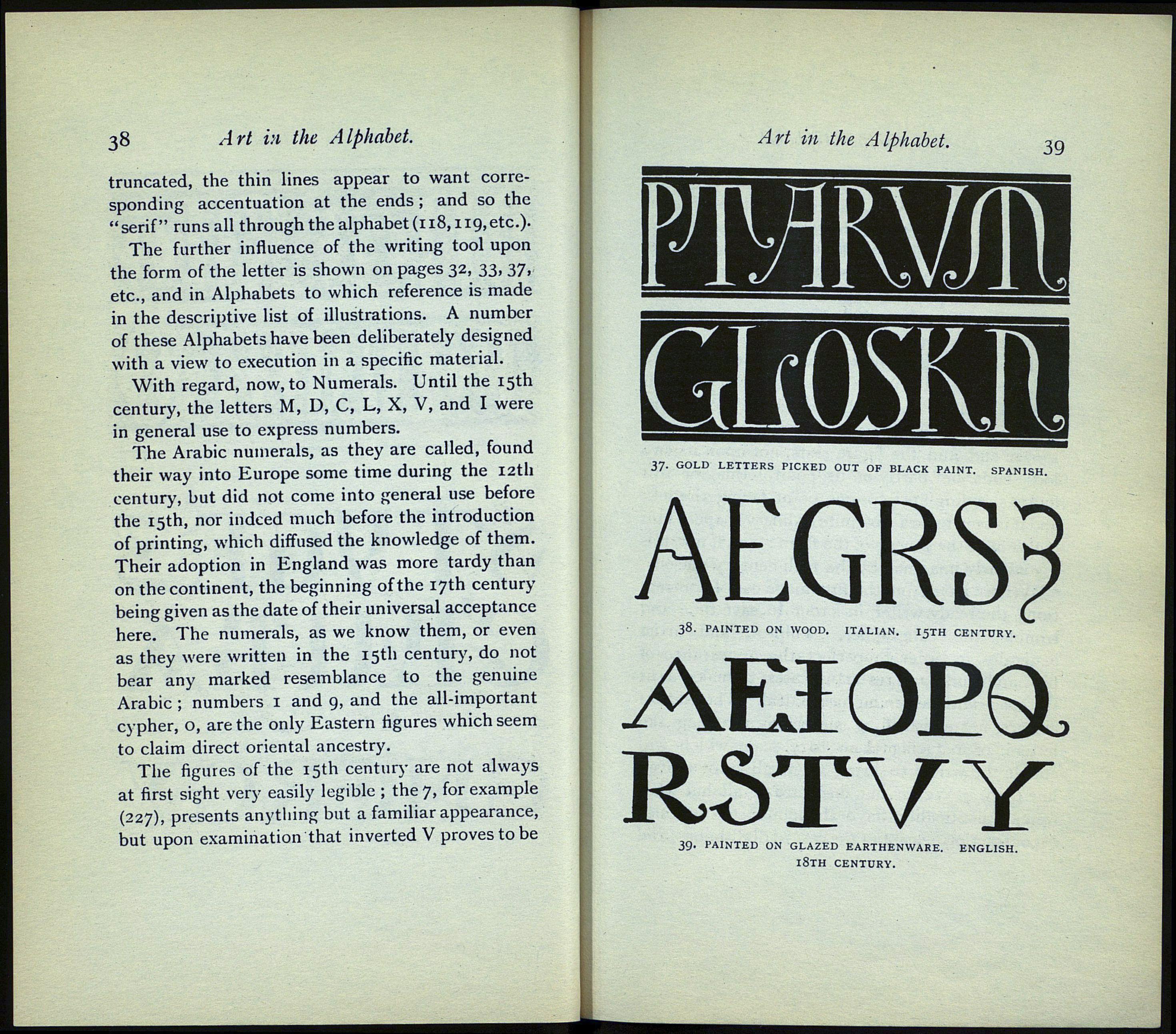 38 Art in the Alphabet.
truncated, the thin lines appear to want corre¬
sponding accentuation at the ends ; and so the
"serif" runs all through the alphabet (118,119, etc.).
The further influence of the writing tool upon
the form of the letter is shown on pages 32, 33, 37,
etc., and in Alphabets to which reference is made
in the descriptive list of illustrations. A number
of these Alphabets have been deliberately designed
with a view to execution in a specific material.
With regard, now, to Numerals. Until the 15th
century, the letters M, D, C, L, X, V, and I were
in general use to express numbers.
The Arabic numerals, as they are called, found
their way into Europe some time during the 12th
century, but did not come into general use before
the 15th, nor indeed much before the introduction
of printing, which diffused the knowledge of them.
Their adoption in England was more tardy than
on the continent, the beginning of the 17th century
being given as the date of their universal acceptance
here. The numerals, as we know them, or even
as they were written in the 15th century, do not
bear any marked resemblance to the genuine
Arabic ; numbers 1 and 9, and the all-important
cypher, o, are the only Eastern figures which seem
to claim direct oriental ancestry.
The figures of the 15th century are not always
at first sight very easily legible ; the 7, for example
(227), presents anything but a familiar appearance,
but upon examination that inverted V proves to be
Art in the Alphabet. 39
ЙВЙНЯИ
37. GOLD LETTERS PICKED OUT OF BLACK PAINT. SPANISH
AEGR Щ
38. PAINTED ON WOOD. ITALIAN. 15TH CENTURY
AEIOEa
R5TVT
39. PAINTED ON GLAZED EARTHENWARE. ENGLISH.
І8ТН CENTURY.