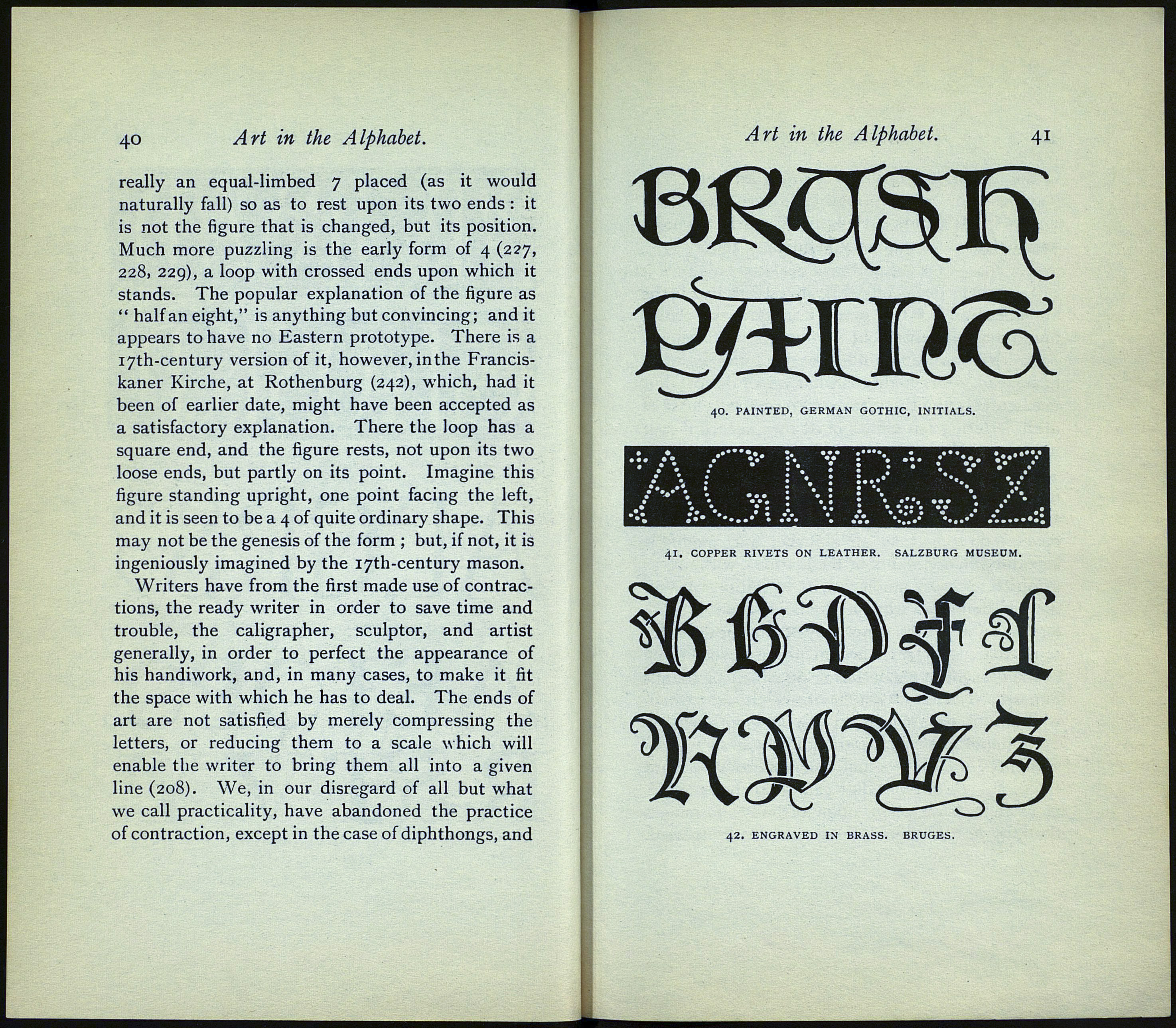 4<э Art in the Alphabet.
really an equal-limbed 7 placed (as it would
naturally fall) so as to rest upon its two ends : it
is not the figure that is changed, but its position.
Much more puzzling is the early form of 4 (227,
228, 229), a loop with crossed ends upon which it
stands. The popular explanation of the figure as
" half an eight," is anything but convincing; and it
appears to have no Eastern prototype. There is a
17th-century version of it, however, in the Francis-
kaner Kirche, at Rothenburg (242), which, had it
been of earlier date, might have been accepted as
a satisfactory explanation. There the loop has a
square end, and the figure rests, not upon its two
loose ends, but partly on its point. Imagine this
figure standing upright, one point facing the left,
and it is seen to be a 4 of quite ordinary shape. This
may not be the genesis of the form ; but, if not, it is
ingeniously imagined by the 17th-century mason.
Writers have from the first made use of contrac¬
tions, the ready writer in order to save time and
trouble, the caligrapher, sculptor, and artist
generally, in order to perfect the appearance of
his handiwork, and, in many cases, to make it fit
the space with which he has to deal. The ends of
art are not satisfied by merely compressing the
letters, or reducing them to a scale which will
enable the writer to bring them all into a given
line (208). We, in our disregard of all but what
we call practicality, have abandoned the practice
of contraction, except in the case of diphthongs, and
Art in the Alphabet.
41
40. PAINTED, GERMAN GOTHIC, INITIALS.
41. COPPER RIVETS ON LEATHER. SALZBURG MUSEUM.
5
42. ENGRAVED IN BRASS. BRUGES.