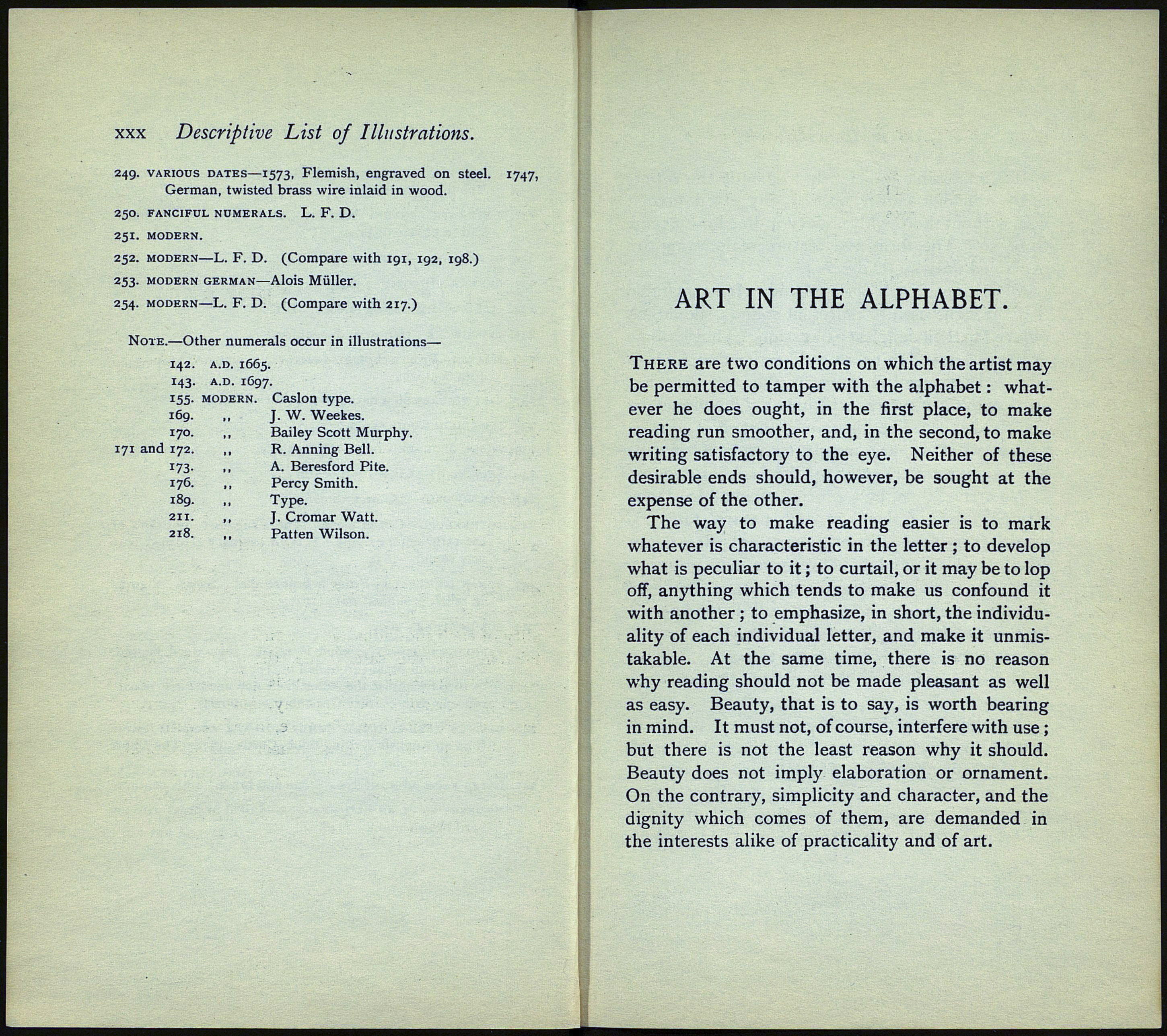 xxx Descriptive List of Illustrations.
249. various dates—1573, Flemish, engraved on steel. 1747,
German, twisted brass wire inlaid in wood.
250. fanciful numerals. L. F. D.
251. MODERN.
252. modern—L. F. D. (Compare with 191, 192, 198.)
253. MODERN GERMAN—Alois Müller.
254. modern—L. F. D. (Compare with 217.)
Note.—Other numerals occur in illustrations-
142.
A.D.
1665.
143-
A.D.
1697.
155-
modern. Caslon type.
169.
J. W. Weekes.
170.
Bailey Scott Murphy
171 and 172.
R. Anning Bell.
*73-
A. Beresford Pite.
176.
Percy Smith.
189.
Type.
211.
J. Cromar Watt.
218.
Patten Wilson.
ART IN THE ALPHABET.
There are two conditions on which the artist may
be permitted to tamper with the alphabet : what¬
ever he does ought, in the first place, to make
reading run smoother, and, in the second, to make
writing satisfactory to the eye. Neither of these
desirable ends should, however, be sought at the
expense of the other.
The way to make reading easier is to mark
whatever is characteristic in the letter ; to develop
what is peculiar to it ; to curtail, or it may be to lop
off, anything which tends to make us confound it
with another ; to emphasize, in short, the individu¬
ality of each individual letter, and make it unmis¬
takable. At the same time, there is no reason
why reading should not be made pleasant as well
as easy. Beauty, that is to say, is worth bearing
in mind. It must not, of course, interfere with use ;
but there is not the least reason why it should.
Beauty does not imply elaboration or ornament.
On the contrary, simplicity and character, and the
dignity which comes of them, are demanded in
the interests alike of practicality and of art.