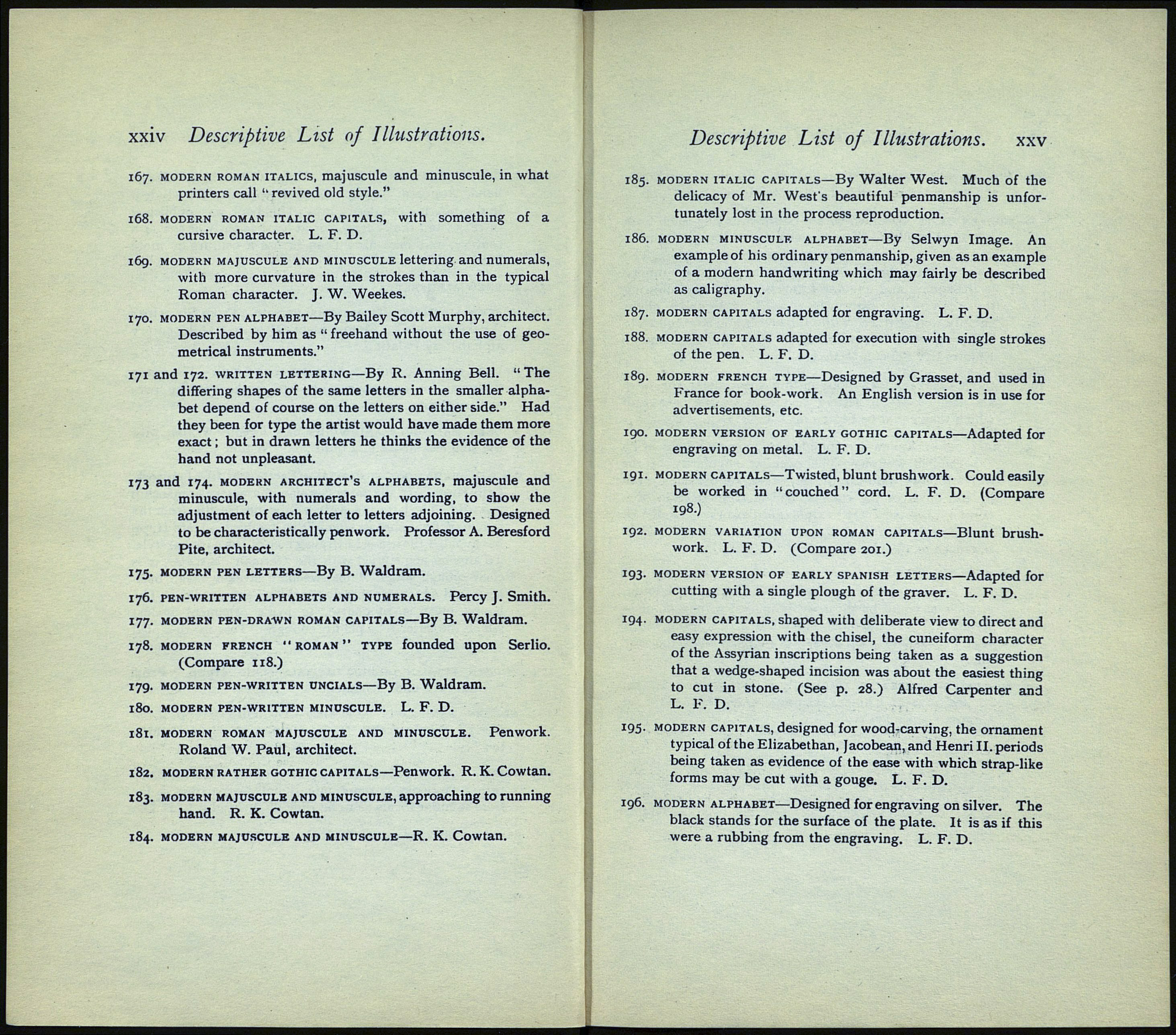 xxiv Descriptive List of Illustrations.
167. modern roman italics, majuscule and minuscule, in what
printers call " revived old style."
168. modern roman italic capitals, with something of a
cursive character. L. F. D.
169. modern majuscule and minuscule lettering and numerals,
with more curvature in the strokes than in the typical
Roman character. J. W. Weekes.
170. modern pen alphabet—By Bailey Scott Murphy, architect.
Described by him as " freehand without the use of geo¬
metrical instruments."
171 and 172. written lettering—By R. Anning Bell. " The
differing shapes of the same letters in the smaller alpha¬
bet depend of course on the letters on either side." Had
they been for type the artist would have made them more
exact ; but in drawn letters he thinks the evidence of the
hand not unpleasant.
173 and 174. modern architect's alphabets, majuscule and
minuscule, with numerals and wording, to show the
adjustment of each letter to letters adjoining. Designed
to be characteristically penwork. Professor A. Beresford
Pite, architect.
175. modern pen letters—By B. Waldram.
176. pen-written alphabets and numerals. Percy J. Smith.
177. modern pen-drawn roman capitals—By B. Waldram.
178. modern French "roman" type founded upon Serlio.
(Compare 118.)
179. modern pen-written uncials—By B. Waldram.
180. modern pen-written minuscule. L. F. D.
181. MODERN ROMAN MAJUSCULE AND MINUSCULE. Penwork.
Roland W. Paul, architect.
182. modern rather gothic capitals—Penwork. R. K. Cowtan.
183. MODERN MAJUSCULE AND MINUSCULE, approaching to running
hand. R. K. Cowtan.
184. MODERN MAJUSCULE AND MINUSCULE—R. K. Cowtan.
Descriptive List of Illustrations. xxv
185. modern italic capitals—By Walter West. Much of the
delicacy of Mr. West's beautiful penmanship is unfor¬
tunately lost in the process reproduction.
186. modern minuscule alphabet—By Selwyn Image. An
example of his ordinary penmanship, given asan example
of a modern handwriting which may fairly be described
as caligraphy.
187. modern capitals adapted for engraving. L. F. D.
188. modern capitals adapted for execution with single strokes
of the pen. L. F. D.
189. modern French type—Designed by Grasset, and used in
France for book-work. An English version is in use for
advertisements, etc.
190. MODERN VERSION OF EARLY GOTHIC CAPITALS—Adapted for
engraving on metal. L. F. D.
191. modern capitals—Twisted, blunt brushwork. Could easily
be worked in "couched" cord. L. F. D. (Compare
198.)
192. MODERN VARIATION UPON ROMAN CAPITALS—Blunt brUsh-
work. L. F. D. (Compare 201.)
193. MODERN VERSION OF EARLY SPANISH LETTERS—Adapted for
cutting with a single plough of the graver. L. F. D.
194. modern capitals, shaped with deliberate view to direct and
easy expression with the chisel, the cuneiform character
of the Assyrian inscriptions being taken as a suggestion
that a wedge-shaped incision was about the easiest thing
to cut in stone. (See p. 28.) Alfred Carpenter and
L. F. D.
195. modern capitals, designed for wood-carving, the ornament
typical of the Elizabethan, Jacobean, and Henri II. periods
being taken as evidence of the ease with which strap-like
forms may be cut with a gouge. L. F. D.
196. modern alphabet—Designed for engraving on silver. The
black stands for the surface of the plate. It is as if this
were a rubbing from the engraving. L. F. D.