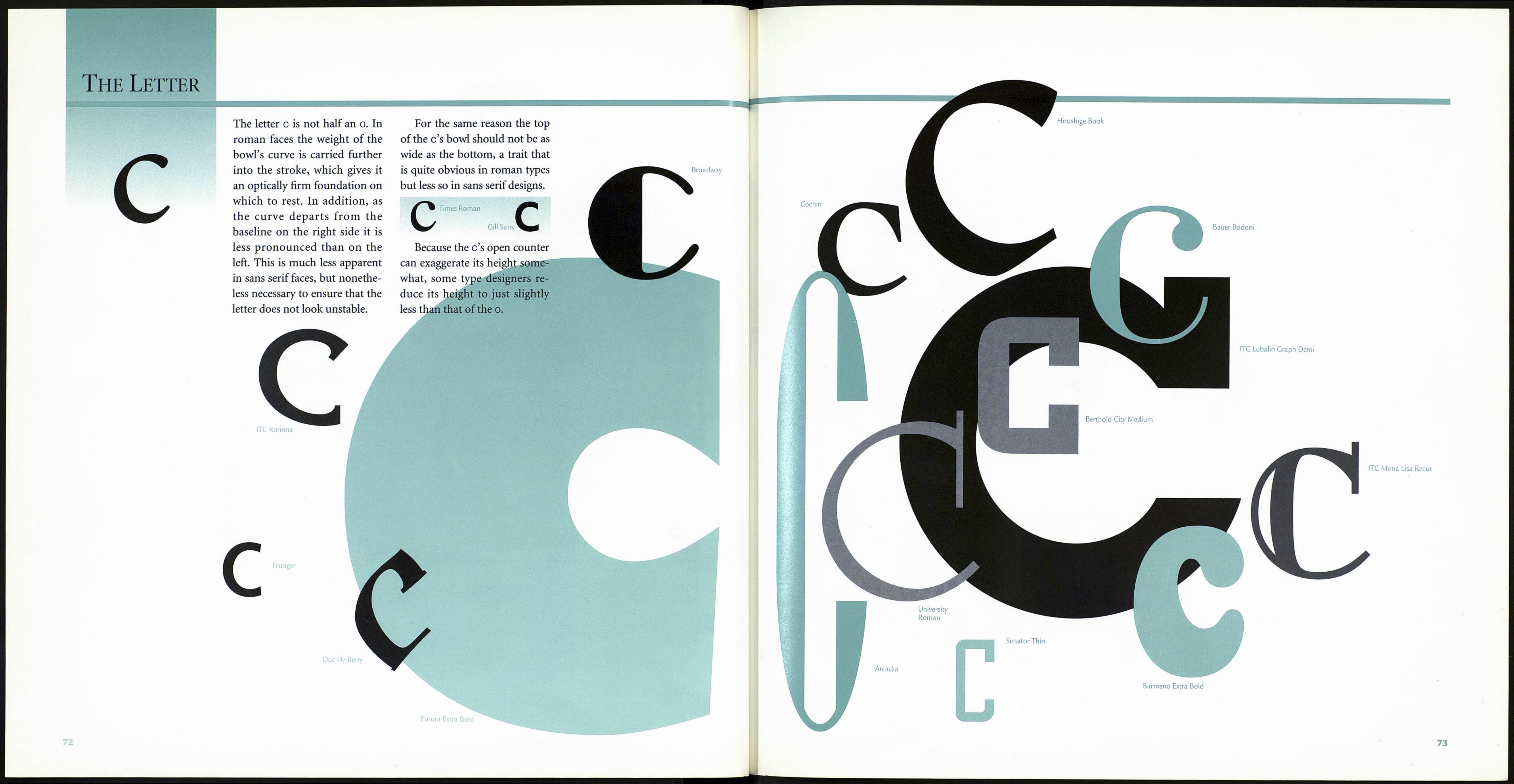 The Letters
Although the letters b, d, p, and
q share several design traits,
the first rule in designing them
is to avoid creating one "mas¬
ter" and flipping it around to
make all four letters. While this
dp q
Lowercase b flipped to make four letters
may seem logical from a typo¬
graphic standpoint, it invari¬
ably results in poor design. In a
well-conceived typeface, the
designer takes great care to
ensure that each letter has a
firm foundation on which to
rest. For the b, d, p, and q, this
is achieved by making the
bowls of the letters just slightly
heavier—and sometimes im¬
perceptibly flatter—on the bot¬
tom than they are at the top.
In contrast to those of the d
and the q, the bottom curved
strokes of the b and the p usu¬
ally flare slightly as they join
the vertical. In old style designs
based on calligraphic forms,
such as Stempel Garamond or
Goudy Old Style, the bowls of
the b and the p are heaviest at
about four o'clock, while
those of the d and the q are
heaviest at about eight o'clock.
b
Goudy Old Style
If the design is based on either
traditional or modern letter-
forms, the bowls tend to be
heaviest at three and nine
o'clock, respectively.
b p d q
Bodoni
While the bottom of the b's
vertical stroke sometimes ends
in a serif, as in ITC Benguiat or
Bulmer, it might also terminate
in a spur that doesn't quite
extend below the baseline. The
roman d, however, almost
always has a bottom serif as a
baseline terminator. The top of
the vertical in the p echoes that
of the d in that it also usually
has a serif, while the top of the
q's vertical ends either in a
spur or in a serif.
AG Book Rounded
Bold
Madrone
ITC Modern
No. 216 Light
ITC Korin
ITC Lubalin
Graph Book
Caslon Open Face
70
Formata
Arnold
Böcklin
Park Avenue
ITC Galliard
Italic
Futura Light
Albertus
Adobe Caslon Italic
Cloister