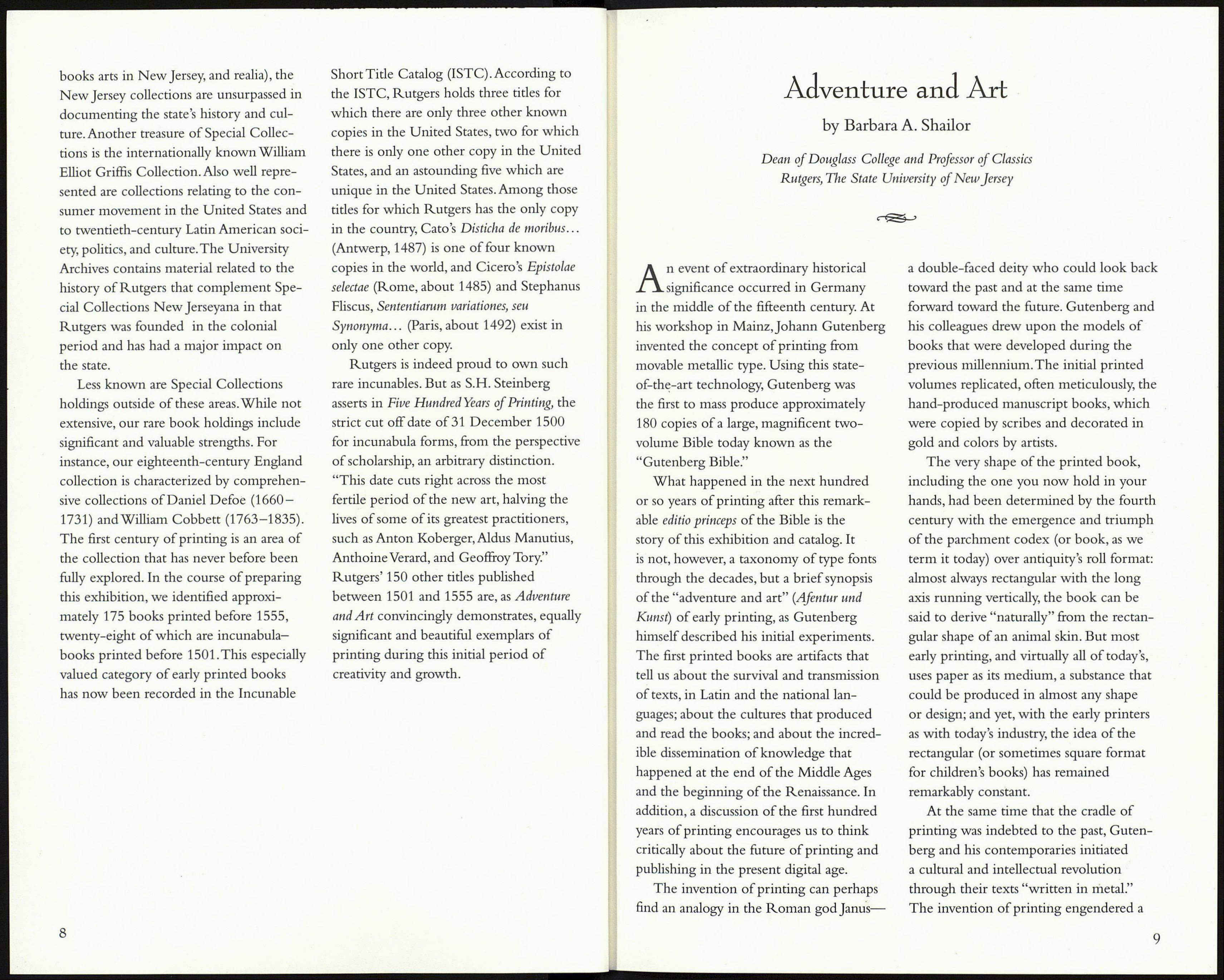 Publications for the loving preparation of
the manuscript.
Several individuals and institutions have
provided loans of material and financial
assistance for this exhibition. I especially
thank Dr. Martin Picker, Emeritus Profes¬
sor of Music; Dr. Hans Fischer, Professor
of Nutritional Biochemistry; the Prince¬
ton University Library; the Class of 43;
and the Special Collections and University
Archives Gift Fund.
Every exhibition in the Rutgers
University Libraries affords us fresh
opportunity to acknowledge our
gratitude to the Friends of the Library for
their dedicated support of our efforts to
make the Rutgers University Libraries a
central place in the intellectual life of our
campus, and of the state of New Jersey.
Marianne Gaunt
University Librarian
6
Rutgers Special Collections
and Its Rare Books
by Robert G. Sewell
Associate University Librarian for Collection Development and Management,
Special Collections and University Archives, Rutgers,The State University of New Jersey
r«5->
aventure and Art:J1ie First One Hun¬
dred Years of Printing commemorates
the six hundredth anniversary of the
birth of Johann Gutenberg, the inventor
of printing from movable type. It is the
realization of a long-held dream of mine,
of Special Collections and University
Archives, and of many Friends of the
Rutgers University Libraries. One Friend
in particular, Leonard Hansen (RC 43),
has been an ardent and persistent advocate
for book collecting and for the impor¬
tance of the history of the book in liberal
arts education, as his reminiscence in this
catalog eloquently attests. In addition to
allowing the Libraries to borrow several
beautiful incunabula and rare illustrated
leaves for the purpose of this exhibition,
Mr. Hansen has served as one of the
exhibition's curators. We also are very
privileged to have had as our other
cocurator, Dr. Barbara Shailor, Dean
of Douglass College and Professor of
Classics. In addition to undertaking the
curatorial tasks of material selection and
organization, Dr. Shailor has written the
catalog's keynote essay on the special rele¬
vance of Gutenberg's invention, and the
transition from manuscript-based learning
to print, to the information issues leading
us into the twenty-first century.
Dean Shailor is no stranger to catalogs
of rare materials from the medieval and
Renaissance periods. She produced a
wonderful three-volume catalog,
Catalogue of Medieval and Renaissance
Manuscripts in the Beinecke Rare Book and
Manuscript Library, Yale University published
by Medieval & Renaissance Texts &
Studies,1984-1992. Building on that work
she wrote The Medieval Book: Illustrated
from the Beinecke Rare Book and Manuscript
Library, published by the University of
Toronto Press in association with the
Medieval Academy of America, now in
its third edition.
In addition to the inherent interest of
the materials and the way they are pre¬
sented here, what excites me about this
exhibition and catalog is the light they
shed on a lesser known component of
Special Collections and University
Archives.
Special Collections is rightly known
for its comprehensive collections of New
Jerseyana, esteemed as one of the finest
collections of state and regional history in
the country. With holdings from colonial
times to the present in all formats (printed
books and pamphlets, broadsides, maps,
diaries, official and private papers of indi¬
viduals and organizations, examples of
7