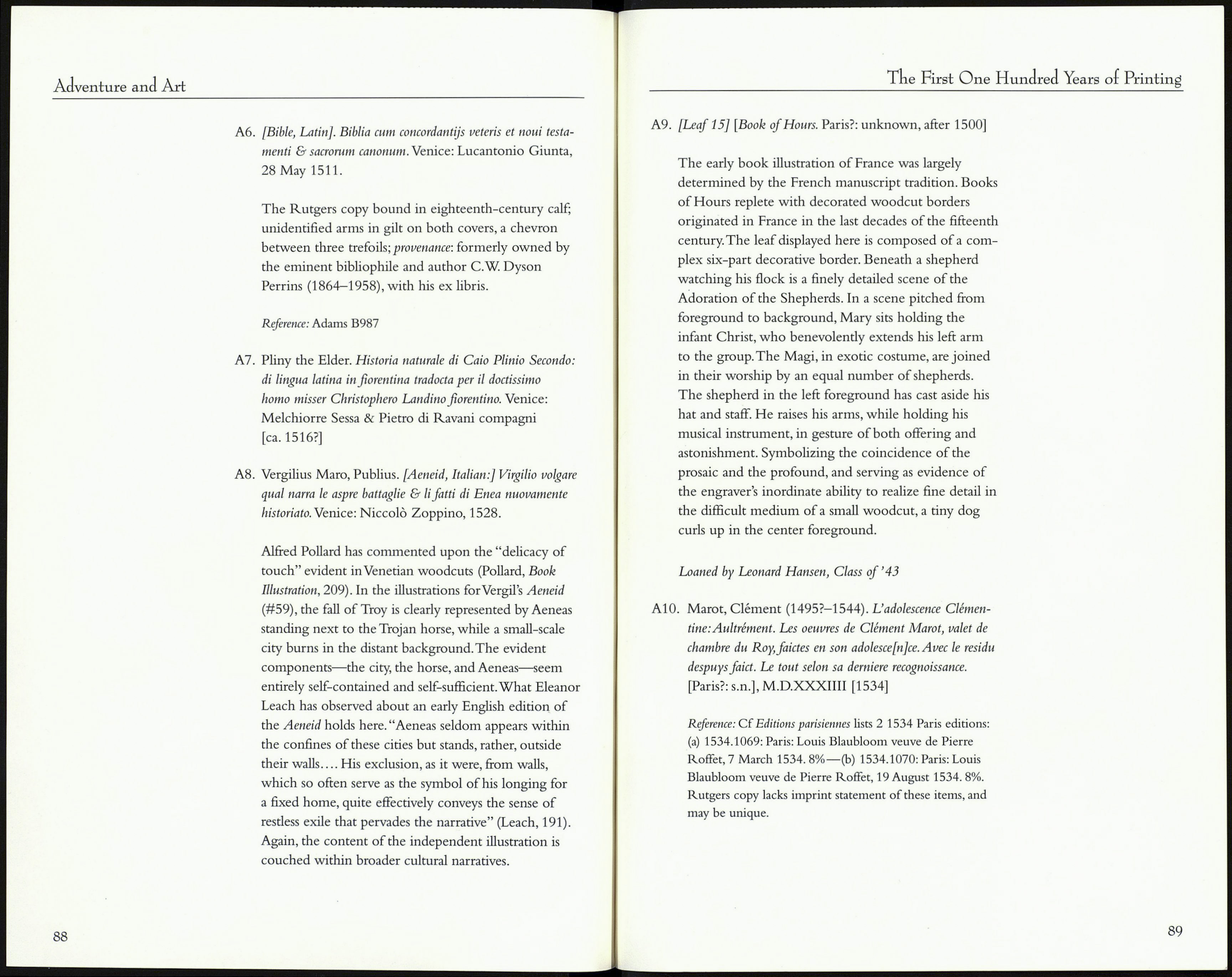 Adventure and Art
Entry A3, Figure 29.
[Leaf 14] Brant, Sebastian (1458-1521).
[Das Narrenschiff. Latini
Strassburg:Johann Grüninger, 1 June 1497.
Actual size of block 11.5 x 8.5 cm.
A3. [Leaf 13] Brant, Sebastian
(1458-1521).
[Das Narrenschiff. Latin]
Strassburg:Johann Grüninger,
1 June 1497.
Wolgemut's most famous pupil,
Albrecht Dürer, reached his artistic
maturity with works such as the artist's
sixteenth-century masterpiece, The
Apocalypse. The woodcut illustrations
for Sebastian Brant's NarrenschifJ, or
Ship of Fools (see also #43), represent
the earlier, more emphatically Gothic
flavor of his work, executed before
his trip to Italy and its concomitant
classicizing influences (Hind, 381).
Although there remains some doubt
about the attribution of all of the Nar-
renshiff's woodcuts to Dürer, the illus¬
tration exhibited here demonstrates
the strengths of Dürers early work. As
one helpless fool is being trampled by
a horse, the second fool looks indiffer¬
ently into the distance. He too is in
precarious proximity to the horse's
bucking hind legs. Yet his obliviousness
is signaled by his dulled expression
and protruding tongue. Dürer succeeds
in focusing the viewer's attention on
the intricacies of the foreground trio,
while the craggy landscape recedes
into the background.
Loaned by Leonard Hansen, Class of '43
8b
The First One Hundred Years of Printing
A4. Thuróczy,János (b. ca. 1435).
Der Hungern Chronica inhlatend wie sie anfenkglich ins
land kommen sind mit anzeygung ¡rem aller irer König
Athila un[d] volfüuret biss auff König Ludwig so im 1526.
Jar bey Mohatz vom Türeken umbkomen ist.
In Wien: in Druck verordnet auss Kosten und
Darlegen Hansen Metzkers, anno domini 1534. F°.
Illustrations in various styles, signed "PF."
Peter Flötner (1485-1546) was a Nuremburg sculptor
who also made prints and probably cut the blocks
himself. His Veit Bildhauer, " Veit the sculptor," affords
us an interesting glimpse of the tensions between
creativity and commerce in his cut of an artist turned
mercenary. "An unrecorded state of this print carries a
short verse text in which a lansquenet laments how he
once carved beautiful images,'artistic in both the Ital¬
ian and the German fashion,' but that no one any
longer values these. Therefore, though he could cut
naked figures which would easily sell 'in Mark and
Stetten,' this is not to his taste, and he has thus been
driven to take up his halberd and go off to serve a
prince" (Landau, 214).
Exhibition copy bound in marbled paper over boards;
paper lettering piece on spine; provenance: bears the
ex libris of Prince Lichtenstein.
Loaned by Leonard Hansen, Class of '43
A5. [Leaf 14] Unidentified. [German? about 1500?]
Six lines of German verse in a large Gothic bâtarde,
with a large Italianate woodcut, hand-colored.
Loaned by Leonard Hansen, Class of '43
87