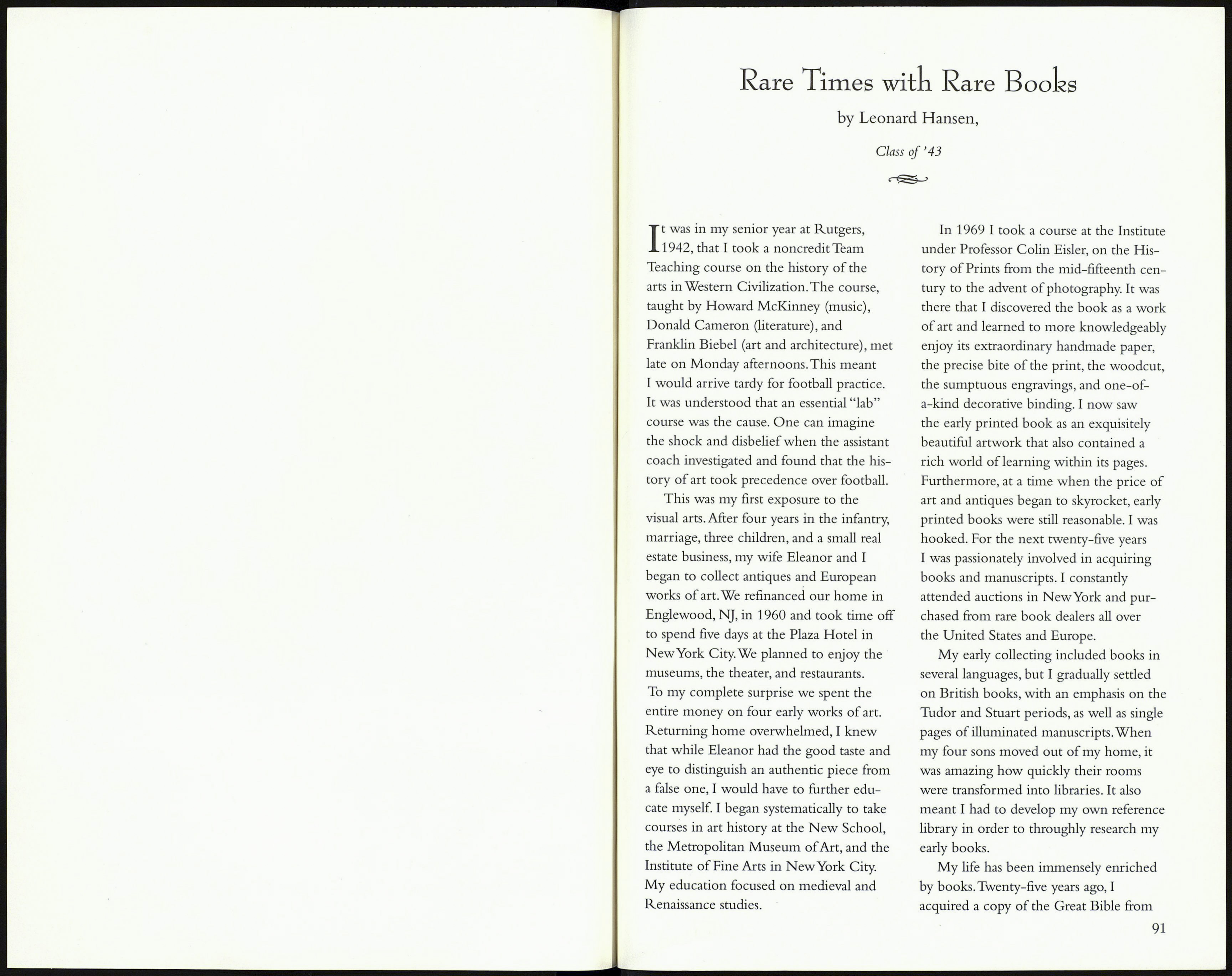 A6. /Bible, Latin]. Biblia cum concordaiitijs veteris et noni testa¬
menti & sacrorum сапонит. Venice: Lucantonio Giunta,
28 May 1511.
The Rutgers copy bound in eighteenth-century calf;
unidentified arms in gilt on both covers, a chevron
between three trefoils; provenance: formerly owned by
the eminent bibliophile and author C.W. Dyson
Perrins (1864-1958), with his ex libris.
Reference: Adams B987
A7. Pliny the Elder. Historia naturale di Caio Plinio Secondo:
di lingua latina in fiorentina tradocta per il doctissimo
homo misser Christophen) Landino fiorentino. Venice:
Melchiorre Sessa & Pietro di Ravani compagni
[ca. 1516?]
A8. Vergilius Maro, Publius. [Acneid, Italian:] Virgilio volgare
qual narra le aspre battaglie & li fatti di Enea nuovamente
historiato.Vemce: Niccolò Zoppino, 1528.
Alfred Pollard has commented upon the "delicacy of
touch" evident in Venetian woodcuts (Pollard, Book
Illustration, 209). In the illustrations for Vergil's Aeneid
(#59), the fall of Troy is clearly represented by Aeneas
standing next to the Trojan horse, while a small-scale
city burns in the distant background. The evident
components—the city, the horse, and Aeneas—seem
entirely self-contained and self-sufficient. What Eleanor
Leach has observed about an early English edition of
the Aeneid holds here. "Aeneas seldom appears within
the confines of these cities but stands, rather, outside
their walls__His exclusion, as it were, from walls,
which so often serve as the symbol of his longing for
a fixed home, quite effectively conveys the sense of
restless exile that pervades the narrative" (Leach, 191).
Again, the content of the independent illustration is
couched within broader cultural narratives.
The First One Hundred Years or Printin:
A9. [Leaf 15] [Book of Hours. Paris?: unknown, after 1500]
The early book illustration of France was largely
determined by the French manuscript tradition. Books
of Hours replete with decorated woodcut borders
originated in France in the last decades of the fifteenth
century. The leaf displayed here is composed of a com¬
plex six-part decorative border. Beneath a shepherd
watching his flock is a finely detailed scene of the
Adoration of the Shepherds. In a scene pitched from
foreground to background, Mary sits holding the
infant Christ, who benevolently extends his left arm
to the group. The Magi, in exotic costume, are joined
in their worship by an equal number of shepherds.
The shepherd in the left foreground has cast aside his
hat and staff. He raises his arms, while holding his
musical instrument, in gesture of both offering and
astonishment. Symbolizing the coincidence of the
prosaic and the profound, and serving as evidence of
the engraver's inordinate ability to realize fine detail in
the difficult medium of a small woodcut, a tiny dog
curls up in the center foreground.
Loaned by Leonard Hansen, Class of'43
AIO. Marat, Clément (1495?-1544). L'adolescence Clémen¬
tine: Aultrément. Les oeuvres de Clément Marot, valet de
chambre du Roy,faictes en son adolesce[n]ce. Avec le résidu
despuysfaict. Le tout selon sa dernière recognoissance.
[Paris?: s.n.],M.D.XXXIIII [1534]
Reference: Ci Editions parisiennes lists 2 1534 Paris editions:
(a) 1534.1069: Paris: Louis Blaubloom veuve de Pierre
Roffet, 7 March 1534. 8%—(b) 1534.1070: Paris: Louis
Blaubloom veuve de Pierre RofFet, 19 August 1534. 8%.
Rutgers copy lacks imprint statement of these items, and
may be unique.
89